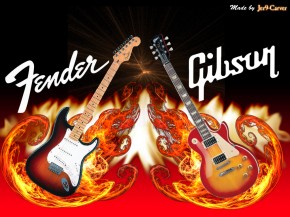 Ah, the classic Gibson vs Fender debate. This dispute has become so famous and so controversial that nearly all guitarists are forced to segregate themselves and declare their allegiances. But why form such specific, exclusive factions, driving a wedge between the guitar playing community? For good reason, as it turns out the two companies build different guitars for different purposes, making it perfectly reasonable that some players only pick a Fender while others are firm Gibson men (and women). But which is best for the player who has yet to pledge themselves to one brand? Read on and find out. Read more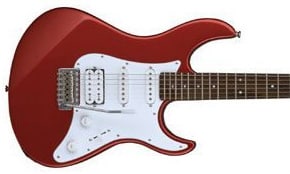 Rock history has proven time and time again that where electric guitars are concerned, you don't have to break the bank to bust onto the charts. Certainly, a fair share of hit albums have been recorded with instruments that cost more than most used cars, but a remarkable number of legendary discs have also been tracked with extremely inexpensive instruments that produced equally stunning results. Read more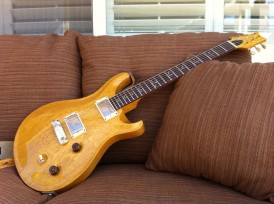 White Korina wood, also known as African limba, provides a thick solid tone much like mahogany wood is known for. Korina wood is also the same high-quality wood used for many of the early [Gibson] Flying Vs and Explorers that now demand such high dollar. Notably, a Korina wood Ibanez Destroyer guitar had played a large part in Eddie Van Halen's legendary "brown" sound. A nice piece of lightweight wood, like the ones used to construct the Korina McCarty guitars, provides renowned dimensionality and depth, screaming highs, rich rounded mids, thick lows while providing vocal-like velvety warmth backed with tremendous sustain.
The Korina McCarty's body is carved from sold slab of Korina wood, as is the 22-fret thick-wide neck. For those who have not played the liked PRS carved neck, it's a beefy C shape that's positioned into the 25-scale body. The chrome-covered McCarty humbuckers are similar to the highly commended humbuckers in the standard McCartys, and a Duncan-wound soap-bar is offered as an option for those who want something a little more unique. Vintage style tuners and a fixed aluminum bridge add a touch of sparkle to the Korina McCarty's highs. Read more
Hey Gear-Vault readers! An interesting debate was brought before our attention earlier this week and we thought we'd pass it along to you guys. Let's put your mad guitar knowledge to the test! Comment your answer at the end of this kick ass discussion!
Can you tell which is Gibson and which is the Epiphone?
Now let's take a closer look at these two guitars:
At first glance, these two guitars appear quite similar. In fact, many players might even have trouble distinguishing between the two. However, did you know that the left guitar often costs as much as NINE TIMES than the one on the right? That's right. The axe on the left is perhaps one of the most recognizable guitars in the world: a Gibson Les Paul Standard. You can typically purchase one of these for around $2500-3500. Pictured just to the right of the Gibson is the Epiphone Les Paul Standard, which usually clocks in at just under Read more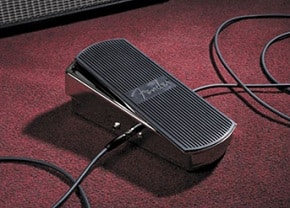 During the late Sixties and early Seventies, it seems like everything related to music was literally huge: amp stacks, stack heel platform shoes, rock star mustaches and hairstyles, crotch padding and, especially, effect pedals. Stomp boxes were the size of shoe boxes, and the average pedal board was so big that it took two roadies to haul one from the back of a Chevy van to the stage of the Cow Palace or Winter land. Of course, that all changed later in the decade as microchips replaced the transistors and cherry bomb-sized components in primitive effect circuits, and soon after, the size of the average pedal shrunk significantly.
Fender's latest Classic Series pedal reissues bring back in their full glory four of the company's big-honkin' stomp boxes from the Golden Era of effects: the sensibly named Volume, Volume-Tone, Fuzz-Wah and Read more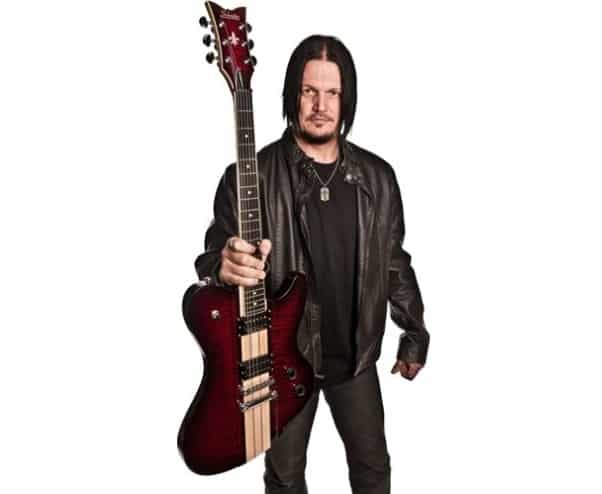 Schecter Guitar Research have officially joined forces with Disturbed guitarist, Dan Donegan. Dan first debuted his signature guitar at the 2009 winter NAMM show. While I'm not a huge fan of Schecter, I was excited to see how this ax turned out. Fast forward 4 years… Read more


Jackson guitars have always offered aggressive looks and sound coupled with high-quality workmanship. Their KE Pro series brings all the upscale Jackson elements to a very attractive price point. Based on the Kelly, the KE3 has a sharply chiseled Explorer-like body shape, with Jackson's signature pointy headstock. The nearly -$1,400 difference between Marty Friedman's favorite axe and the KE3 is really not so huge: the tremolo is a JT580LP Floyd Rose License, not original; the pickups are Seymour Duncan's Jazz and JB and the neck is bolted on, all of which add up to a great deal.
The Jackson KE3 has an alder body and a maple neck of wide, oval proportions. The headstock is attached with a scarf joint behind the fist two frets, adding strength at the nut—an important detail when dealing with the extra routing necessary to accommodate a locking nut. The rosewood fretboard is fitted with 24 wide, near-jumbo frets, which are superbly crowned and polished. Jackson's trademark "shark fin" inlays, done in a rich pearloid plastic, are inlaid to the neck with admirable neatness. Our review model arrived dressed in Black (Transparent Red, Blue and Black are also available as well as Cobalt Blue, Swirl and Skulls), all black hardware, including black tuners, and black locking nut and tremolo and a single black volume knob.
Plugged in, the KE3 really came to life. The Seymour Duncan Jazz SH2N and JB TB4 pickups, in neck and bridge position respectively, are bold and brawny, high-output humbuckers with a hard-assed bite that can be felt even through clean amp settings. But don't peg them as one-trick ponies: each pickup alone offers some enticing colors, particularly with the volume rolled back a couple of notches, and the combinations of the two makes for a fine clean rhythm or lead tone.
But let's face it, the axe was made to cut eardrums, and so most of my playing time was spent with the KE3 pumped through a Marshall JCM800 and a ProCo Rat distortion pedal. The resulting sound was capable of rearranging furniture and small pets in the house across the street. The bottom end on this guitar is something the U.N. should sanction. Muted rhythms take on a tribal percussiveness, and leads sound like they're doubled with tap-dancing gorillas. The treble had to be rolled back a bit from my usual "everything on seven" setting, however, since a hint of microphonic squeal could be coaxed from the pickups with a tap of the pick. Still, the KE3 delivers some awesome muscularity along with radical good looks and solid craftsmanship.
For those who wish to single eyebrows and swill Jaegermeister on a Budweiser budget, Jackson's KE3 Pro is your weapon of choice.
Jackson KE3 Guitar In Action!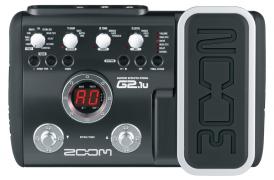 Even the best signal processor can't make up for a bad guitar sound.
Too often engineers and producers tell worried guitar players, "We'll fix it in the mix," or, "I know it sounds a little funny now, but we'll sprinkle some fairy dust on it and it'll sound killer." Statements such as these are, in my humble opinion, a crock. There are many things you can do to a bad guitar sound—you can flange it, EQ it, play backwards or bury it in reverb—but 99 percent of the time you'll just end up with a bad guitar sound that's been flanged, EQed, played backwards and buried in reverb. Read more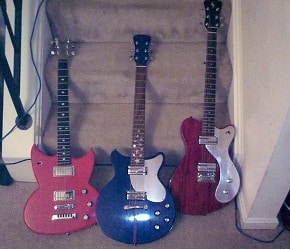 If you've seen advertisements for Vaccaro's guitars on the internet or magazines, you may have noted their slightly confrontational slogan: "They're not for everybody." This statement, it seems, is absolutely true. The reactions I've seen when whipping one of these unorthodox instruments out of my gig bag have ranged from shock ("Where di you get that?") to covetous ("Awesome! Where can I get one?").
Brought to you buy the people who created Kramer's distinctive aluminum and wood-necked guitars in the late Seventies and early Eighties, Vaccaro's guitars feature daringly designed popular bodies, bold finishes and unique aluminum, maple and ebonol composite necks. The Groove Jet evokes the unholy alliance of a Gibson SG and a satanic dung beetle, and features two Seymour Duncan Custom '59 humbuckers, a three-way switch pickup selector located on the top horn of the guitar, two volume controls and a master tone control. Our review model was flawlessly finished in a stunning see-through emerald green. The X-Ray, whose sleek, orange sparkle body has a space-age Rickenbacker vibe, boasts two Rio Grande Muy Grande pickups: a humbucker in the bridge and a single coil in the neck position. Both pickups are topped off with the same mother-of-toilet-seat plastic as the pickguard, adding to the instrument's undeniable ie ne sais quoi. The X-Ray's control layout is simple yet versatile: a three-way pickup selector, coil-tap switch for the humbucker and single volume and tone controls. The hardware on both guitars (Sperzel locking tuning machines, super-sleek Tune-O-Matic-style bridges and top-notch components) is bullet-proof. The phenolic "I can't believe it's not ebony!" fingerboard are smooth and natural feeling, and the well-finished frets provide a sleek, effortless playing surface. Read more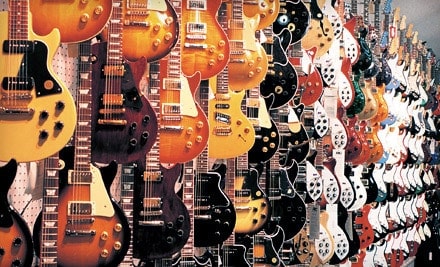 Guitars arouse my crazy obsession, therefore, I am obliged to compile 5 top selling electric and electric/acoustic guitars for our readers. Guitar companies manufacture a wide variety and styles of guitars and sometimes produce junk that's barely worth firewood, and other times produce the ultimate guitar that we can all appreciate. However, finding that perfect guitar is not always easy, but it's fun searching for it. If you are one of those players that is searching for a guitar that provides that sensuous feel that fills your pulse with vibrations of rhythm and melody; yet easy on the wallet, then read on. Read more