Jensen Jet Falcon 10" Instrument Speaker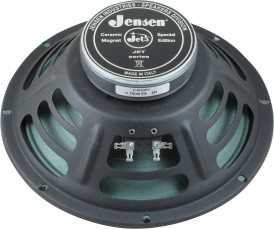 Jensen Musical Instrument Speakers is pleased to announce the latest addition to the Jensen Jet series, the 10-inch Falcon. With its 40 watts of power, a ceramic magnet, and a seamed green cone made from all natural materials, the 10-inch Falcon is specially designed to ensure optimum tone for all styles of music.
The Falcon 10-inch tone is warm and straightforward with a pronounced low end. Its mid frequencies are slightly enhanced over the Falcon 12-inch, and it has a very sweet, yet cutting, high end. When presented with overdrive distortion it creates some mean fuzz.
This new Jensen speaker once again demonstrates Jensen's tradition of giving players what they are asking for in tone. Watch for more Jensen Jet series speaker designs on the horizon.
jensentone.com
Jensen Jet Falcon Guitar Speakers