Following in the footsteps of Fuzz Face masters Eric Johnson, David Gilmour, and Jimi Hendrix – Joe Bonamassa relies on his Fuzz Face to deliver his trademark searing leads. Tested and developed over several world tours, the JBF3 Joe Bonamassa Signature Fuzz Face is voiced specifically for Joe's humbucker-driven tone, adding sustain and thickness for a rich, creamy fuzz.
Dunlop Fuzz Face JBF3 pedal boasts a hand-wired circuitry built around matched NOS Russian military germanium transistors for their characteristic warmth and growl. The JBF3 also features classic grey Cliff jacks and Omeg pots all housed in a polished copper finish that will patina over time. "I wanted this Fuzz Face to be a pedal that would instantly transform your tone," Joe says. "It drives you to a different place as a player. Kick on the inspiration box!" Production of the Joe Bonamassa Signature Fuzz Face is limited to a single batch each year. Read more
NAMM 2011 — As the world moves more and more towards home recording, PRS is offering the new full production run Recording Amp. This "universal" amp is ideal for recording and for producing heavy tones, super clean tones, and everything in between.
External switches on many internal gain and tone components normally inaccessible on other amps provide a nearly infinite tonal and gain palate. Two distinct covering options are available for both the head and cabinet. Covering is available in both Stealth (black Tolex) and Paisley, and both options come standard with distinctive curly maple panels.
"When I came up with this concept, my goal was an amp that does it all in a simple and efficient manner – the results are highly musical," said Paul Reed Smith.
25 Limited Edition Experience PRS 2010 versions of the Recording Amp were created for the open house this past September and were featured as part of the "studio-style" demonstrations lead by famed producer Peter Denenberg and guitarist Nick Moroch. Read more
NAMM 2011 — The AC30C2 tube combo amp – a worldwide favorite – is now available in a limited Vintage Red edition.
From their earliest origins to the present day, Vox has sent numerous custom-color and limited-color amplifiers out into the world. Ranging from standard colors such as gray, blue, green, and purple to original colors such as two-tone and tan, this range of variation goes far beyond that of other amp brands.
Each of these models has represented a further enhancement of the superb Vox design and unique look, and has captured the interest of guitarists in every generation. Now, this limited edition Vintage Red AC30C2 follows in the footsteps of the highly desirable AC15C1 Vintage Red model. Read more
NAMM 2011 — Eternal Descent is a comic book and music series unlike any other – and so is the new Eternal Descent Lyra, a limited edition multi-effects pedal that brings the sound of the globally popular series to guitarists everywhere.
Eternal Descent is a cross-genre story that blends elements of fantasy, action, music, superhero, gothic, science fiction, supernatural and other elements into an ongoing saga featuring Lyra, the series' heroine. Lyra is a rock singer who is quick-witted, beautiful, talented, has attitude to spare – and is immersed in a battle with demons both internal and external awaiting her at every turn.
Music is integral to Eternal Descent. Created by writer Llexi Leon, the comics revolve around the exploits of Lyra and her band, Constellation Nine, and rock and metal bands like Static X, Atreyu, Firewind, Shadows Fall and others have made guest appearances. A series of albums have been released that bring the comic to life with music created specifically for the series. Read more
Fender completes the first generation of its Mustang amplifier line with the introduction of the high-powered Mustang III, IV and V models. Like the smaller Mustang I and II models released in late summer NAMM 2010, Mustang III, IV and V raise the standard for modern guitar versatility and muscle, with incredibly authentic amp models, a huge bank of built-in effects, easy USB connectivity and Fender FUSE software, all packed into a striking visual design with sleek and modern Fender black "carbon tweed" covering and silver grille cloth.
Mustang III is a 100-watt open-back combo with a 12-inch Celestion speaker great for rehearsing and smaller gigs; Mustang IV is a 150-watt open-back combo with dual 12-inch Celestion speakers great for rehearsing and larger gigs. The Mustang V Head is for the big gigs—a 150-watt amp head that pairs with the rugged Mustang V 412 Cabinet, which is loaded with four 12-inch Celestion speakers and sturdy center baffle bracing. Read more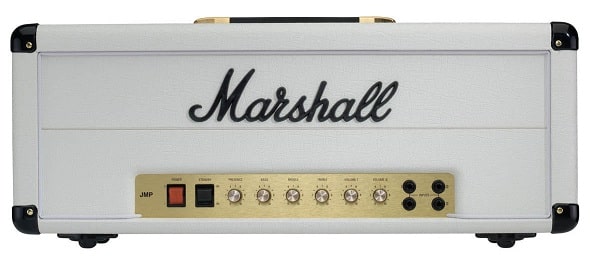 THE HOT-RODDED Marshall phenomenon that started in the Eighties can be attributed mainly to two players: Eddie Van Halen and Randy Rhoads. Ironically, Eddie's original amp wasn't modified at all, while the modifications to Randy's amps were long rumored hut never confirmed. Because Randy's amps were returned to his family and locked tip in a vault after his death in 1982, details of the modifications remained a mystery until recently.
Working with the assistance of Randy's mother Delores and brother Kelle, Marshall finally gained access to Rhoads' legendary white Marshall amp head. Marshall investigated every minute detail, including the cascaded input modification that was performed at the Marshall factory in 1980 when Rhoads custom-ordered two white Marshall stacks. As a result Marshall just released the limited-edition 1959RR Randy Rhoads Signature Series Super Lead 100-Watt head, an exact duplicate of the 1980 Marshall JMP 1959 Super Lead MKII 100-watt head that Randy used onstage with Ozzy and on the recordings of Blizzard of Ozz and Diary of a Madman. Read more
Roland has sold over 10,000 CUBE amplifiers, and that number continues to grow every day. Drawing on the company's 35-plus years of innovation and know-how, these portable performers combine cutting-edge technology with design and construction features typically found in amps almost that cost up to five times as much. In this article, we'll take a closer look at what goes into every CUBE amp, and introduce you to the latest guitar amp in the lineup, the CUBE-XL series. Read more
Everyone knows that Vox is one of the original guitar amp companies that helped change the world we live in. From The Beatles to Brad Paisley, many legendary players have relied on Vox amps to carve out their tone and make great music. Not content to rest on the laurels of past glories, Vox is still making cool amps that many modern guitarists have turned on to, but just as many players love the old stuff and build their sound on simple tube platforms that have launched thousands of licks. For these folks, there may be nothing better than the Vox AC15C1. Vox has made the AC15 in one form or another since 1958, so you know it is a proven performer. The AC15C1 pumps out 15 heavy-duty watts of EL34 goodness through a single 12-inch Celestion G12M Greenback speaker. The amp's preamp section runs on three 12AX7 tubes for maximum tone-shaping power. Read more

Over the past decade, I have always used some variation of POD for recording. It is by far, the easiest and fastest method of recording guitars. But when I've tried taking those sounds to the stage, they have sometimes fallen a bit short.
So when I was approached for my take on the new POD HD500, and I was told that "all-new" Line 6 HD modeling technology "represents a giant leap forward for amp modeling" and delivers "previously unachievable realism," I plugged in with some skepticism. Read more


The name Gretsch conjures up images of big-bodied guitars, with cool names like White Falcon, Black Phoenix and Country Gentleman being put through their paces by legends like Beatle George Harrison, 50s rock 'n roller Eddie Cochran and king of rockabilly Brian Setzer. But there's more to Gretsch than big fat guitars with f-holes and Bigsby vibratos. Back in the 60s the company produced a solid-body electric guitar named the Corvette, and this little beauty was reissued as part of Gretsch's Electromatic range, so there's no need to trail around second-hand guitars shops. Read more