This is a new song titled 'On the Backs of Angels,' will be the first track on the upcoming A Dramatic Turn Of Events album.
The song is the first time anyone has heard any new music from the group since founding member Mike Portnoy departed. On the Backs of Angels features Mike Mangini, the recently acquired drummer who replaced Portnoy after a lengthy audition process that was filmed for a documentary.
The song will be featured on 'A Dramatic Turn of Events,' Dream Theater's upcoming 11th studio album. Mixed by veteran engineer Andy Wallace, who was involved in Slayer's Reign In Blood and Nirvana's Nevermind albums. Wallace also mixed Avenged Sevenfold's Nightmare. Read more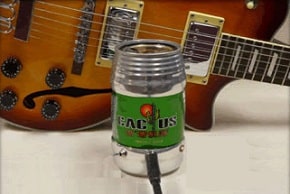 The first step in building your very own beer can amplifier will be to get an empty can of the beer of your choice. After you have your empty can you will need to remove the bottom of the can. With a little bit of patience and a razor knife, this can be done quite easily. Read more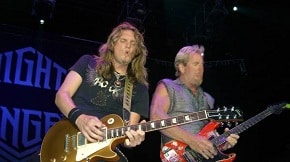 Many other guitarists have tried to emulate Angus Young's distinctive guitar tone and fail. Night Ranger's rhythm guitarist, Brad Gillis, stated in an interview conducted by Noisecreep.com if he had any reservations about taking on such a feat. Read more
Limp Bizkit have released their new video titled Gold Cobra — The song is the title track of the band's long-overdue 5th studio album, which is scheduled for release on June 28th 2011. The album was recorded with the group's original line-up; Fred Durst, Wes Borland, John Otto, Sam Rivers. and DJ Lethal. Wes Borland has a savvy-ness about the way he plays guitar. Notice how his costume in the video changes from white to black. His hair looks like it could kill someone.
Fred Durst commented:
We've come full circle to absolutely own who we are as a band, an undisputed five-piece rap rock powerhouse who crushes every stage we play.
Gold Cobra will come in several configurations. The standard release will feature 13 new songs while the deluxe edition will feature 16 new songs. Additionally, fans can purchase a physical CD that has 17 original songs exclusively at Best Buy [chain stores], and that same release of 16 songs will be available digitally at Napster.com [online]. Read more

Here is an older video of Mike Edison, former publisher of High Times, performing on his bong guitar. What Mike is playing (and smoking from) is a guitar named "ChroniCaster", which is essentially a bong built into a Jaguar-style guitar, with a body made of high-impact, see-thru plexiglass. The guitar's hot P-90 pickups are shielded by a special mold that helps keep marijuana resin out. The bong guitar was built by Joe Naylor of Reverend Guitars. Now he just needs to fit his leopard print fez hat with a beer can holder. Check out the video below… Read more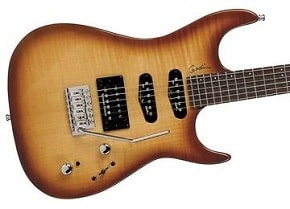 Godin's success with its line of acoustic-electric guitars has overshadowed the company's ferocious solidbody guitars. Today we review the Godin's Velocity electric guitar, with its unique High Definition Revoicer feature, affords an opportunity to discover some of the hidden treasures from Canada's most celebrated guitar manufacturer. Read more

A macabre black paint job, a creature-inspired body shape and a sinister name don't automatically qualify a guitar for employment as a metalworker. But if that same shady plank plays with the speed of the Malden Subhuman and incites high-gain aggression from an amplifier as the Malden's scary-hot pickups do, then you have a weapon that's ready to serve a darker purpose.
The Subhuman's body and 25-inch-scale set neck create thick tones, which are punctuated by the edgy attack of nickel hardware. Fit and finish are excellent throughout, and the bound indian rosewood fretboard displays the same striping and open-grain qualities of the prized Brazilian subspecies. The narrow neck makes stretches easy, but its round shape means there's always wood stabilizing the palm of your hand. Read more
Mesa Boogie made a big splash at this year's winter NAMM 2011 in Anaheim, CA, introducing the TransAtlantic TA-30 (available in head and combo) and the ever-so-sweet Mesa Boogie Royal Atlantic RA-100 head. And man, do these amps produce some harmonic rich, sparkling classic American clean tones, and big bold class A pop spank! Take a gander at the Mesa Boogie TransAtlantic TA-30 being rocked out by Andy Timmons in the video below Read more
Guitarist of Def Leppard, Phil Collen, introduces the all-new Jackson PC Supreme guitar during the NAMM 2011 Jackson Showcase in Anaheim California. Watch the YouTube video below. Read more
NAMM 2011 — Due to be unveiled at this year's NAMM, the all-new Rockcrusher attenuator is built to Rivera's usual high standard, handles 120 watts and features a super heavy-duty stepping switch controlling a reactive load.
Unlike the simple resistive loads used in many attenuators, this means the Rockcrusher responds more like a loudspeaker and doesn't mess with your amp's tone.
The Rockcrusher also features switchable input impedance, EQ controls, and separate balanced and unbalanced line outs, all for a damn good price. Read more