Anyone who's a fan of Eddie Van Halen and plays guitar more than likely knows about the Peavey 5150. Most metal guitar players also know about the 5150. That's because from EVH raunch to drop C circle picking, the 5150 is an absolute tone machine.
The Peavey 5150 II is a simple amp made up of a clean and lead channel. The clean channel can be switched into a rhythm channel, so you could say it flirts with three simple channels. The clean channel, despite what anyone tells you, boasts a beautiful clean tone that's full of headroom. Setting the gain knob around 6 or 7 will give you that awesome breakup that accents a clean guitar sound to really give it some shimmer.
The lead channel is somewhat similar to the clean channel, in that it's absolutely nothing like the clean channel but BRUTAL! The lead channel is controlled by a gain, low, mid, and high adjustment. The lead sound that comes from the 5150 is grimy, raunchy, loud, and… did I say, loud? Setting the gain around 5 will give you a perfect rhythm sound that will deliver a Marshall JCM 800-esque tone while still delivering enough gain for pinch harmonics. Setting the gain any further than this and you're trying to emulate some ENGLs or Soldanos. Pretty much begging for high gain madness! Read more


The hard-working folks at Epiphone Guitars have stomped on the gas pedal as they bring the new 2011 Nighthawk to the marketplace. Public opinion about the Gibson Nighthawk has always run fairly high, as the older models are slowly climbing the rungs of the sought-after ladder, but this new Epiphone version – for all of the interesting factory tweaks it's been given – has one thing going for it that can be best described as compelling Read more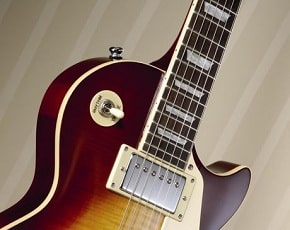 If you want a guitar that has a good sound and won't leave you begging on the street for spare change, the Epiphone Les Paul is a popular choice. But one of the ongoing questions is whether there's difference between those Made In China and the guitars Made In Korea and which you should be looking at buying. Read more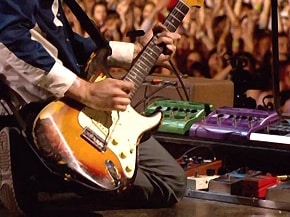 Fender Stratocaster is, along with the Fender Telecaster and the Gibson Les Paul, one of the most iconic electric guitars ever made and has been the ride of choice of literally generations of guitar players ranging from rank beginner to seasoned pro. It's seductive contours and curves have come to define what an electric guitar looks like and feels like for untold numbers of our guitar-slinging brothers and sisters out there, and there will be someone playing one somewhere for as long as there is any kind of interest in electric guitar playing. The Strat made its debut in 1954 Read more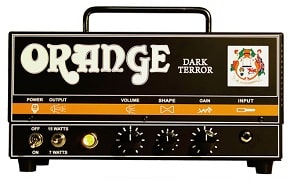 We all know who Orange is. World renown for making some of the nicest, sleekest valve amplifiers, they've been working on a high gain monster. Behold, the Dark Terror! Read more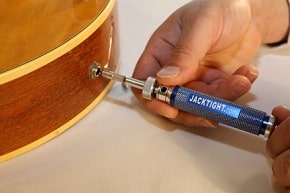 Ever had an issue with the input jack on your guitar, bass, or amplifier coming loose? Sometimes, it can be a real pain. Fear no more! The all-new JackTight is here to save the day! Read more
In the early 1990s, when digital recording bypassed analog sound-boards as the primary method used in studio sessions, the electric guitar – with its magnetic pickups – was forced to reconcile with the personal computer. This presented something of a challenge, since that classic rock sound is something that throbs through a stack of speakers powered by a tube-driven head Read more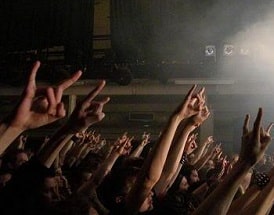 How many concerts have you been to? You've probably been to at least one, and aside from booking the band and getting the security, a lot of other work can go into it. Being the promoter and actually doing it is another thing, and I once got lucky and made a ton of money doing it. Read more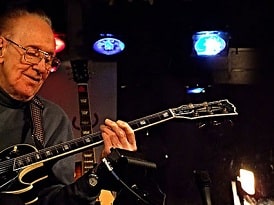 The world has seen many advances in music technology in recent years, but if you dig down about 80+ years ago, you'll find a young curious boy tinkering with electronics. He would be the reason that the solid body guitar and multi-track recording exists. His name was Les Paul.
At the age of eight years old, Les Paul was interested in music, and started off playing the harmonica. Fast forward 11 years, and he was in Chicago, playing on the radio. Les had an avid ability to hear things that others did not, and appealed to listeners all around. Playing mostly country and jazz, Paul had always been playing on archtop guitars, because that's all that existed. This would all change soon enough.
Les didn't enjoy the sound of the archtops. The body resonated the sound of the strings too much, and made the instrument feedback when playing at louder volumes. He wanted to change that. Once he realized that a solid piece of wood would end this inconvenience, he invented what we now know as the Gibson Les Paul. The first version of the guitar was built in the Epiphone factory in 1940, and when Gibson decided to market it, it became an instant success. Without the Les Paul, who knows what Jimmy Page would have played… would it have been a Stratocaster? Read more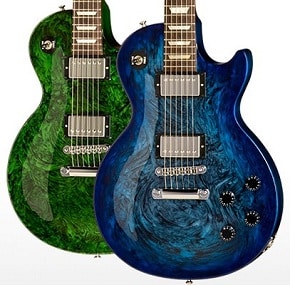 Though the Nashville flood is long behind us on the calendar, for many of us it is still fresh in our minds and hearts. The damage is done, the cleanup is all but finished, and things are back to where they should be, for the most part. Hell, Gibson is still rockin' and rollin' just as hard as they ever were. As you may or may not remember, Gibson's Nashville plant was hit especially hard in the flood, laying waste to every guitar they had, including some hall-of-famer guitars. Read more