RIP Travis Bean 1947-2011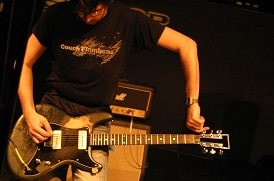 Gear Vault is sad to report that noted guitar maker Travis Bean has gone to that great gig in the sky. He passed away at home July 10, 2011 after a prolonged battle with cancer. Bean is best known for the guitars that bear his name that featured some of the earliest solid aluminum necks and headstocks paired with exotic hardwood bodies. The instruments had a distinctive sound and were known for excellent intonation and lots of sustain. Bean, along with his business partners Marc McElwee and Gary Kramer, built guitars from 1974 to 1979 under the Travis Bean name, although Kramer left after 1975 to start his own Kramer Guitars company, which also made instruments with aluminum necks. Although that is a small amount of time, the guitars have found their own core group of fans and admirers and have been seen in the hands of players like Jerry Garcia of The Grateful Dead, Keith Richards, Ron Wood, and Bill Wyman of the Rolling Stones, guitarist/producer Steve Albini, Lee Renaldo of Sonic Youth, and two-handed jazz guitarist Stanley Jordan. About 3600 guitars were built during the company's' years of production.
After his years in the guitar business, Bean worked as a television stagehand until his retirement. In the late 90's, Bean paired up with master machinist and designer B.Kelly Condon and built a run of 24 high-end instruments that, once again, featured aluminum necks and were each machined from a solid billet of the metal. A documentary film about Travis Bean called Sustain is currently in production. All of us here at Gear Vault send our sincerest condolences to Travis' friends and family during this trying time.