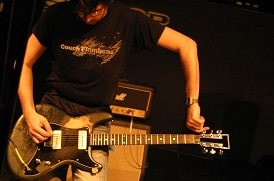 Gear Vault is sad to report that noted guitar maker Travis Bean has gone to that great gig in the sky. He passed away at home July 10, 2011 after a prolonged battle with cancer. Bean is best known for the guitars that bear his name that featured some of the earliest solid aluminum necks and headstocks paired with exotic hardwood bodies. The instruments had a distinctive sound and were known for excellent intonation and lots of sustain. Bean, along with his business partners Marc McElwee and Gary Kramer, built guitars from 1974 to 1979 under the Travis Bean name, although Kramer left after 1975 to start his own Kramer Guitars company, which also Read more
Gary Kramer Gained celebrity in the Eighties as the primary guitar supplier for Eddie Van Halen. He was also one of the first manufacturers to feature the era-defining original Floyd Rose tremolo. He stepped away from guitar building for more than a decade, but now he's back with another inspiring line of guitars and a fresh set of ideas on guitar design.
Kramer's Delta Wing Simulator R looks like an alien weapon, but the wild mahogany body shape actually serves to align the neck perfectly when standing or silting. The sweeping upper horn braces the extremely lightweight guitar against the player's chest in such a way that it's nearly impossible to slump into an uncomfortable posture. Similarly, the body contours ease tension on the right wrist liberating feature that's evident when performing difficult techniques. Other high-tech attributes include recessed controls, a licensed Floyd Rose tremolo, a push/pull coil tap, a slick matte finish on the 24-fret neck and molten alnico pickups that are aimed right at players who want extreme rock and metal tones. Read more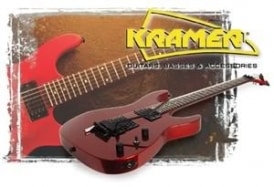 Rookie Metalheads never had it so good. This Kramer-Marshall combo packs plenty of bite and bottom at a bargain-basement price. The Kramer Baretta sports a maple neck and alder body with neck-thru construction, quad-rail humbuckers (tappable to dual-rails, for leaner thumpitude), Floyd Rose trem, a killer neck profile, superb fretting, a flawless finish and skull and crossbones tuners. Tricked-out with top notch hardware, these Korean-built Kramers sport ridiculously good tone and playability. They'll be an instant lure for anyone who's ever even thought of a pinched harmonic. Read more
Floyd Rose is the revolutionary tremolo systems off time.
In 1964 a guitarist named Floyd Rose moved from Durango, Colorado to Reno, Nevada. There he started playing in bands. Floyd had many guitar artist influences. His biggest influence was Ritchie Blackmore of Deep Purple and Jimi Hendrix from one of his Woodstock performances.
Inspired by all these amazing guitar players he started wailing and playing hard on his whammy bar on his Fender Strat. However, he noticed the problems of his Stratocaster not holding up to his aggressive style and go out of tune. That was a problem, the tremolo systems back then would make the strings go out of tune to easily.
Floyd Rose was jammin' on his Fender Strat and that's when he noticed the E string was sliding around the winding on the tuner. That's when he realized the friction around the nut was allowing the strings go out of tune. He then started thinking about some type of locking device. Read more