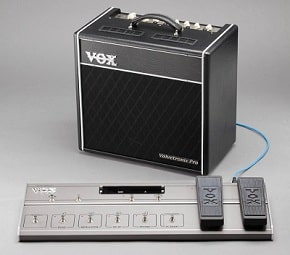 In the modern age, many amplifier companies are marketing their version of a digital amplifier may it be Peavey, Line 6 or even Fender. Vox is a bit different when it comes to the whole ballgame, and just like their previous digital endeavors, Vox ceases to disappoint with the Valvetronix Pro VTX150 Neodymium.
The Neodymium is a really cool combination of things. It's not just a modeling amp looking to achieve sounds of 44 other amplifiers. It doesn't just factory ship you 132 carefully crafted presets to not only imitate but GIVE you the sound heard in many classic rock to modern songs today. It does ALL of that, plus equips a tuner, 25 separate effects, 8 slots to program your sounds for your songs, and a power control to adjust your wattage for the given setting. It does it all pretty much. I won't forget that it can all be controlled from your feet as well with the VC-12SV footswitch.
It's nice because instead of just having amp models, the guys at Vox took a step ahead and made the 132 presets to give you some extremely cool, premade sounds. Some people may frown down on this, but I'm sure there's going to be at least one sound you'll love in the bank. On the other hand, having separate effects will really let you do exactly what you want to do with the amp instead of fussing around with presets. It's up to you.
The Neodymium is equipped with one EL84 vacuum tube to give you that authentic tube tone, which is always a plus. This is where the powerful "Valve Reactor" circuit comes into play. This circuit is going to pick up on every little thing you do when it comes to how you pick and play. It's also going to bring great clarity and tonality to whatever you're doing as well. The amp also uses an extremely powerful neodymium magnet in the speaker. This helps the amplifier to produce particularly different dynamics and nuances that the several different amp models produce much more accurately.
I've only ever enjoyed one digital amplifier in the past. Most of them just don't sound like the real thing, and I'm sure the purists have a glass completely empty when considering this debate. Though, with all the recent advances in technology, these amplifiers will only come close and closer to sounding like the real thing until one day, they do. Could that day be upon us? You decide! Read more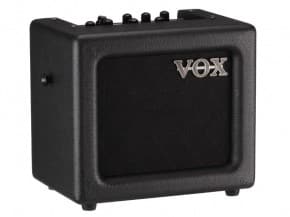 After a week of testing, let me introduce, the one and only VOX Mini3 portable guitar modeling amplifier.  I received VOX Mini3 for review purposes, and let me tell you, this little amp didn't disappoint.
What is a modeling amplifier?
I won't go into amplifier classes too deeply and the difference between "real" and "not real" amps. This is a subject for some other article, this debate is 20 years old or so, when modeling amps started to hit the market. It will be better to picture a machine that with the press of a button, or twist of a knob, could change between the sound of a Fender or Gibson, Marshall or Vox amps.
Also with a Mini3 you can choose sounds from 50's to 90's, from classic Chicago blues tone, via UK '70 & 80's and finishing with a powerful and heavy sound for metal acts wielding guitars. Modeling amps are for guitar players who want to get a tonal palette that they wouldn't have access to with just one amp. On VOX Mini3 you have 11 amp models!
Great Amp For The Money
Well, I know I got this amp as a review item, and I don't want to check how much it cost, but just for purpose of the review I will. For just about $100 you get much more than competitors with a higher price. First, this is a British product with a long heritage. Secondly, they have a great respect from musician community and music industry.
There is nobody on this planet who didn't hear about the Beatles! In 1950's when the Beatles just started, they chose VOX amps and that would come to define the British Valvetronix sound for years to come!
For less than one Benjamin you get 11 amplifiers in one, with 8 different effects, bunch of inputs and outputs, so you can connect microphone,bass guitar, MP3 players, CD players, and adjust it separately to become a genuine one man band and a piece of that VOX history!
Main Features of VOX MINI3
The compact Mini3 features 3 Watts thru 5″ speaker a stellar tones inherited from the VOX Valvetronix series. Also with a great input logic, which include an AUX IN Jack, for connecting an external audio devices like MP3 player, and a MIC IN jack. You can play along with recorded music accompany your vocals on guitar.  Another great feature is that you can also adjust the send level from the MIC IN jack to the DELAY/REVERB effects by using the dedicated DLY/REV SEND knob.
11 Amp models – from blues to heavy metal; you want it 's got it
8 Studio quality effects – Tremolo, Chorus,Flanger, Reverb, Delay to name a few
Battery or AC powered – This portable amplifier is powered by 6 AA batteries or with an AC adapter, enabling you to play anywhere.
Built in Tuner – very simple but effective tuner for adjusting your 6th string via INPUT jack.
Mic input with independent volume,reverb, and delay
AUX and LINE inputs – for a sing along of your favorite songs from your MP3 player
Headphone Outputs
The TAP button – enables you to easily set the delay time and sync with the tempo
Carryng strap for easy portability
VOX MINI3 Front Panel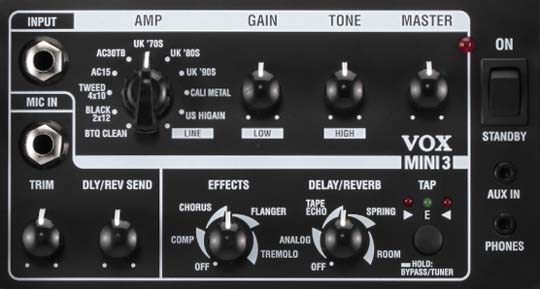 1. INPUT jack – This is where you plug in your guitar.
2. MIC IN jack – Connect a microphone here.
3. TRIM knob – Enables you to adjust the volume level of the microphone input.
4. DLY/REV SEND knob – Enables you to adjust the send level from the microphone input to the delay/reverb effects.
5. AMP selector – Enables you to select an amp model. From blues to heavy metal, all this at your fingertips.
6. GAIN knob – This knob enables you to adjust the pre amp gain for the selected amp model.
7. TONE knob – This knob enables you to adjust the tonal color.
8. MASTER volume – This knob adjusts the overall volume of the amplifier.
9. EFFECTS knob – This knob enables you to select the effect type and set intensity of the effect.
10. DELAY/REVERB knob – This knob enables you to select a delay/reverb-type effect and set the intensity of the effect.
11. TAP switch with LED/TUNER indicator – this switch enables you to set the time of the DELAY and REVERB effects. Also by pressing and holding the switch, it goes to tuner mode and with leds you can tune in your 6th string and the other accordingly.
Video of VOX Mini 3 Guitar Amplifier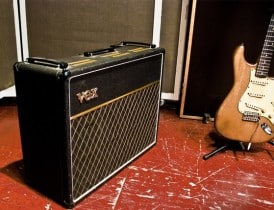 The Vox AC30 is one of the longest-lasting and most popular guitar amplifiers ever produced. Its appeal is wide enough that it could be considered to be the Fender Twin of Europe and it has powered as many legendary recordings as Leo's finest or anything Jim Marshall ever created. Used by artists ranging from The Beatles to Brad Paisley, the AC30 is one of the primordial flavors of guitar amplifiers Read more
Vox has been busy this year. Yesterday we announced the VOX AC Custom Range, we just announced the new VOX new electric guitars today, and now we are receiving breaking news about the amPlug guitar Cabinet. I love NAMM! Read more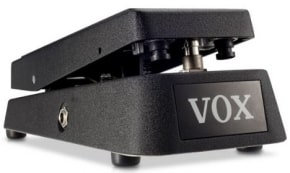 Wah pedals have been around since the 1960's and have become one of the must-have effects in just about every guitarist's arsenal. Vox was the company to first introduce wahs to the guitar market and remains a favorite brand to the present day for those seeking to release their inner "Voodoo Chile." Their newest offering, the V845 Wah Read more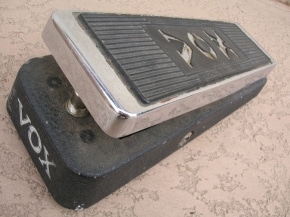 I have an original Vox Wah-Wah pedal, and I think it's probably time to put a new pot in it. My dad bought the pedal in 1968, and it's starting to sound pretty noisy. I want to keep the tone and range if the wah the same. Do I need a particular type of pot? Also, I pick up radio stations loud and clear through the Vox and other pedals sometimes. Is there any way I can eliminate or reduce this problem?

Craig
xxxx@gmail.com
You'll be happy to know that part number ECB24B, otherwise known as the Dunlop Hot Pot, is a direct replacement for the original pot in your wah pedal. I'm told that it retails for about 20 bucks and is guaranteed for one million operations! Check the music stores in your area or contact Dunlop at (800) 722-3434 or www.jimdunlop.com. If you're not qualified to change it yourself, I'm sure any local amp repair shop would be able to do it for you for a few bucks.
As far as the radio stations you're receiving, the solution may not be that simple. If radio signals are coming through loud and clear, I'd bet you live in a very close proximity to one or more radio transmitting towers. Since a guitar puts out a high impedance signal which you combine with all the active circuits that the signal travels through (all your pedals, your amp, etc.) before it actually comes out of a speaker, what you get is basically a guitar rig that acts like an antenna. There's not a whole lot you can do to avoid this, with the exception of playing inside a cage of chicken wire (I'm not joking). One thing you might want to try is what's known as an RFI (Radio Frequency Interference) filter. This gizmo is available at electronic supply stores and possibly Radio Shack. Plug your power cables into it and then plug the RFI filter into the wall socket. This can help eliminate interference that's coming from the power lines in your house or rehearsal room. Give it a try—or get some chicken wire. Read more
Joe Santriani contributed numerous ideas that were unheard of in existing wah pedals, endowing the Big Bad Wah with an unparalleled range of sounds from vintage to modern, as well as those that are totally original. Read more
Tube power explosion! Vox ToneLab ST offers thirty-three different amp models with a versatile array of cabinets and effects to take your guitar playing to the next level – wherever you go. Introducing the Valvetronix series ToneLab ST; bringing true-tube pro-level sound for all players.
The Vox Tonelab ST is designed for mobility; made for guitarists on the go. The rugged metal body will stand up to life on the road, and the expression pedal carries on the fine tradition of VOX wah pedals. Read more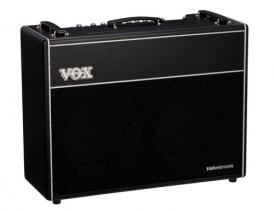 Vox has released 2 new and great products; the first is the Vox Black Diamond Modeling Combo Amp which is a combination between the sweet vintage tone (valve) and the latest technology (digital modeling) that is related to the Valvetronix series family. Read more