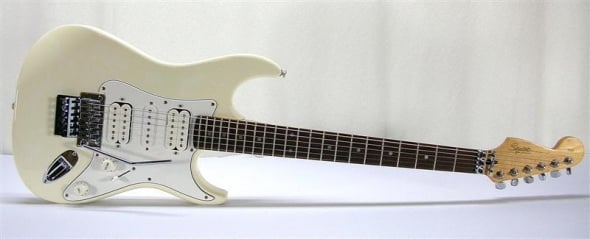 Squier Stagemaster is a uniquely different tailor of the typical Fender Stratocaster guitar. The Squier Stagemaster is made explicitly for the rocker players alike. With its sleek Strat body design, reverse Fender-shaped headstock and its drive-bombing License Floyd Rose double-locking tremolo system, the Stagemaster spells "flash" with all of its humbling features.
Much like Fender's Fat Strat, the Stagemaster guitar is equipped with a lustrous hardwood body, smooth-shredder-fast maple neck. The neck is much thinner than the typical C-shaped Stratocaster and with its reverse headstock, the guitar has appeal and zazz. Playing it feels like Jimi Hendrix's reversed Stratocaster; for his left hand playing–however, the Stagemaster is a right hand guitar. Whats more, the Stagemaster is equipped with a solid Rosewood fingerboard (12.6″ radius) and 22 frets. The die-cast machine head tuning pegs are what you'd expect from a guitar with Fender's name on it. The pickups are a bit bland, but certainly not bad for a guitar in this price range. The pickups are managed with its 5-way selector switch, master volume and a single tone control. Read more


Innovation is what Fender guitars have always been about. Fender will humbly submit that it's not always good idea to mess with a good thing – the trick is to make a good thing even better. Enter the American Deluxe Stratocaster Series. Decked out in six luxurious finishes, the comfort contoured, solid alder body gives these Fender Deluxe Strats loads of warm resonance and stunningly modern looks. The C-shaped necks support super-clean fret finishing, abalone shell inlays, and a smooth, no-drag finish with rolled edges for that "played in" feel. Available exclusively on the American Deluxe Strat Series is one of the latest innovations, Fender Vintage Noiseless Cobalt pickups – classic Fender tone without the 60-cycle hum.
The Fender American Deluxe Stratocaster is instantly comfortable with irresistible tone and playability. You won't believe your fingers and ears. The ultimate in high-performance, these premium Fender Stratocaster models have an ultra-smooth, sweet neck with hand-rolled edges to make it play fast, smooth, and sweet. Read more