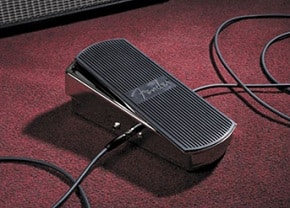 During the late Sixties and early Seventies, it seems like everything related to music was literally huge: amp stacks, stack heel platform shoes, rock star mustaches and hairstyles, crotch padding and, especially, effect pedals. Stomp boxes were the size of shoe boxes, and the average pedal board was so big that it took two roadies to haul one from the back of a Chevy van to the stage of the Cow Palace or Winter land. Of course, that all changed later in the decade as microchips replaced the transistors and cherry bomb-sized components in primitive effect circuits, and soon after, the size of the average pedal shrunk significantly.
Fender's latest Classic Series pedal reissues bring back in their full glory four of the company's big-honkin' stomp boxes from the Golden Era of effects: the sensibly named Volume, Volume-Tone, Fuzz-Wah and Read more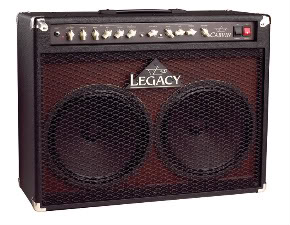 We were more than a bit surprised when this underrated, business-like amp slipped from its cardboard carton. No fluorescent floral Tolex? No trans-dimensional quantum drive? Not even a monkey grip? Steve Vai designed this, didn't he? Read more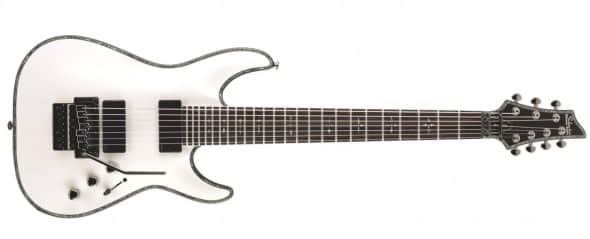 Baggy pants? Check. Pimpin' Adidas? Check. Natty dreads? Check. Turntable-thrashin' DJ? Check. Seven String? Hello? Seven String?
Even if you've got all of the other required accouterments, you'll be hard-pressed to make it big with that psychotically low, funky, hard-music grind that's all the rage these days if you're not packing a seven string. In the past, chugging on the low E string used to be enough to make you a contender. But now, with bands like Limp Bizkit mining sinister new veins of metal and settings a new standard for heaviness, you're likely to be written off as a lightweight if you can't summon up that deep, spongy rumble. Until recently Ibanez has been the only mass manufacturer of seven-string solidbodies, but the Schecter Diamond and Hellraiser Series offers a new, affordable contender for players who want to hit below the belt. Read more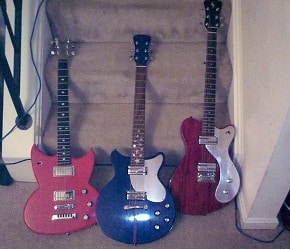 If you've seen advertisements for Vaccaro's guitars on the internet or magazines, you may have noted their slightly confrontational slogan: "They're not for everybody." This statement, it seems, is absolutely true. The reactions I've seen when whipping one of these unorthodox instruments out of my gig bag have ranged from shock ("Where di you get that?") to covetous ("Awesome! Where can I get one?").
Brought to you buy the people who created Kramer's distinctive aluminum and wood-necked guitars in the late Seventies and early Eighties, Vaccaro's guitars feature daringly designed popular bodies, bold finishes and unique aluminum, maple and ebonol composite necks. The Groove Jet evokes the unholy alliance of a Gibson SG and a satanic dung beetle, and features two Seymour Duncan Custom '59 humbuckers, a three-way switch pickup selector located on the top horn of the guitar, two volume controls and a master tone control. Our review model was flawlessly finished in a stunning see-through emerald green. The X-Ray, whose sleek, orange sparkle body has a space-age Rickenbacker vibe, boasts two Rio Grande Muy Grande pickups: a humbucker in the bridge and a single coil in the neck position. Both pickups are topped off with the same mother-of-toilet-seat plastic as the pickguard, adding to the instrument's undeniable ie ne sais quoi. The X-Ray's control layout is simple yet versatile: a three-way pickup selector, coil-tap switch for the humbucker and single volume and tone controls. The hardware on both guitars (Sperzel locking tuning machines, super-sleek Tune-O-Matic-style bridges and top-notch components) is bullet-proof. The phenolic "I can't believe it's not ebony!" fingerboard are smooth and natural feeling, and the well-finished frets provide a sleek, effortless playing surface. Read more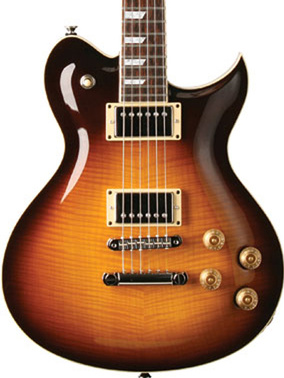 We noticed that not much information was presented on the interweb about Washburn's Idol series guitars. That's a shame because these guitars are an absolute craft of beauty and extremely underrated. There has never been a better time to choose your Idol with the recently released (October 2008) models available.
Washburn's "Wi" Idol series are passionately hand-built at the Washburn's Chicago facility by some of America's finest luthiers, the USA Idol Series consists of five amazingly crafted Custom Shop Guitars. Read more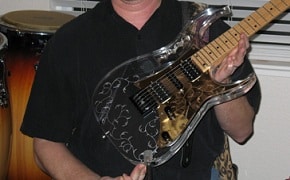 Before the Internet brought us the ability to window-shop on a global basis from the comfort of our homes, most people would have only had an occasional opportunity to see (much less play) an acrylic-body electric guitar. You'd find them once in a great while hanging on a pawn shop wall, or you'd see one being played onstage at a show, and that was about it. Read more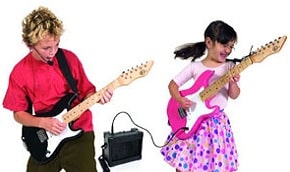 Discovering music and aspiring to play guitar can be one of the most wonderful experiences of childhood. Playing music with your children is also an excellent way for parents and children to bond with each other.
The quality of the guitar can often be the deciding factor in your child's choice to continue learning guitar or kicking it to the curb. You will want a guitar that is not difficult for your child to play. Choosing the right guitar to purchase for your kid can be a difficult task but with a bit of knowledge you can ensure that your child finds the kids guitar that will not cause them or you, any excess frustration.
Luckily for the parent there are a plethora of options out there in regard to purchasing a kids guitar without breaking the bank. In this article we will be looking at five of the best kid guitar packages out there. Read more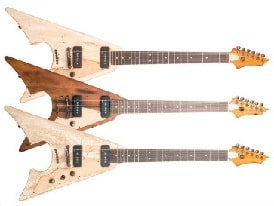 Legendary guitarists like Randy Roads of Ozzy Osborne played V-shaped guitars; their extreme edge appearance brings the meaning 'axe,' which explains why so many metal guitarists prefer them. They're unique looking, give a tight heavy sound and just look metal. The Badwater Jacknife guitar is yet another radical—V-shaped—guitar, but unlike many others, is geared toward guitarists on a budget, while giving more features than other economy V-shaped guitars. Most metal guitarists will enjoy this guitar's unique, vintage-style design and groovy sound. Read more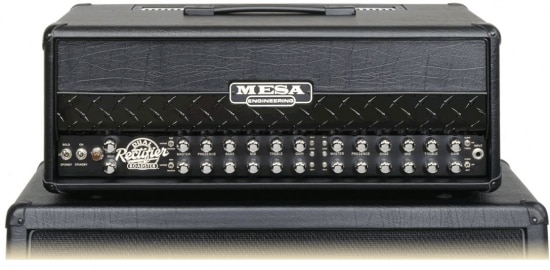 The almighty Mesa Boogie Roadster is a great sounding and versatile amp that is designed with the plug-in-and-play guitarist in mind. It is a brother to the Road King amp and is basically the same as the RK minus Mesa's Progressive Linkage technology and some other back-panel features that some feel a player needs an advanced engineering degree to operate.
The Roadster gives less tech-friendly players a number of foot-switchable options to craft their tones with, without the anxiety of tons of power amp features they don't understand. The Roadster's channels one and two give up classic clean tones that can be duplicated across both channels for rhythm and lead applications. They also have TWEED and BRIT modes that work with the mid frequencies to get classic American blues and British rock sounds from clean to clipped. These two channels would make a great sounding and versatile amp all by themselves. Channels three and four offer players all the legendary tones found in Mesa's Dual Rectifier Solo heads and contain all flavors of gain from mild to wild. Again, the sounds can be cloned across the channels for ultimate tonal control. Read more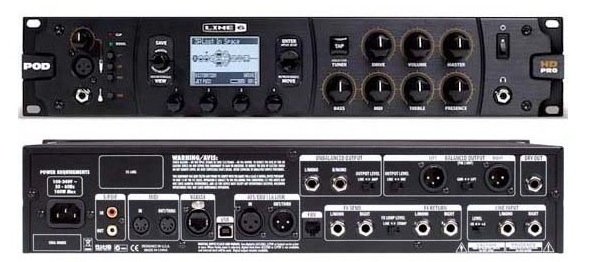 The art of competing in a modern industrial world is constantly changing, and constantly getting more difficult. Each year, companies give it their all and toss their eggs in a basket, hoping it will pan out for them and be the next big thing. Line6 sits at the table with the big guys when it comes to innovation and the forefront of effect technology, but just how well does their flagship unit, the POD HD PRO, stack up?
Construction and Controls
This thing is sturdy, to say the least. It's all metal construction gives a nice comfort to any of us who put our equipment through the paces, and expecting it to keep chugging along. The face of the unit has a nice tactile control system, reducing the menu-surfing to a much better level, and giving more direct control over things like drive, volume, and EQ. Other controls are a mic preamp, an XLR input for vocal effects, and a brightly lit LCD screen, displaying signal chain, effect options, and user presets.
I/O
There isn't much the HD PRO can't handle as far as inputs and outputs in a guitar setting. The unit offers a standard guitar in and headphone jack out front, but turn the unit around, and now we're really talking. In back, you are given the option of sending the dry signal out for later processing, connecting other mic preamps through the line input section, adding your own effects in the FX stereo loop, or using the HD PRO directly with your computer via a usb port.
Amp Modeling
The HD PRO's undeniable strength is its amp modeling. The vast array of amps and tones available is eye-popping, and the sounds that can be achieved are even better. From thick, crunchy tube drive, to airy, light acoustic tones, clearly there is quite a lot left to the imagination here, to play and create with as you please.
Effects
This is where things get a bit cheeky. Once again, Line6 gets close to a climactic group of effects, but misses the mark on a few things. For starters, the idea of a visual effect chain right in front of you is revolutionary, and a great concept that can be utilized to the greatest extent, if one puts in the time to program and set everything up in advance. Even with a great display however, it seems that there are just way too many effect packed into one box, and to control and manipulate them all is no easy task, despite the more hands-on approach taken on the control system. As with the previous POD HD 300, 400, and 500 units, all of the effect sculpting is done through menus, and is accessed by 1 or 2 knobs. Furthermore, the more digital and processed effects are not very responsive to the player, and the guitar signal itself. With the more digital effects, the guitar acts as more of a midi guitar, with the effects not using the guitar's signal at all, but rather listening to what notes you are playing, and producing a sound of its own based on the pitch. With these flaws though, there is still room to work with creating new tones, starting from scratch and making something all your own.
Flexibility
I was a little put off by the rackmount idea; in as much as that it does not come with an included footswitch, although there are rear ports to accommodate one. Without a footswitch, the idea of playing out live with the HD PRO seems all but impossible. The HD PRO would probably fit in better in a studio setting, tone creating and shaping, and as the middle man in a recording project.
All in all, I would have to say the POD HD PRO is an effective piece of gear, but is better left to a studio setting, or small gigs, unless you have a footswitch to operate it with. The tones are phenomenal, and the effects are interesting, but the price seems a bit high at $699.99. Overall, a good, reliable piece of gear that can open countless doors to the unknown of guitar tone.
Line 6 POD HD PRO Review
7/10
Line 6 POD HD PRO Video Review