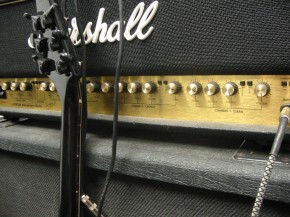 Marshall is one of the most reputed guitar amplifier manufacturers in the world. The history of Marshall Amplifiers is a really interesting one and the company with its excellent products has indeed rewritten the way a genre of music is heard! Many guitarists to date prefer the signature Marshall "crunch sound" which only Marshal amps can deliver. The company throughout its history has indeed developed many models which have been extremely well received by both veteran and entry level players and it continues to do so till date. Read more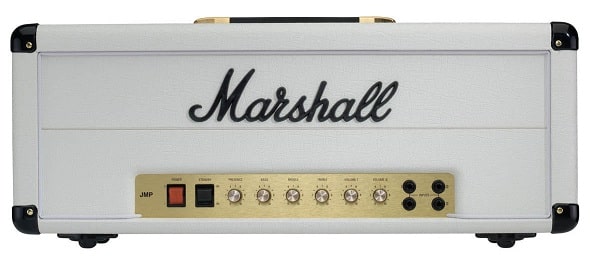 THE HOT-RODDED Marshall phenomenon that started in the Eighties can be attributed mainly to two players: Eddie Van Halen and Randy Rhoads. Ironically, Eddie's original amp wasn't modified at all, while the modifications to Randy's amps were long rumored hut never confirmed. Because Randy's amps were returned to his family and locked tip in a vault after his death in 1982, details of the modifications remained a mystery until recently.
Working with the assistance of Randy's mother Delores and brother Kelle, Marshall finally gained access to Rhoads' legendary white Marshall amp head. Marshall investigated every minute detail, including the cascaded input modification that was performed at the Marshall factory in 1980 when Rhoads custom-ordered two white Marshall stacks. As a result Marshall just released the limited-edition 1959RR Randy Rhoads Signature Series Super Lead 100-Watt head, an exact duplicate of the 1980 Marshall JMP 1959 Super Lead MKII 100-watt head that Randy used onstage with Ozzy and on the recordings of Blizzard of Ozz and Diary of a Madman. Read more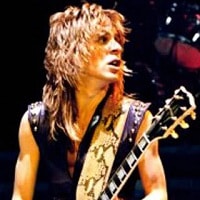 Randy Rhoads fans, here's some unseen video footage that recently surfaced. As a huge Randy Rhoads' fan, whenever some unseen audio or video is discovered, it's like finding the Holy Grail. And so it is, apparently, with the below video of Randy Rhoads performing an extended (7:50) solo from 1979 with his former band, Quiet Riot. Read more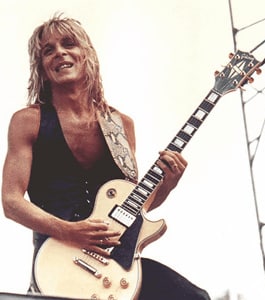 Randy Rhoads had one of the shortest but brightest runs at the top of the rock and roll game. His body of work with Ozzy Osbourne has stood the test of time and still provides inspiration for up-and-coming metal players and his legend has only gotten larger since his untimely death in a plane crash in 1982. Read more
Gibson to reproduce Randy Rhoads classic Les Paul guitar – Gibson Guitars are finally doing something right since their Gibson Hendrix Strat failure. The guitar company is set off to reproduce Randy Rhoads classic Les Paul guitar. Read more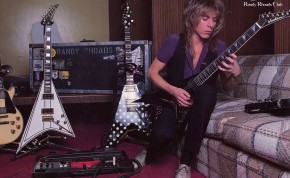 As many know, Jackson Guitars started when the heavy metal wave was on its peak. Grover Jackson first in-scripted his name on a guitar that was designed by the late Randy Rhoads in 1980, when he was still teamed up with Charvel guitars. The reason behind this was that Jackson thought that a guitar with such design would be too shocking for the regular Charvel customers. Read more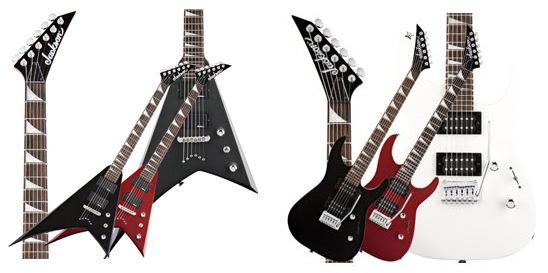 What do modern metal masters such as Iron Maiden's Adrian Smith, Lamb of God's Mark Morton, Machine Head's Phil Demmel, and Anthrax's Scott Ian have in common–aside from being highly influential players in venue-packing bands, of course? Jackson Guitars. Read more
Here is a compilation of the world's best lead guitarists of all-time by YouTube member: Mike Redshaw. Personally, I won't dispute his list — I think he picked some of the best guitarists known to mankind. However, one could argue for days who "their" version of 'best guitarists' are. There's a lot of talent out there and everyone get's moved by music / guitars differently. For me, if I were to pick just one "best" guitarist, it'd be Randy Rhoads (not on his list). All of his work has moved me and he was one of my biggest influences when I started playing guitar. Okay Gear-Vault readers, who would you pick for the 'world's best lead guitarist' of all time? Read more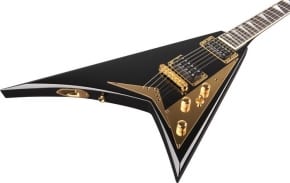 Crafted in a limited run of just 10 instruments by Jackson Custom Shop Master Build Mike Shannon, the Custom RR Limited Run bears the luthier's signature and is destined to become highly collectible.
Shannon, who was intimately involved in creating Randy Rhoad's original black Jackson signature model in the early 1980s, has hand-signed and numbered the back of the headstock of each guitar while the truss rod cover is etched with Shannon's signature. Each instrument comes with a leather binder housing a certificate of authenticity and CD with photos of the guitar in various stages of construction.
Each neck-through-body guitar boasts a quartersawn maple speed neck with ebony fingerboard, 22 frets, pearl sharkfin inlays, and Jackon's celebrated compound radius fingerboard. The strings traverse the body through a gold-plated Rhoads V-plate for superior sustain. The Seymour Duncan JB (bridge) and Jazz (neck) pickups are surrounded by gold-plated rings while the distinctive Rhoads pick guard is also gold-plated for lavish looks. Read more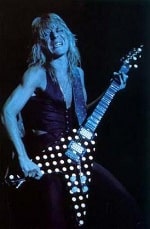 It's been a long time since Randy Rhoads left us but there are many who still rave about his characteristic crunch. Randy had a slight different sound from album to album but it usually had a sort of thin and bright, nasally tone. He carried quite a few guitars but was usually seen with his Les Paul and of course his famous polka-dotted flying V.
To go for Randy's sound on "Over the Mountain" from Ozzy Osbourne album Diary of a Madman, start with a standard distortion pedal. Crank the gain control wide open, the tone at about mid, and the level set at a comfortable level (comfortable being relative). Pay close attention to the amount of distortion the pedal produces; many just won't have enough grind. If this is the case, switch to a metal type distortion but increase the tone or presence control to one or two o'clock. Next in the chain of effects is an octave pedal for use on the first of the solo. If you're lucky enough to have a real pitch transposer, set it for one octave down using a chromatic scale type and play the high part. Keep in mind this will not sound exactly like it does on the song but it will sound a lot closer than if you went without. Last is the stereo chorus set to simulate the double guitar. Leave it on for the entire song. Read more