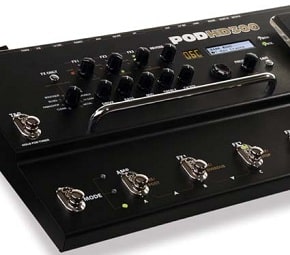 Late last year, Line 6 ramped up their strategy to claim a larger stake in the Multi-Effects arena. The flagship series they constructed to spearhead the entry, was the POD HD series. Before this series, the market was largely dominated by a handful of large companies, namely Digitech, Boss, and a few others. To this day, these large companies still hold the large share, but that all may change in the future. Read more

Over the past decade, I have always used some variation of POD for recording. It is by far, the easiest and fastest method of recording guitars. But when I've tried taking those sounds to the stage, they have sometimes fallen a bit short.
So when I was approached for my take on the new POD HD500, and I was told that "all-new" Line 6 HD modeling technology "represents a giant leap forward for amp modeling" and delivers "previously unachievable realism," I plugged in with some skepticism. Read more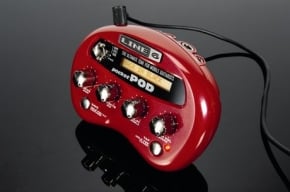 The world has never been the same since Line 6 unleashed the original POD in 1997. During that time just walking into a guitar shop, recording studio, or early adopter's home resulted in one or more of the red, bean shaped eccentric pieces being thrown at you followed by an immediate response of "Sounds like a killer amp." Read more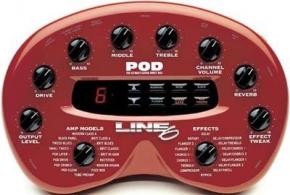 The law of the rock and roll jungle has dictated that, while electric guitarists get the glory of the girls, bassists have had the small consolation of being able to walk into a recording studio, plug into any half-decent direct box and immediately produce a useable tone. The advent of the Line 6 POD, a stellar and affordable direct-recording device for guitarists, is going to change all that. Now guitarists truly have it all.
Shaped like a space-age kidney bean, the POD uses Line 6's trademark digital TubeTone software to create "amp models" that recreate the sound and feel of a wide variety of classic amps (that, of course, includes "modern" classics). For example, the tweed '53 Fender Deluxe used for the POD's Small Tweed setting was extensively tested, so that every aspect—from the overdrive characteristics of the power stage to the interactivity of the tone controls—could be replicated. Other presets in the POD's vast sound spectrum include Tweed Blues ('59 Fender Bassman), Modern Class A (Matchless Chieftain), Brit Classic ('65 Marshall JTM45) and Fuzzbox, a satanically accurate recreation of a 1960 Dallas Arbiter Fuzz Face. On presets like Black Panel, where the amp being modeled (a '65 "blackface" Fender Deluxe) has built-in reverb, the POD's reverb control emulates a spring reverb with relative accuracy. For amps that originally came without spring reverb, the control adds a deep, large room reverb. Read more