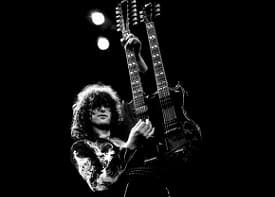 It's no secret that each major religion has a group of artifacts that its followers hold a high respect for. We guitar players have the same artifacts that we respect. The main difference is that ours can be used to raise fists and get laid. Well, Gear-Vault has put together a list of said guitars, so let's take a look at what many guitar players say are the holy of holies; the top ten most famous guitars, in no particular order. Read more
Premier Manufacturer Announces The Game Changer, In Addition to New String Offerings, John Petrucci Guitar and Ultra-Portable Gig Bag Amplifier
NAMM 2011 — Ernie Ball Music Man, one of the world's leading manufacturers of strings, instruments and guitar accessories, including the iconic Slinkys guitar string line, today announced that it will unveil The Game Changer, a ground-breaking, all analog pickup switching system that unlocks an extensive library of natural guitar tones previously unavailable in traditional pickup technology. Available in select Reflex guitar and bass models in 2011, this progressive innovation leads a host of new and exciting products Ernie Ball is set to launch at the 2011 Winter NAMM Show.
New Ernie Ball Music Man products are Read more
Gibson Guitars have been really busy in 2009, they've announced the Gibson Hendrix Stratocaster–which turned out to be a complete flop, the Gibson Dusk Tiger, Gibson Eye, Gibson Les Paul Florentine, and even Buckethead's Signature Les Paul. Now Gibson announces the Jimmy Page 'number Two' Les Paul. I like this guitar much better than the other guitars Gibson birthed in 2009. This guitar is actually a legendary Les Paul inspired by Jimmy Page's 1973 Les Paul Number Two, and we all know Jimmy (and his gear) is a great to be inspired by. Read the presser below. . . Read more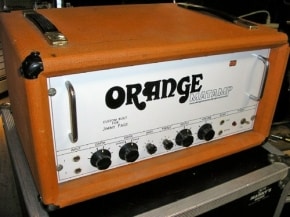 Turns out just one Led Zeppelin fan had the means — or perhaps the inclination — to buy one of the coolest pieces of Led Zep-associated memorabilia to surface in some time.
According to Gibson.com, a sole eBay bidder coughed up a whopping $30,000 Read more

[% oiopub-banner-3-left %]
When Nat Daniel made the first Danelectro back in the mid Fifties, could he have hand any clue that his trashy, low-end electric guitar would sound electric guitar would sound so great and play so majestically? Could he have anticipated that these instruments would find their way into the hot, sweaty palms of Satan's cabana boy, Jimmy Page, and numerous other future rock stars? Not likely. In truth, the late New Jersey guitar and amp maker—whose primary business was supplying guitars sold by Sears (under the "Silvertone" brand name) and Montgomery Ward (under the name "Airline") and other chain stores—wasn't a master luthier, but an entrepreneur looking to make a buck. He built'em cheap, sold'em cheap, and made 'em available in a paint-box worth of colors. Danelectro's market was anyone looking for a good, super-affordable electric guitar. Read more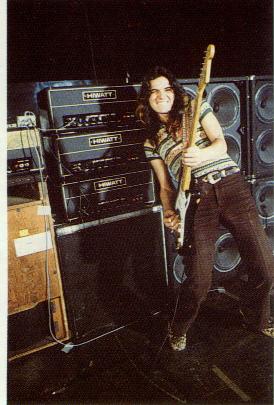 Tommy Bolin may be remembered as the guitarist who replaced Ritchie Blackmore in Deep Purple during the Seventies. But while this accomplishment alone would guarantee him a small footnote in rock history, he remains revered today for his blazing Stratocaster playing while variety of jazz-fusion and hard rock contexts.
Bolin had recorded two marginally successful albums with the Boulder, Colorado-based band Zephr during the late Sixties and early Seventies, but he first came to public prominence when he appeared on the James Gang's Band and Billy Cobham's Spectrum albums in 1973. These two efforts, released within a few months of each other, couldn't be more different—Bang is rough-and-tumble funky boogie rock while Spectrum is a sophisticated, ambitious jazz-rock fusion effort. What both albums shared was Bolin's razor-sharp, rapid-fire playing.
Here was America's answer to Jeff Beck, John McLaughlin, Jimmy Page and Ritchie Blackmore, all brought together in the persona of a skinny, pouty 22-year-old who looked like a natural-born rock god. Bolin recorded one more album with the James Gang, Miami, before quitting the band in October, 1974. He worked as a session player, recording albums with Dr. John and Alphonse Mouzon, but a few months later he was approached by Deep Purple, who wanted him to replace Ritchie Blackmore, who quit the band in April, 1975.

Advertisement————————————
[% oiopub-banner-3-left %]————————————————————
Bolin's decision to join Deep Purple was bittersweet—the move instantly thrust him into the limelight of celebrity, but he faced the opposition of die-hard Blackmore fans and the challenge of propping up a band that was obviously on its last legs. Bolin recorded only one studio album with Deep Purple. Come Test the Band (1975), before they broke up. He had started work on his first solo album, Teaser (1975), shortly after he joined Deep Purple, and this, along with his follow-up, Private Eyes (1976), are perhaps the best examples of his work. Touring with the Tommy Bolin band as support act for guitar greats like Robin Tower and Jeff Beck, Bolin finally found himself in front of an accepting audience. A triumphant appearance in Miami opening for Beck was, unfortunately, to be his last. Bolin died the following day, December 4, 1976, from an overdose after indulging in a drug binge. Only 25 years old, Bolin wsa buried in his hometown of Sioux City, Iowa. His girlfriend placed on his finger a ring that allegedly had been on Jimi Hendrix's hand when he died.
In honor of Tommy R. Bolin – R.I.P
Bolin's favorite gear – Fender Stratocaster – Hiwatt Amps – Schulte Compact Phasing – Echoplex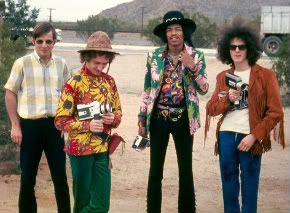 What do Jeff Beck, Jimmy Page and submarine warfare have in common? A stomp box maker by the name of Roger Mayer. Read more