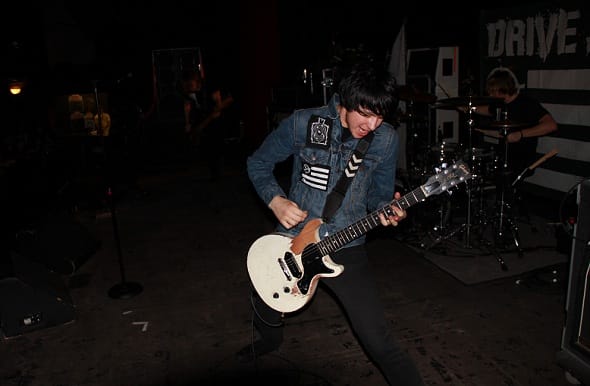 Touring for nearly the past two and a half years, Drive A has done everything right in the attempt to dominate the rock scene. They may have a myspace and reverbnation, but the internet has nothing to do with Drive A's success. The constant pounding of pavement with bands like Rise Against, Bullet for My Valentine, Four Year Strong, Set Your Goals, and Billy Talent (to name a few) is the basis for the growth of the bands' ever emergent fan base around the United States and Canada. Gear Vault recently had the opportunity to interview guitarist Jason Nott of the tear-it-down rock band Drive A to gain a little more insight into what the road is like, what gear he plays, and where his inspiration comes from. Today we talk to Jason Nott from Tempe, Arizona where Drive A is the support for headliners Escape the Fate on the first leg of their tour. Read more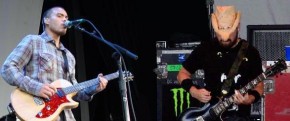 10 Years Interview–Gear-Vault exclusive – 10 Years' guitarists sits down with us for a full on interview. You can listen to the 10 Years interview live or read the transcript below. Guitarists Brian Vodinh is endorsed by Taylor Guitars and plays his Taylor Standards in stock form. While Ryan Johnson (aka Tater), on the other hand, plays Gibson Les Pauls with some interesting modifications… he pulls the neck pickup to give the guitar more sustain and crunch. His humbucker pickups are custom made and hand wound. Read more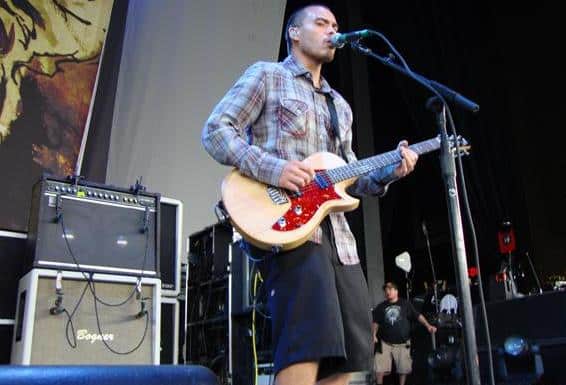 Brian Vodinh is one of the founding members of alternative metal band, 10 Years. He started off as the drummer for the band, but later switched to guitar. Some of his band members say he is a guitarist first, a drummer second.
Brian started taking guitar lessons at the age of 11 years old. He grew up around music as his father was a first-chair violinist in a symphony orchestra and his mother was a huge Elvis Presley fan. Brian says growing up with rock 'n roll meets classical helped shaped his style.
Brian's guitar influences growing up was bands like Deftones, Metallica, and Korn. Brians says you can hear a James Hetfield-style in his guitar playing, especially in his right hand attack. What helped him develop that style was his determination to learn Metallica songs, especially Master Of Puppets at the age of 13. See pictures of Brian Vodinh's gear taken from the Carnival Of Madness Tour at the DTE Music Theatre in Clarkston Michigan.
Brian Vodinh's gear list
Talor Standard Guitars (single cut)
Demeter TGA-2 guitar amplifier
Bogner Custom Shop Shiva guitar amplifier
Roland JCM120 2×12 combo
Bogner 4×12 speaker cabinets
Photos of Brian Vodinh's Gear

[nggallery id=65]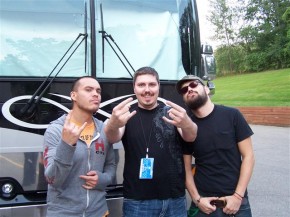 Auburn Hills, Michigan — DTE Energy Music Theatre, Carnival of Madness Tour — If you were one of the fortunate 15,000+ people in attendance at the August 7, 2010 show, you'll certainly remember how kick ass it was, well… depending how drunk you were. The Music Theatre was hoppin' and the energy was just absolutely astonishing, I wouldn't doubt Michigan has some of the most passionate rock fans in the world. Read more


Buckcherry Interview — Ben Bojanich sits down with Keith Nelson, guitarist of Buckcherry for a face-to-face interview.
Read the transcripts below: Read more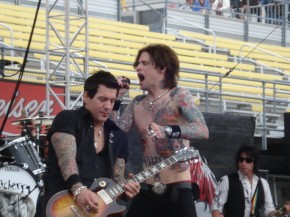 The Common Grounds Festival in Lansing Michigan is one of the few festivals of its kind in the state. This year's edition hosted musical artists ranging from Three 6 Mafia to Alice Cooper to the subjects of my interview, hard rocking quintet Buckcherry. Read more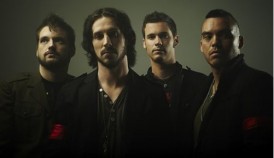 Gear-Vault.com will be conducting an interview with one of our favorite bands, 10 Years for the bands new album debut "Feeding the Wolves". We are very excited to interview and share our experiences with you. In fact, we encourage you to post questions that you would like us to ask 10 Years. We are excited to have the chance for our readers to participate in this interview. Please posts your questions that you would like us to ask 10 Years below. Look for the full interview coming soon! Read more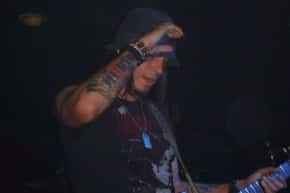 I sat down with Puddle of Mudd's guitarist, Paul Phillips, 4 hours before the Traverse City, Michigan show at Ground Zero was about to kick off. I was on stage shooting some images of Paul's equipment and talking with Paul's tech guy, Sparky, before Paul showed up for our meeting. Sparky walked me through Paul's equipment, how he tunes his guitars, how the rack equipment is all connected and showed me the night's set list, all of which I have taken pictures for you, the Gear-Vault readers, to see. Read more
TRAVERSE CITY, MICHIGAN — GROUND ZERO–Paul Phillips, guitarist of Puddle of Mudd, rig and set list images from the show at Ground Zero.
This is part two of three for the GEAR-VAULT / MUDD experience at Ground Zero on February 19th 2010. Read the Gear-Vault and Paul Phillips face-to-face interview.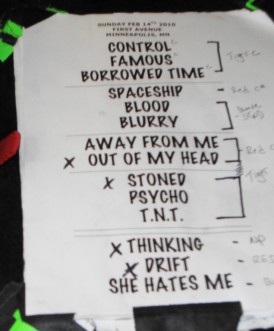 Puddle of Mudd Set List
NOTE: See Tiger C, Red C#, Blonde STND. That is the guitar Paul plays for that song and the tuning used for that song.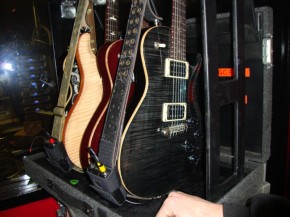 Paul Phillips Guitars
PRS 22 Tiger
PRS 22 Red
PRS 24 Blonde
Gibson Les Paul Snake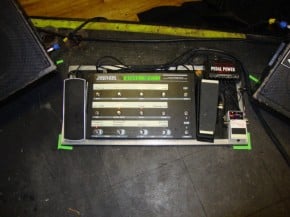 Paul Phillips Pedal board Case G17
Voodoo Lab Pedal Power
Vox Wah Pedal
Boss TU-2
GCX Control Pedal Board
Ernie Ball VPJR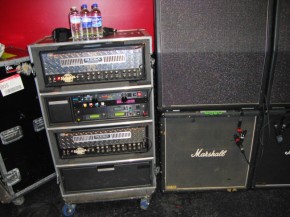 Paul Phillips G-11 GTR Rack
Mesa Boogie Triple REC
Mesa Boogie Triple REC
Furman PL-Plus II
Shure U4D
Shure U4D
Whirlwind Multi Selector
Ground Control Pedal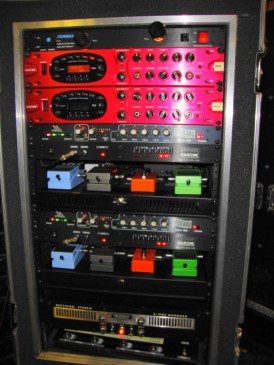 Paul Phillips G-12 GTR Rack
Furman PL-8
Line 6 POD XT PRO
Line 6 POD XT PRO
CryBaby DCR-ISR
Ground Control GCX
Voodo Labs Pedal Power
Boss NS-2
Boss CH-1
Boss RV-3
Boss PH-2
MXR Phase 90
CryBaby DCR-ISR
Ground Control GCX
Voodo Labs Pedal Power
Boss NS-2
Boss CH-1
Boss RV-3
Boss PH-2
MXR Phase 90
Mesa Boogie Stereo Z:100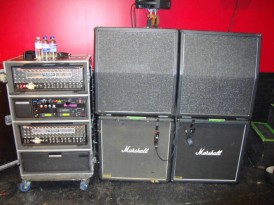 Paul Phillips G-13 Gtr Cab
Mesa Boogie 4×12 Gtr Cab
Paul Phillips G-14 Gtr Cab
Mesa Boogie 4×12 Gtr Cab
Paul Phillips G-15 Gtr Cab
Marshall 1960b 4×12
Paul Phillips G-16 Gtr Cab
Marshall 1960b 4×12
Paul Phillips of Puddle of Mudd Rig Images
[nggallery id=53]
Advertisement[% oiopub-banner-3-left %]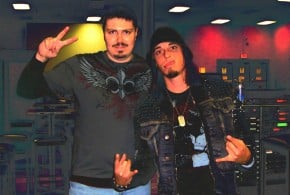 Ground Zero- Traverse City, Michigan — The meeting of Puddle of Mudd's guitarist, Paul Phillips… and crew. Read more