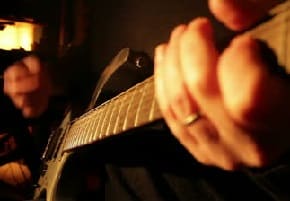 Learning to play guitar takes lots of practice, patience and skill as well. In fact, according to experts the guitar is among the instruments that are very tough to learn and truly master it.  Many people first thinks that they can pick a guitar, a book, few guitar songs and teach themselves. But once they find that it is not as easy as they thought, they become discouraged and leave it. But that's not the way to learn it, you can learn to play guitar easily if you know how to start. Read more
Tags: GuitarSongsThatMakesItEasyToLearnGuitar|Gear-Vault,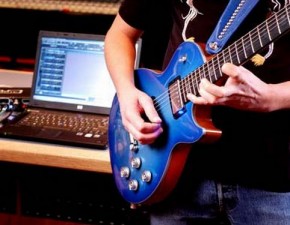 Sooner or later a time comes for anyone who has just learned to play the guitar. It's time to choose a few songs that are not that demanding (considering your small amount of experience), but sound really good.  I would definitely start with Smoke on the Water, written and incredibly performed by Deep Purple for decades. The thing is, everyone knows it, it has that distinctive riff and people (especially girls) who have no idea how to play the guitar will appreciate someone who performs it. Even if you are not that good with the guitar, you can learn to play this song just by watching any of tutorials on YouTube.
Of course, you don't want to be that guy who knows how to play the guitar, but knows only one song and annoys everyone. So after you master Smoke on the Water, next song you should definitely try is Smells like Teen Spirit by Nirvana. I literally don't know any teenager who hasn't heard this song, at least once. Just like the previous song, this one also has a distinctive riff that is so simple, and yet sounds amazing. You can add a little bit of improvisation if you don't want to sound dull, but anyway you can't go wrong with this song.
So those are two songs you need to know to play for any occasion whenever your guitar is around. Now there is also a third option that will make you stand out a bit from all the rookies who can play only the easiest songs. Learn to play Hair of the Dog by Nazareth. Also a lot of people know it or heard it somewhere, but not a lot of players (especially rookies) know how to play it. Not because it's hard, but because it's not so worn out.
So there you have it, first 3 guitar songs you need to learn to play on your guitar. Knowing how to play the guitar would make it a lot easier, but you could just watch tutorials on YouTube.
Tags: songs to know on guitar, easy recanize guitar songs, easy songs guitarists should know, electric guitar songs everyone should know, guitar tabs you should know, songs i should know on guitar, songs that kids should know for guitar, songs you should know on guitar, ten guitar songs you should know,

When the phrase "guitar solo" comes to mind, you picture a guy just shredding apart a fretboard on stage to a crowd going absolutely crazy. This may hold true for some instances, but there are just as many great, even better guitar solos that only consist of a few notes…and are absolutely breathtaking. Read more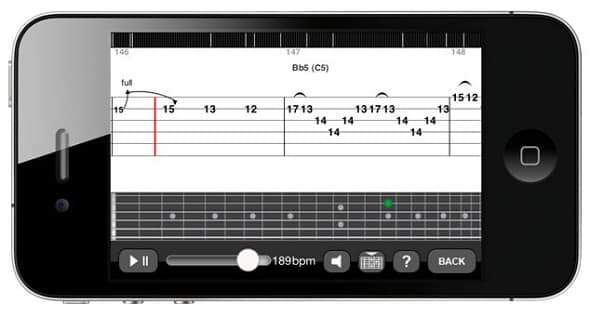 Release Mobile, an iPhone app developer, announces the launch of Guitar Buddy: a free mobile application which packages and presents Guitar Scales, Licks, Chords and well-known Rock & Pop Songs as high-quality dynamic guitar tabs on the iPhone and iPod Touch.
The Guitar Buddy app scrolls guitar tabs across iPhone and iPod Touch screens, allowing users to control the tempo as well moving forward and backward within the score using the latest touch sensitive technology. The Guitar Buddy app integrates into an online content server which musicians can search via the app's interface. The content server contains a mixture of free and paid content which can be downloaded in the Guitar Buddy app Read more
Tags: guitar buddy, guitarbuddy,
Online guitar tabs, transcribed versions of popular tunes done by millions of our fellow pickers and posted on the web, have become the preferred method of song learning for a great many players. They are readily available on scores of tab sites and offer a fast and easy alternative to more traditional types of knowledge-gathering. The question I ask today is this: is posting one's own version of someone else's song a violation of their copyright and therefore against the law? Read more