In the mid-1940s, Leo Fender invented a distinctive solidbody guitar design intended to address feedback issues by amplifying the guitar strings without effecting the resonance. Leo's vision led to the creation of the Fender Electric Instrument Manufacturing Company. By late 1951, the company's first showing two-pickup guitar model, the Fender Telecaster, started rolling off the factory's assembly line. Alongside Fender's three-pickup pickup, the Stratocaster, the Telecaster would eventually become the most commonly used six-string guitar in the world, altering the direction of prominent music in the process.
Sixty years later, the Tele's excellent playability and yielding sound makes it one of the industry's most adaptable solidbody guitars, similarly at home in jazz or rock, alternative or country styles. To celebrate this landmark year, Fender Guitars have constructed a limited-edition 60th Anniversary Telecaster which combines features originated on the '51 Telecaster prototype with several exclusive updates which makes this a Tele to outdo all Telecasters. Read more
In the early 1990s, when digital recording bypassed analog sound-boards as the primary method used in studio sessions, the electric guitar – with its magnetic pickups – was forced to reconcile with the personal computer. This presented something of a challenge, since that classic rock sound is something that throbs through a stack of speakers powered by a tube-driven head Read more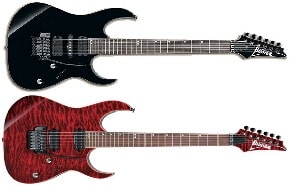 I have to admit right from the start that metal has never been my medium of choice; I prefer trem-bar bends in short bursts, not big bombs, and I like distortion to sound like distortion, not explosions. Read more

Ibanez Guitars introduces more new products every-year it seems, and the majority of them are becoming more and more affordable guitar models. This presents buyers with quite a challenge when trying to narrow down their choices, but as far as I'm concerned, the Ibanez S Series S320 is one of the best models Ibanez offers with an online price around $350 bones. Read more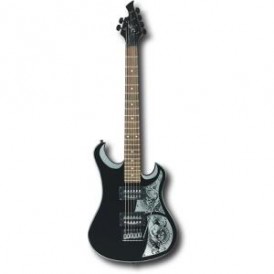 MOST ENTRY-LEVEL electric guitars look dorky. You would probably be better off saving your money and buying a pair of suspenders, moon boots and Napoleon Dynamite glasses so at least you wouldn't be broke after the inevitable ass-whoopin' you would receive.
Fortunately, First Act is giving aspiring players increased odds for survival with its new Premium Metal electric guitar. Although this affordably priced guitar is sold by retailers like Toys R Us, it's not a toy but rather a cool-looking, high-performance ax. Read more
Many guitarists use budget Squier guitar models as a base for their own custom instruments, swapping out the hardware, pickups and other parts. With Squier's Vintage Modified Series guitars, the modifications have already been made, so you won't need to shell out extra bucks after your initial purchase. Today we're going to check out the Vintage Modified Tele SH and Vintage Modified Strat HSS… Read more

Washburn's Idol Series W164 is a great choice if you don't want a bland look-alike or sound-alike instrument. This distinctively shaped single-cutaway solidbody features an exceptionally thin mahogany body and beveled edges reminiscent of an SG, and it's loaded with several unusual features that truly makes it stand out from the crowd. Read more
German luthier Nik Huber has introduced the follow-up to his successful Krautster model, the Krautster II. The new model has many of the same features as the original–mahogany body, glued-in maple neck, rosewood fretboard, wraparound bridge, and splittable Häussel humbucker at the bridge–but adds a P-90 soapbar pickup in the neck position. With the additional pickup comes an additional tone pot and three-way toggle switch. The Krauster II comes in Onyx Black, Gold Top, Copper Top (pictured), and Vintage White. MSRP € 2190 (approximately $2823), including case. Read more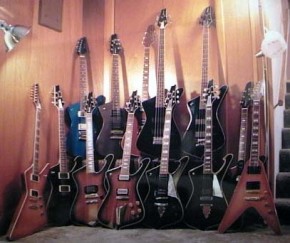 The history of Ibanez guitars is one of the most interesting ones in the guitar world. It all began in 1929 when Hoshino Gakki, a Japanese Musical Instruments company began importing and further-on, bought out the Spanish company Salvador Ibanez guitars as it was pretty much destroyed during the Spanish civil war. By 1935 Hoshino Gakki had started the production of Ibanez Salvador Spanish acoustic guitars in Nagoya, Japan. Read more
Dean Guitars SJ Art Series features exclusive designs by award-winning graphic designer Stephen Jensen. Stephen is no stranger to Deans Guitars working with them for several years and having designed the finishes of several famous guitars including Dimebag's Rust Razorback, Explosion Razorback, Schenker Brothers V, and the Muddy Bullseye. With the SJ Art Series, Stephen brought to life three of our favorite designs to the Dean Guitars line-up starting in 2007. Read more