Jackson guitars have always offered aggressive looks and sound coupled with high-quality workmanship. Their KE Pro series brings all the upscale Jackson elements to a very attractive price point. Based on the Kelly, the KE3 has a sharply chiseled Explorer-like body shape, with Jackson's signature pointy headstock. The nearly -$1,400 difference between Marty Friedman's favorite axe and the KE3 is really not so huge: the tremolo is a JT580LP Floyd Rose License, not original; the pickups are Seymour Duncan's Jazz and JB and the neck is bolted on, all of which add up to a great deal.
The Jackson KE3 has an alder body and a maple neck of wide, oval proportions. The headstock is attached with a scarf joint behind the fist two frets, adding strength at the nut—an important detail when dealing with the extra routing necessary to accommodate a locking nut. The rosewood fretboard is fitted with 24 wide, near-jumbo frets, which are superbly crowned and polished. Jackson's trademark "shark fin" inlays, done in a rich pearloid plastic, are inlaid to the neck with admirable neatness. Our review model arrived dressed in Black (Transparent Red, Blue and Black are also available as well as Cobalt Blue, Swirl and Skulls), all black hardware, including black tuners, and black locking nut and tremolo and a single black volume knob.
Plugged in, the KE3 really came to life. The Seymour Duncan Jazz SH2N and JB TB4 pickups, in neck and bridge position respectively, are bold and brawny, high-output humbuckers with a hard-assed bite that can be felt even through clean amp settings. But don't peg them as one-trick ponies: each pickup alone offers some enticing colors, particularly with the volume rolled back a couple of notches, and the combinations of the two makes for a fine clean rhythm or lead tone.
But let's face it, the axe was made to cut eardrums, and so most of my playing time was spent with the KE3 pumped through a Marshall JCM800 and a ProCo Rat distortion pedal. The resulting sound was capable of rearranging furniture and small pets in the house across the street. The bottom end on this guitar is something the U.N. should sanction. Muted rhythms take on a tribal percussiveness, and leads sound like they're doubled with tap-dancing gorillas. The treble had to be rolled back a bit from my usual "everything on seven" setting, however, since a hint of microphonic squeal could be coaxed from the pickups with a tap of the pick. Still, the KE3 delivers some awesome muscularity along with radical good looks and solid craftsmanship.
For those who wish to single eyebrows and swill Jaegermeister on a Budweiser budget, Jackson's KE3 Pro is your weapon of choice.
Jackson KE3 Guitar In Action!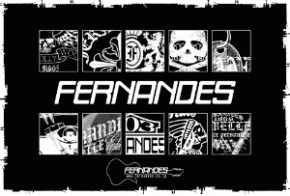 Although its body is reminiscent of a chubby Fender Jaguar; the Fernandes Native Elite is a decidedly modern guitar with a little hi-tech voodoo-namely Fernandes' proprietary Sustainer technology, which offers virtually limitless sustain and rich, controlled freedback. Based on the company's highly popular alder-bodied Native Standard, the Fernandes Native Elite features a basswood body with a faux flame top in a black burst finish and a 25-1/2" scale maple bolt-on neck. The comfortably full, rosewood-capped neck is smoothly fretted and sports the locking nut portion of the Gotoh made, Floyd-licensed trem system. The generous pearloid pickguard houses the electronics, which include two humbuckers governed by a three-way switch, master tone and volume controls and the Sustainer system. Read more

Carvin is thrilled to introduce their latest model, the ST300. This new model offers the features and choices of Carvin's contemporary Custom Shop guitars with the timeless body shape that they offered back in the early 1990s. The body is more circular than the legendary DC series and has a waist and forearm cutaway for playing comfort, as found on the Contour 66. The Carvin ST300 model reflects Read more


Both here at GearVault and elsewhere in the guitar playing community, the name Malden has been developing a great deal of hype in the last several years. The company first gained widespread exposure through their December 2010 closeout deal. During this deal, Malden practically gave away their entire preexisting stock, which had been created somewhere in Asia. They then reinvented themselves in New Mexico as a high end, American boutique brand with a state of the art custom shop. It would be during their first tender months pumping out guitars through their custom shop that I initially came into contact with the company.
Soon (very soon to be honest) after I had seen a local listing for a perfect condition Malden Mozak, I became enamored. Originally in the market for a new Tele or some sort of hollow-body, the sleek Jazzmaster style design of the Mozak unexpectedly piqued my interests, and nearly two years later I do not regret my decision at all. I'm giving this history to explain the bias I have in this review; however, I will try and make it as fair as possible. This review will be conducted using a Vox Valvetronix AD60, though the focus of this review will be much more on the aesthetic and natural sound of the guitar. Now that that's out of the way, let's dive into and explore this stellar guitar. Read more
It's that time of year again, when everyone is on the edge of their seat—waiting and watching, for the shiny new products to be rolled out at NAMM. Calm down – this isn't a game changing miracle device, but it's still pretty cool.
Fender has introduced the new Squier models for 2012, putting some nice touches on a guitar line that has had less than impressive results in the past. Read more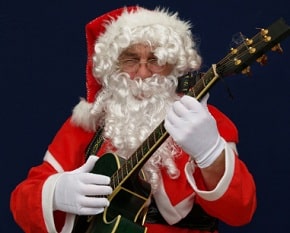 Happy Holidays everyone! Having trouble thinking of the perfect gift for a loved one? Why not an acoustic guitar? How many people do you know that always say "I always wanted to play the guitar, but never had the time or energy"? Now is your chance to bring music into their lives with a nice new axe they can call their own. But, with the thousands of guitars available today, it can be a pretty complex and confusing ordeal, so Gear Vault is here to help. Here are the top 5 selling acoustic guitars for the Holidays. Read more


The Les Paul Studio Swirl is a stunning new addition to the popular Studio series, which has been bringing full-fledged Les Paul performance and tone to hard-working musicians since its introduction in 1983. These guitars include all the classic ingredients that have made the Les Paul Standard legendary since humbuckers first hit the model 1957, but add four exotic swirl finishes to the formula, while retaining the down-to-business package that is light on frills, heavy on swagger, and easy on the pocket. Not one element of construction or component quality is sacrificed to bring you this high-performance electric guitar, and the Gibson USA Les Paul Studio Swirl might just be the most head-turning Studio model ever produced.
A handful of cosmetic simplifications help to bring this Les Paul in at a truly astounding price. A minimalist finishing process results in a thin nitrocellulose finish in one of four gorgeous new "swirl" options: Black/Green Swirl, Black/Silver Swirl, Gold/Blue Swirl, and Silver/Blue Swirl. A lack of binding around the body top and fingerboard also gives a tactile, organic look and feel to the instrument as a whole. Where tone and performance are concerned, however, the Studio Swirl model stays right in the legendary Les Paul Standard's wheelhouse, with the timeless hardware that has helped to make Les Pauls total sustain monsters for more than five decades. The pickups are a pair of Gibson's most popular humbuckers, a 490R in the neck and a 498T in the bridge, both made with 42-AWG wire and genuine Alnico magnets (Alnico II and Alnico V respectively) just like the original PAF humbuckers. Wrap it all up, and it's an unparalleled package for anyone from the discerning studio musician to the hard-touring artist in search of a no-nonsense tone machine that stands out on the stage. And at this price, there's no reason not to check out the Les Paul Studio Swirl today—and make it your very own. Read more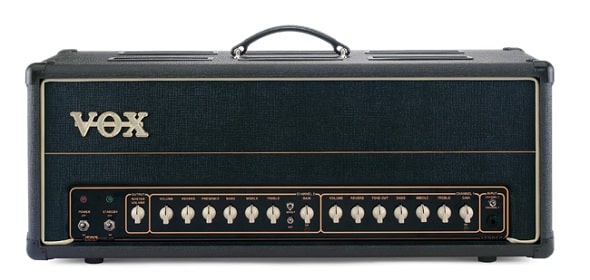 Here's a great review for those Vox lovers. I know I am one! For several decades Vox was pretty much considered a onetrick pony when it came to amp production, but the Vox AC30 was one hell of a studly stallion to build any company's stable around. Since the dawn of the new millennium, Vox has introduced several impressive amp models to expand the company's appeal beyond AC30 aficionados, including the acclaimed Valvetronix digital modeling series and the Custom Classic series, which adds modern features and flexibility to the timeless Vox sound.
Vox's Classic Plus range further broadens the company's offerings by providing an even wider palette of tube tones, including high-gain distortion as well as classic Vox chime and grind. The line currently consists of 50- and 100-watt heads and a 50-watt combo. I tried out the AC50CPH 50-watt head with a matching Vox V412BN cabinet loaded with four Vox vintage-style 12-inch speakers. Read more
Gary Kramer Gained celebrity in the Eighties as the primary guitar supplier for Eddie Van Halen. He was also one of the first manufacturers to feature the era-defining original Floyd Rose tremolo. He stepped away from guitar building for more than a decade, but now he's back with another inspiring line of guitars and a fresh set of ideas on guitar design.
Kramer's Delta Wing Simulator R looks like an alien weapon, but the wild mahogany body shape actually serves to align the neck perfectly when standing or silting. The sweeping upper horn braces the extremely lightweight guitar against the player's chest in such a way that it's nearly impossible to slump into an uncomfortable posture. Similarly, the body contours ease tension on the right wrist liberating feature that's evident when performing difficult techniques. Other high-tech attributes include recessed controls, a licensed Floyd Rose tremolo, a push/pull coil tap, a slick matte finish on the 24-fret neck and molten alnico pickups that are aimed right at players who want extreme rock and metal tones. Read more

A macabre black paint job, a creature-inspired body shape and a sinister name don't automatically qualify a guitar for employment as a metalworker. But if that same shady plank plays with the speed of the Malden Subhuman and incites high-gain aggression from an amplifier as the Malden's scary-hot pickups do, then you have a weapon that's ready to serve a darker purpose.
The Subhuman's body and 25-inch-scale set neck create thick tones, which are punctuated by the edgy attack of nickel hardware. Fit and finish are excellent throughout, and the bound indian rosewood fretboard displays the same striping and open-grain qualities of the prized Brazilian subspecies. The narrow neck makes stretches easy, but its round shape means there's always wood stabilizing the palm of your hand. Read more