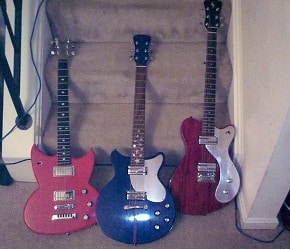 If you've seen advertisements for Vaccaro's guitars on the internet or magazines, you may have noted their slightly confrontational slogan: "They're not for everybody." This statement, it seems, is absolutely true. The reactions I've seen when whipping one of these unorthodox instruments out of my gig bag have ranged from shock ("Where di you get that?") to covetous ("Awesome! Where can I get one?").
Brought to you buy the people who created Kramer's distinctive aluminum and wood-necked guitars in the late Seventies and early Eighties, Vaccaro's guitars feature daringly designed popular bodies, bold finishes and unique aluminum, maple and ebonol composite necks. The Groove Jet evokes the unholy alliance of a Gibson SG and a satanic dung beetle, and features two Seymour Duncan Custom '59 humbuckers, a three-way switch pickup selector located on the top horn of the guitar, two volume controls and a master tone control. Our review model was flawlessly finished in a stunning see-through emerald green. The X-Ray, whose sleek, orange sparkle body has a space-age Rickenbacker vibe, boasts two Rio Grande Muy Grande pickups: a humbucker in the bridge and a single coil in the neck position. Both pickups are topped off with the same mother-of-toilet-seat plastic as the pickguard, adding to the instrument's undeniable ie ne sais quoi. The X-Ray's control layout is simple yet versatile: a three-way pickup selector, coil-tap switch for the humbucker and single volume and tone controls. The hardware on both guitars (Sperzel locking tuning machines, super-sleek Tune-O-Matic-style bridges and top-notch components) is bullet-proof. The phenolic "I can't believe it's not ebony!" fingerboard are smooth and natural feeling, and the well-finished frets provide a sleek, effortless playing surface. Read more
Tags: vaccaro guitar, radio giveaway vaccaro guitars, Vaccaro Guitar Groove Jet, x-ray guitar review,

Carvin is thrilled to introduce their latest model, the ST300. This new model offers the features and choices of Carvin's contemporary Custom Shop guitars with the timeless body shape that they offered back in the early 1990s. The body is more circular than the legendary DC series and has a waist and forearm cutaway for playing comfort, as found on the Contour 66. The Carvin ST300 model reflects Read more
Tags: carvin st300, carvin, carvin st300 review, carvin guitar, carvin st300 reviews, st300 吉他, used carvin guitars, Carvin C66 reviews, carvin st300 neck model, carvin ST3000,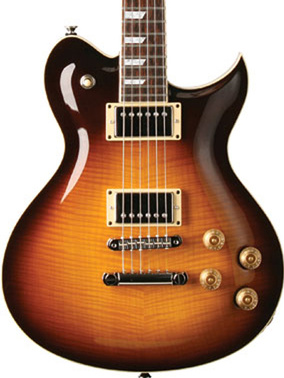 We noticed that not much information was presented on the interweb about Washburn's Idol series guitars. That's a shame because these guitars are an absolute craft of beauty and extremely underrated. There has never been a better time to choose your Idol with the recently released (October 2008) models available.
Washburn's "Wi" Idol series are passionately hand-built at the Washburn's Chicago facility by some of America's finest luthiers, the USA Idol Series consists of five amazingly crafted Custom Shop Guitars. Read more
Tags: washburn usa idol guitar review, washburn wi 420, washburn wi15 review, washburn w164 electric guitar, washburn usa idol guitar reviews, guitar shoplist, washburn pilsen, washburn p4 cherry burst, washburn idol series guitars, washburn gc37 case,


Both here at GearVault and elsewhere in the guitar playing community, the name Malden has been developing a great deal of hype in the last several years. The company first gained widespread exposure through their December 2010 closeout deal. During this deal, Malden practically gave away their entire preexisting stock, which had been created somewhere in Asia. They then reinvented themselves in New Mexico as a high end, American boutique brand with a state of the art custom shop. It would be during their first tender months pumping out guitars through their custom shop that I initially came into contact with the company.
Soon (very soon to be honest) after I had seen a local listing for a perfect condition Malden Mozak, I became enamored. Originally in the market for a new Tele or some sort of hollow-body, the sleek Jazzmaster style design of the Mozak unexpectedly piqued my interests, and nearly two years later I do not regret my decision at all. I'm giving this history to explain the bias I have in this review; however, I will try and make it as fair as possible. This review will be conducted using a Vox Valvetronix AD60, though the focus of this review will be much more on the aesthetic and natural sound of the guitar. Now that that's out of the way, let's dive into and explore this stellar guitar. Read more
Tags: angled pickup guitar, jazzmaster guitar body, malden guitar articles, malden guitars production, malden karma guitar, malden mozak, malden mozak guitar sale,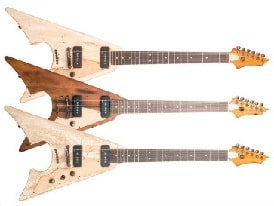 Legendary guitarists like Randy Roads of Ozzy Osborne played V-shaped guitars; their extreme edge appearance brings the meaning 'axe,' which explains why so many metal guitarists prefer them. They're unique looking, give a tight heavy sound and just look metal. The Badwater Jacknife guitar is yet another radical—V-shaped—guitar, but unlike many others, is geared toward guitarists on a budget, while giving more features than other economy V-shaped guitars. Most metal guitarists will enjoy this guitar's unique, vintage-style design and groovy sound. Read more
Tags: axl blackwater jacknife electric guitar, mail bdwater com, randy rhoads relic guitar picture,
It's that time of year again, when everyone is on the edge of their seat—waiting and watching, for the shiny new products to be rolled out at NAMM. Calm down – this isn't a game changing miracle device, but it's still pretty cool.
Fender has introduced the new Squier models for 2012, putting some nice touches on a guitar line that has had less than impressive results in the past. Read more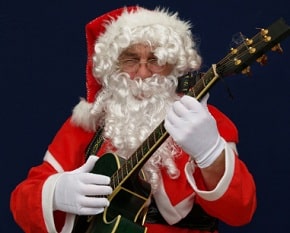 Happy Holidays everyone! Having trouble thinking of the perfect gift for a loved one? Why not an acoustic guitar? How many people do you know that always say "I always wanted to play the guitar, but never had the time or energy"? Now is your chance to bring music into their lives with a nice new axe they can call their own. But, with the thousands of guitars available today, it can be a pretty complex and confusing ordeal, so Gear Vault is here to help. Here are the top 5 selling acoustic guitars for the Holidays. Read more
Tags: Dr Tech® MSJ-S1 Sunburst Electric Guitar-Series, PRS/SEAngelus,


The Les Paul Studio Swirl is a stunning new addition to the popular Studio series, which has been bringing full-fledged Les Paul performance and tone to hard-working musicians since its introduction in 1983. These guitars include all the classic ingredients that have made the Les Paul Standard legendary since humbuckers first hit the model 1957, but add four exotic swirl finishes to the formula, while retaining the down-to-business package that is light on frills, heavy on swagger, and easy on the pocket. Not one element of construction or component quality is sacrificed to bring you this high-performance electric guitar, and the Gibson USA Les Paul Studio Swirl might just be the most head-turning Studio model ever produced.
A handful of cosmetic simplifications help to bring this Les Paul in at a truly astounding price. A minimalist finishing process results in a thin nitrocellulose finish in one of four gorgeous new "swirl" options: Black/Green Swirl, Black/Silver Swirl, Gold/Blue Swirl, and Silver/Blue Swirl. A lack of binding around the body top and fingerboard also gives a tactile, organic look and feel to the instrument as a whole. Where tone and performance are concerned, however, the Studio Swirl model stays right in the legendary Les Paul Standard's wheelhouse, with the timeless hardware that has helped to make Les Pauls total sustain monsters for more than five decades. The pickups are a pair of Gibson's most popular humbuckers, a 490R in the neck and a 498T in the bridge, both made with 42-AWG wire and genuine Alnico magnets (Alnico II and Alnico V respectively) just like the original PAF humbuckers. Wrap it all up, and it's an unparalleled package for anyone from the discerning studio musician to the hard-touring artist in search of a no-nonsense tone machine that stands out on the stage. And at this price, there's no reason not to check out the Les Paul Studio Swirl today—and make it your very own. Read more
Tags: gibson les paul studio swirl review, les paul green swirl review, les paul swirl,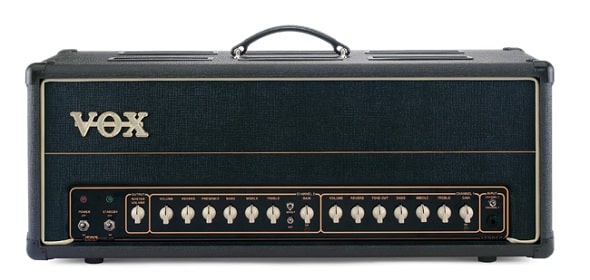 Here's a great review for those Vox lovers. I know I am one! For several decades Vox was pretty much considered a onetrick pony when it came to amp production, but the Vox AC30 was one hell of a studly stallion to build any company's stable around. Since the dawn of the new millennium, Vox has introduced several impressive amp models to expand the company's appeal beyond AC30 aficionados, including the acclaimed Valvetronix digital modeling series and the Custom Classic series, which adds modern features and flexibility to the timeless Vox sound.
Vox's Classic Plus range further broadens the company's offerings by providing an even wider palette of tube tones, including high-gain distortion as well as classic Vox chime and grind. The line currently consists of 50- and 100-watt heads and a 50-watt combo. I tried out the AC50CPH 50-watt head with a matching Vox V412BN cabinet loaded with four Vox vintage-style 12-inch speakers. Read more
Tags: vox ac50cph,
GuitarCenter is offering another spectacular deal that's just too good not to mention here on Gear-Vault. With gas prices toppling $4.00, maybe the extra $20 will put enough change in your pocket to afford some gas to mow your grass… Hey look, I'm a poet and didn't know it =)
Okay, here's the deal, spend $99 bucks at GuitarCenter (online); get $20 bones off your order. What you need to do is click this link, shop till you drop at GuitarCenter, then enter the code GCSAVE20 into your shopping cart at checkout.
Click: Save $20 off purchases of $99 or more at Guitarcenter.com. Use code GCSAVE20. Expires 5/22
If you would like us to send you an email for other great deals, guitar/gear reviews and giveaways, or just want to read our newest column posts, please subscribe to our eNews email feed below.


GuitarCenter Coupon Codes