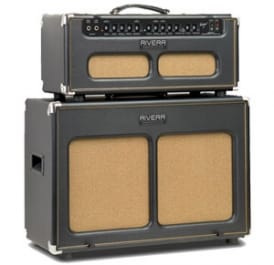 Rivera Venus series has been making big waves in the amp world, and with good reason. The Venus amps are the company's first foray in Class A designs and they are taking things way beyond the typical Vox-derived flavors that many players think of when they hear the term. The newest amp in the line is the Venus 5. Read more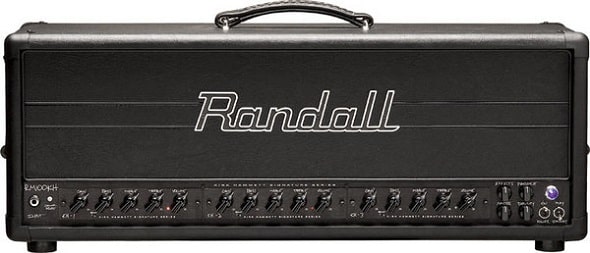 KIRK HAMMETT characteristically relies on a rock star—sized rack of amplifiers, preamps and custom-tweaked processors to generate his volcanic live sound. In the studio, this rack becomes a part of an even larger equation, where Hammett meticulously augments and shapes his iconic tones with a menagerie of specialized and vintage gear. If you haven't guessed it, Guitar World's first Hall of Fame inductee is an incurable tone hound that has lacked only one thing: an amplifier singularly capable of creating his current trademark tones and versatile enough to grow with Hammett's changing tastes and needs.
Randall Amplification teamed with Hammett to devise this metalhead's daydream amplifier after Anthrax's Scott Ian raved to Hammett about his and Dimebag Darrell's positive experiences with Randall amps. It just so happens that Randall's MTS (Modular Tube System) amplifiers are perhaps the ideal platform for Hammett's amp, because they are famous for their high-end sound quality and allow for practically limitless expansion. Amp whiz Bruce Egnater pioneered this cleverly practical system where the preamp consists of removable tube-driven modules, each designed to achieve a specific tonal goal. Kirk's Hammett's signature series Randall MTS amplifier comes loaded with the three modules that he and Randall's engineers crafted over an extensive research and development collaboration. Read more
Hey Gear Vault readers, want to see the musical gear of the guitarist who created some of the greatest metal riffs of all time? TC Electronic have recently posted a video featuring Iron Maiden guitarist, Dave Murray's, guitar rig. Guitar tech, Colin Price, walks you through Murray's gear. Check out the six-minute YouTube video below Read more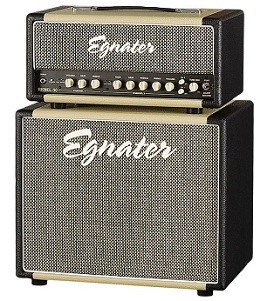 The paradigm for guitar amps has shifted radically in the past several years. Today, players are looking for amp solutions that provide tonal flexibility with good tone at manageable volume levels. For playing at home without annoying the family, for rehearsals, for worship band use, for club gigs, for school events… these days, and electric guitar player is expected to be able to match their volume level to the situation.
Fortunately, manufactures have responded with lower-powered amps, and among the best of these is the Egnater Rebel series. Egnater sent me a Rebel-30 head and two matching Rebel 112X cabs for this review. Once I plugged in, it was clear that this was an amp that could provide almost any tone. It had loads of convenient features and could operate at any volume level, from bedroom to club stage. Read more
Ever wish you had the freedom to play your electric guitar wherever you wanted, even while walking, without being tethered to an amp? The Mighty Moe Strap Amp lets you realize this dream and do it for less than it costs to fill the gas tank on your motorcycle. Read more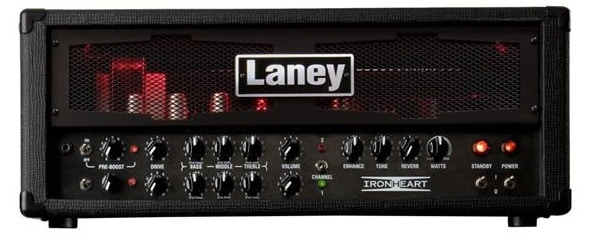 Forged deep within the Black Country — the metal beating industrial heartland of the US – where the sound of metal guitar was born comes the IRONHEART.
With molten metal flowing through its circuits, IRONHEART continues the legacy begun decades before by Laney amps such as KLIPP and AOR, and hits you hard between the eyes like a power hammer from hell.
Designed to be a metal amp on steroids, the IRONHEART posses masses of gain, and features an all important active EQ. Like its 80's metal predecessor the AOR, each IRONHEART channels feature 3-band EQ PUSH/PULL pots for extreme tone shaping and flexibility.
Along with a VARI-WATT feature, which allows the output of an IRONHEART to be screwed right down to less than 1-watt of its output, the IRONHEART also features a foot switchable Pre-boost function which works just like kicking in a gain pedal in front of your amp. Read more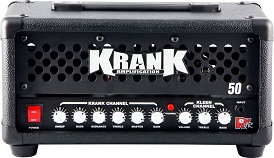 The guitar amp industry is not one with a lot of competition. While there are lots of people that make amps, you're basically going to find that what most people buy are from names like Marshall or Peavey. Which makes the way Krank was able to move from relatively obscure to a player with a laundry list of famous fans all the more impressive. Of course, making great products at prices normal mortals can actually afford probably helped.
The company's most famous and most popular amp has to be their Revolution model. It's versatile and provides a great clean sound, and it's the foundation of the Krank brand. The downside is that 100 watt amp has more volume than most guitarists need, and at $2,600 for a half stack, it's a big investment. Read more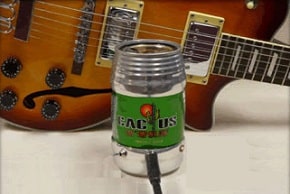 The first step in building your very own beer can amplifier will be to get an empty can of the beer of your choice. After you have your empty can you will need to remove the bottom of the can. With a little bit of patience and a razor knife, this can be done quite easily. Read more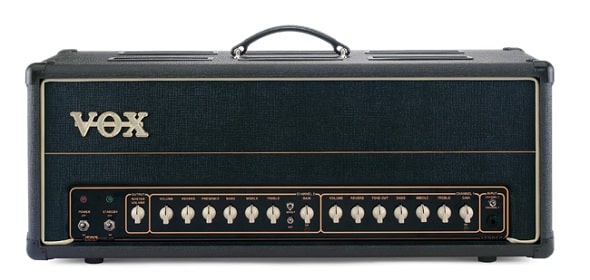 Here's a great review for those Vox lovers. I know I am one! For several decades Vox was pretty much considered a onetrick pony when it came to amp production, but the Vox AC30 was one hell of a studly stallion to build any company's stable around. Since the dawn of the new millennium, Vox has introduced several impressive amp models to expand the company's appeal beyond AC30 aficionados, including the acclaimed Valvetronix digital modeling series and the Custom Classic series, which adds modern features and flexibility to the timeless Vox sound.
Vox's Classic Plus range further broadens the company's offerings by providing an even wider palette of tube tones, including high-gain distortion as well as classic Vox chime and grind. The line currently consists of 50- and 100-watt heads and a 50-watt combo. I tried out the AC50CPH 50-watt head with a matching Vox V412BN cabinet loaded with four Vox vintage-style 12-inch speakers. Read more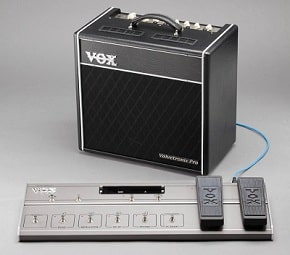 In the modern age, many amplifier companies are marketing their version of a digital amplifier may it be Peavey, Line 6 or even Fender. Vox is a bit different when it comes to the whole ballgame, and just like their previous digital endeavors, Vox ceases to disappoint with the Valvetronix Pro VTX150 Neodymium.
The Neodymium is a really cool combination of things. It's not just a modeling amp looking to achieve sounds of 44 other amplifiers. It doesn't just factory ship you 132 carefully crafted presets to not only imitate but GIVE you the sound heard in many classic rock to modern songs today. It does ALL of that, plus equips a tuner, 25 separate effects, 8 slots to program your sounds for your songs, and a power control to adjust your wattage for the given setting. It does it all pretty much. I won't forget that it can all be controlled from your feet as well with the VC-12SV footswitch.
It's nice because instead of just having amp models, the guys at Vox took a step ahead and made the 132 presets to give you some extremely cool, premade sounds. Some people may frown down on this, but I'm sure there's going to be at least one sound you'll love in the bank. On the other hand, having separate effects will really let you do exactly what you want to do with the amp instead of fussing around with presets. It's up to you.
The Neodymium is equipped with one EL84 vacuum tube to give you that authentic tube tone, which is always a plus. This is where the powerful "Valve Reactor" circuit comes into play. This circuit is going to pick up on every little thing you do when it comes to how you pick and play. It's also going to bring great clarity and tonality to whatever you're doing as well. The amp also uses an extremely powerful neodymium magnet in the speaker. This helps the amplifier to produce particularly different dynamics and nuances that the several different amp models produce much more accurately.
I've only ever enjoyed one digital amplifier in the past. Most of them just don't sound like the real thing, and I'm sure the purists have a glass completely empty when considering this debate. Though, with all the recent advances in technology, these amplifiers will only come close and closer to sounding like the real thing until one day, they do. Could that day be upon us? You decide! Read more