Down through history, people have constantly been in search of the next big thing. From the car, to the washing machine, the compact disc to the iPod, many things are thrown at the wall, but only certain things stick.
This same principle remains a constant in the field of guitars; the tried and true functional pieces ring true for players of all sorts, and the flashy toys eventually end up in the garbage can with yesterday's potato chips. And yet, some of these things that really should be utilized to the fullest extent end up being tossed away with everything else, for one reason or another, only to be brought back into popularity many years later on a retro throwback trend. Read more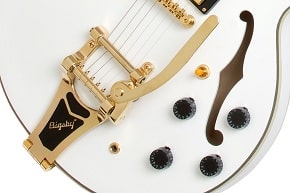 Here's how fresh the 2011 Epiphone ES-355 is at this point in time and space: I walked into two different music stores, one a giant corporate retailer and the other a small local shop (albeit one that specializes in Epis), and neither one of them even knew it existed much less had one in stock. Read more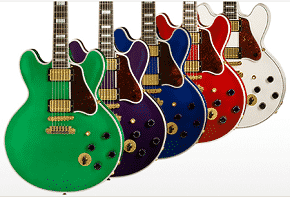 Gibson Guitars — "Lucille" has been a legend ever since the King of the Blues christened his guitar with the name after saving it from a dance hall fire in Twist, Arkansas, in 1949.
Also a legendary Artist Model in the Gibson catalog since its introduction to the lineup in 1980, Lucille has only ever been produced in Ebony or Cherry finish—until now. Just in time for Christmas 2010, Gibson Custom introduces an extremely Limited Edition of Gem Series B.B. King Lucille guitars, available exclusively from Musician's Friend. (Update: Sold out!) Read more

Electric guitars either come with tremolo systems or they don't, right? Sure, people have slapped aftermarket Bigsbys on any number of different guitars post-purchase (and I did see a real '59 Les Paul with a Stratocaster bridge and trem routed into it at a guitar show once), but, for most players, trems are something that guitars are either born with or without. Well, folks, those days are over, thanks to the good people at Stetsbar Professional Tremolo Systems. Read more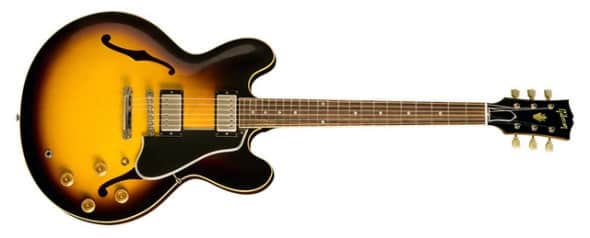 When Gibson's legendary ES-335 was born in 1958, it was hailed as an innovated instrument – and was a guitar of an instant hit with players alike. The revolutionary design managed to offer guitarists the best of both hollow body archtop and solid body design since it had all the meat & potatoes of a classic jazz guitar; a maple block positioned at the center of the body help resist against acoustical feedback. Ingenious… and very clever, indeed.
Factor in the ES335's sleek body design, single bar stop tailpiece, Les Paul look-a-like Tune-O-Matic bridge and a tone that was both powerful and precise. Now you can see why the instrument has found its way into the hands of ungodly players such as Eric Clapton, Larry Carlton and Alvin Lee.
Despite the theory that you can't have too much of a good thing, Gibson Guitars reissued the '59 ES-335 and all its glory so that guitarists who have always GAS for one can now trot-on-down to their local guitar store; rather than running the gauntlet of the astronomically priced vintage market. Gibson's ES-335 are available in two different finishes – Faded Cherry and Antique Vintage Sunburst.
Expect to pay around $4,500 for one of these babies.
Let's take a look at the spec:
Body
Plain laminated maple top, back and rims
16" (W) x 19" (L) x 1 5/8" (D)
Single-ply cream binding on top and back
Nickel Hardware
ABR-1 bridge, lightweight aluminum stopbar tailpiece
Available in Antique Vintage Sunburst and Faded Cherry (both in either standard gloss or VOS treatments)
Neck
One-piece mahogany neck with long tenon
22 fret Madagascar rosewood fingerboard
Pearloid dot inlays
Single-ply cream binding with tortoiseshell side dots
1959 rounded neck profile
24 3/4" scale length 1 11/16" nut width
Holly headstock veneer
Vintage tulip tuners
Electronics & Strings
'57 Classic humbucking pickups
CTS pots and bumble bee capacitors
2 volume, 2 tone, 3 way selector switch
Vintage Reissue .010 – .046 strings
For more details, visit www.gibson.com