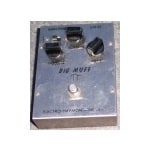 In the beautiful city of New York, the Big Muff, which acts as a guitar pedal that can distort fuzz sounds, became very well-known. The Muff was created, introduced and manufactured by Electro-Harmonic Company (EHX) together with its sister company, the Russian Sovtek. Primarily the Big Muff was used for electric guitars but later bass guitars also were able to make use of such a powerful yet tiny machine. The Big Muff guitar pedal was invented by Mike Matthews and introduced in the early 1970s. Carlos Santana and David Glamour were the two artists who first used this guitar pedal. Read more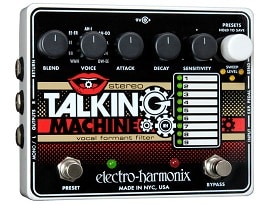 Buying a pedal that offers multiple exciting sounds and finding that you can't save any of them is frustrating. Consistently re-creating onstage all of its cool effects is virtually impossible, forcing some players to buy multiple identical units, each set for a single sound.
Fortunately, Electro-Harmonix–purveyors of some of the coolest sounds ever–introduced its first programmable pedal a few years ago. Since then, they have been churning out amazing effects, like Ring Thing and POG2, capable of a wide range of usable tones, storable as nine presets. The latest addition is the Stereo Talking Machine, a vocal formant filter that offers wah, auto-wah, envelope filter, and talk box effects. Read more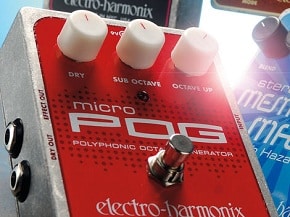 Bored with the guitar's four-octave range (and that's only if you have a 24-fret guitar)? You could succumb to the seven-string itch, but that will only increase your range by a perfect fourth (or five half steps). No wonder many guitarists lust for other instruments like the bass, six-string bass, 12-string guitar or—the horror—ukulele or mandolin. Thanks to the ElectroHarmonix Micro POG, you can expand the range of your guitar by two octaves without cheating on your faithful ax. Read more

Electro-Harmonix has a history of pedals with super-hero-sounding names: Electric Mistress, Memory Man, Worm, and P0G. A new trio is no exception: Neo Clone could come out of the Matrix; Iron Lung might be Iron Man's loudmouth cousin; Ring Thing, the product of a radioactive experiment gone wrong. The resemblance to fictional characters is fitting, as "character" is something EHX pedals have always had. This new crop of unique devices also has the right stuff. Read more


Electro-Harmonix trio of new effects hands-on review — There seems to be a never-ending stream of new stompbox effects emanating from the circuit benders at Electro-Harmonix. Twice a year the company's NAMM trade show booth trots out a fresh batch of signal-mangling machines calculated to excite electric guitarists, bassists, or anyone else who lives to alter audio signals in interesting and exotic ways. 2010 was no exception, with EHX proffering a bevy of new electronics that elicited headshaking and cries of, "They've done it again!" Read more

Give away is over. You are still welcome to leave your comments and sign up to our news feed if you like. Winners will be selected and announced soon. Stay tuned!
September 29th, 2009–Gear-Vault's 2nd Birthday is today! To make it fun, we are giving away some really cool prizes–including T-shirts, Guitar Strings, pair of Dot On Shaft Humbucker Guitar Pickups, Distortion and Fuzz pedals… and a Dean Vendetta Electric Guitar!
How do I win?
Simple! All you have to do to is be 1 of the 10 lucky winners to receive one of these cool prizes–simply leave a comment below stating what your favorite guitar riff (or song) is–and why.
To be eligible, you must subscribe to the feedburner email feed – this is how you will be selected and notified of your winnings. We are using Feedburner with Random.org to select the 10 winners, so you MUST active the Feedburner to win. Subscribe now:
What do I win?
1st prize: Dean Vendatta Guitar!
2nd prize: Set of DOS Carparelli Humbucker Pickups
3rd Prize: MXR M-115 Distortion III Pedal
4th prize: EHX Little Big Muff Fuzz Pedal
5th prize: Fender T-shirt + 3 sets of DosWyres
6th prize: Dot on Shaft T-shirt + 3 sets of DosWyres
7th prize: Three sets of Electric Guitar Strings
8th prize: Two Sets of Electric Guitar Strings
9th prize: Set of Electric Guitar Strings
10th prize: Set of Electric Guitar Strings
When does the Giveaway end?
We're going to run the giveaway for 60-days. We want to give everyone a chance to participate and win some of this really cool stuff. End date is November 30th 2009.
If you are a retailer and would like to advertise with us, please get in contact–we have the perfect advertising campaign for your company. You can sponsor this giveaway with a small donation and we are accepting gear donations for future giveaways.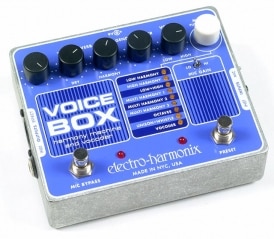 Big Muff. Small Stone. Electric Mistress. Deluxe Memory Man. Holy Grail… Should I go on? So many instantly recognizable and oft-copied effects bear the Electro-Harmonix name, and in turn, those effects appear on countless recordings spanning decades, from Pink Floyd to Mudhoney to the White Stripes. Founder Mike Matthew's ingenuity and passion for music has made EHX the go-to company for guitarists and bassists for years. And now, with the introduction of the Voice Box Harmony Machine/Vocoder, singers can get in on the action too. Read more
Back in 2005, Electro-Harmonix unveiled the original POG, a polyphonic octave generator that enabled guitarists to conjure everything from the surreal jangle of an 18-string guitar, to rich, thick walls of symphonic sound. Watch a video review of the stompbox below –
The POG2 will take you even higher. Use the new attack control to fade in lush, smooth swells. Tune in the new second sub-octave to reach deeper than ever before. The 2-pole resonant low-pass filter now includes two additional Q modes. Slide in the newly enhanced detune to further refine your sound.
The POG2 delivers unrivaled tonal variations–and now you can save your favorite settings, and recall them with a click. The POG2 just plain sounds better, thanks to an enhanced algorithm that delivers a more focused and in-the-pocket harmonic performance. And all this is now packed into our rugged and pedalboard-friendly diecast chassis. Read more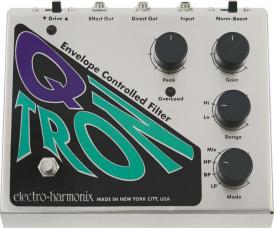 Way back in the early Seventies, a company called MuTron made waves in the guitarworld with the introduction of the Mu-Tron III, the world's first envelope follower pedal. This ingenious device provides automatic wah effects, using the dynamics of the input signal to control frequency and resonance so the tone varies in relation to how hoard the strings are struck. Although the Mu-Tron III can emulate a wah-wah pedal quite convincingly, its real strength is its synth-like swells, drippy clicks and duck-like quacks.
Funk players like Parliament bassist Bootsy Collins flocked to this pedal in droves as they no longer had to worry about balancing their stacked platform soles on a rickety wah-wah pedal to get expressive, vocal-like tones. The Mu-Tron III also was a crucial element of Jerry Garcia's and Frank Zappa's sounds, and it even found flavor with keyboardists such as Stevie Wonder, who used a Mu-Tron III on his hit "Higher Ground."
Unfortunetly, the Mu-Tron company folded as the Seventies came to a close. Engineer Mike Beigel, who designed the original Mu-Tron III, dropped out of the musical instrument business for years, but in the late 90's joined forces with Electro-Harmonix's Mike Matthews to resurrect a new and improved version of this desired effect. Read more