Dean Razorback Guitars – Dimebag's Creation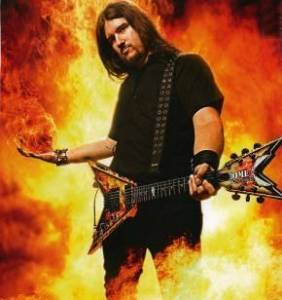 The Birth of the Dean Razorback has been well documented across the entire interweb. Designed by the late Dimebag Darrell, the Razorback has been one of the biggest stories in the metal guitarworld since its inception in 2004. But the Razorback wasn't the only guitar design that Dimebag left behind. He also wanted a V-shaped version made and, of course, Dean delivered. These awesome guitars hit stores in 2007 and are still in production to this day. And what a beast they are!
The US Dime Razorback V features a mahogany body and neck, ebony fingerboard and Floyd Rose locking tremolo. The guitar is available with a choice of Dimarzio, Seymour Duncan or EMG pickups. While we tried the US-made model, complete with a scary price tag, you can save some serious cash buying the Chinese-made imported model instead, which lists for a modest price at $1,689 ($699 retail).
Of course we could tell you how great the Razorback V is, but let's hear from someone who use to play one onstage every night, Trivium's Corey Beaulieu: "I'm a big V fan, so when I saw the Razorback V I thought it was a killer looking guitar," says Corey. "It's a solidly built guitar and has a great sound. Mine are handmade so they are well crafted, high-quality guitars and it comes across in the sound. The Razorback V works great onstage — it stays in tune and it's durable so it can withstand the harsh environments we experience on tour all the time."
While he used other guitars in the past and currently uses his Jackson KV-2 Black Ghost Flames finish (as seen in Roadrunner United bonus DVD), DX10D series occasionally using a B.C Rich Warlock and a Blue Ibanez guitar, Corey is still a die-hard Dean fan. "I was really stoked about jumping over to Dean. I have four Razorback Vs, one Razorback, a 'Dean from Hell', a FBD (Far Beyond Driven) Dimebag model, a Dean acoustic guitar and a seven-string model. That's nine Dean guitars in total!" It was Corey's love of Dimebag that lead him to play Dean guitars. "Dime was an amazing musician and wrote some of the best leads and riffs in metal, and he designed some great guitars."