TASCAM has been making recording gear longer than most people reading this have been alive, so they know their audio processing, and they know how to design devices that successfully combine audio fidelity, build quality, and user-friendly design. Two TASCAM interfaces continue that tradition by providing low-cost recording solutions that fulfill a variety of audio and MIDI interfacing needs.
For under $300, the US-1641 will amply supply most home and project studios with all the audio and MIDI ins and outs they could ever use. Using USB 2.0 (a standard feature on every modern laptop and desktop computer), the US-1641 can bring 16 channels of high-resolution audio and 16 MIDI channels into and out of your computer. For a little more money (under $200 more), the US-2000 provides superior sonic quality and a couple of extra features, while leaving out the MIDI aspect, figuring that the prospective buyer already has at least one solution for that. Read more
I've been using Live since V1.0, and discovered early on that not using a physical control surface was like driving a car with the parking break on–it moves, but it's not much fun to drive. So, I was a happy camper when Akai announced the APC40, which had been designed in conjunction with Ableton specifically for live. It's a great controller, my only complaint being that I wanted 16 faders instead of eight. Although you can use up to six APC40s together, I wasn't quite ready to double my Live controller budget. And for some, the APC40's $400 street price may be financially out of reach. Read more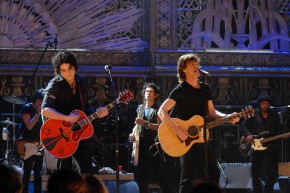 Fitting into the Mix
The easiest way to get a great acoustic sound is to start with a great-sounding guitar. Taylor acoustics have long been favored by artists and recording engineers for their clear, balanced tone. In fact, many engineers keep Taylors in their studios because they know they can always count on the clarity of "the Taylor sound" without the need for a lot of EQ tweaking. Between the crisp articulation and tonal balance of the bass, midrange and treble notes–full in the lower register, present in the midrange, and sparkling on the treble strings–Taylors offer a clean, even acoustic sound that makes recording a breeze. Taylors also fit nicely in a mix, occupying just the right amount of sonic space without taking up too much room or competing with other instruments. Read more

When it was released in the early '90s, the Parker Fly won critical accolades for it high-tech construction and futuristic design, making believers out of such dives artists as Adrian Belew, Vernon Reid, Reeves Gabrels, and Pat Martino. A decade after the Fly's debut, Parker introduced the DragonFly, which featured the same resin-based skin, but made slight changes to the distinctive body design. The treble horn has shorted by about an inch, and the bass horn was straightened and reshaped into a graceful curve, compared with the more angular version on the original. The DragonFly was obviously descended from the Fly, but now had a more traditional look and feel. And at over $4,000 retail, it was still very much a premium guitar. Read more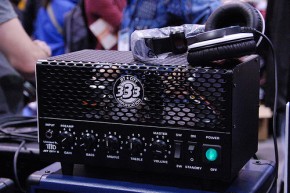 Jet City Amplification was formed in September 2009 with the goal of delivering guitar products to players seeking high-quality amplification products without the big price tags typically attached to boutique offerings. These days, a lot of corporations toss around the word "boutique" pretty liberally in their marketing, but Jet City Amplification works with bona fide craftsmen to bring you REAL boutique designs at prices within reach. Read more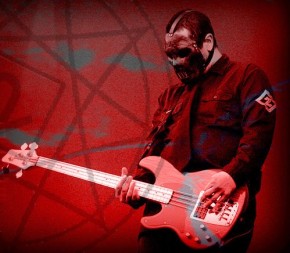 Just days after the passing of iconic vocalist Ronnie James Dio, the world's heavy metal community is mourning another life lost seemingly out of nowhere. Paul Dedrick Gray, bassist for the popular masked metal band Slipknot, was found dead May 24th at the TownePlace Suites in Urbandale, IA. He was 38 years old. After receiving a phone call from a concerned relative, Gray's body was found in his room by a hotel worker. Police reported that Gray was alone in the room and there was no evidence of foul play. An autopsy will be performed to determine the cause of death. Read more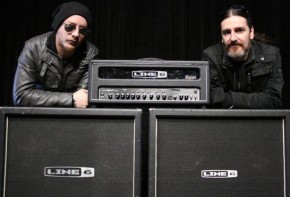 There are no two ways about it: Line 6 has revolutionized the way guitar is recorded. Since the dawn of Amp Farm, Line 6's groundbreaking (and mind-bending) RTAS plug-in from a decade ago, Line 6 modeling has appeared on more records than you can count. And that number skyrockets when you consider all the generations of POD! Read more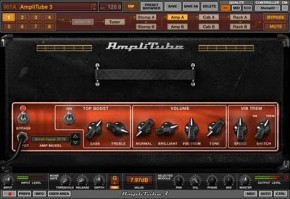 I'm really into amp sims, so people are always asking, "Which one is the best?". And my answer is, "Well, which amp is the best?" because amp sims are as different as amps themselves. That said, IK debuted AmpliTube in 2002 as the first native amp sim, and they've really hone their craft over the years. If your opinion of amp sims is based on the first generation, you'll be shocked at how much they've improved–and IK's latest demonstrates just how good amp sims can sound. Read more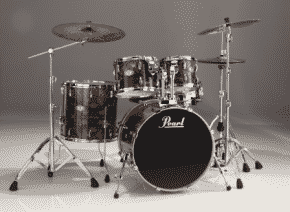 Pearl will debut a Special Edition Vision VSX shell pack in the summer of 2010. This drumset will feature a luxurious Artisan II finish using Pearl's exclusive Digital Grain Transfer technology. This particular kit is finished in Ebony Feathered Walnut. Read more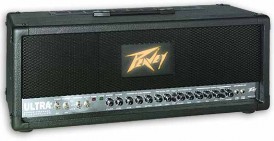 The Peavey Ultra Plus all-tube, 120 watt guitar amp head is designed for maximum tonal flexibility and power. The three channel amp has features and tone rivaling amps 2 or 3 times its price.
Dial in any degree of Clean, Crunch, or Dirty ith the amp's three channels and switch among them from the front panel or the included footswitch. Peavey's patented, three-way Resonance switch custom-tailors bottom end to your speaker cabinet and room environment. A half-power switch provides low-volume output tube saturation and ideal power for practice or small halls.
Determining which channel you are in is made easy by the large illuminated logo that changes color with selection-
Green for Clean, Yellow for Crunch, and Red for Overdrive. Gain boost Bright push switches add extra control tone shaping. Read more