Musikmesse Frankfurt 2009 – TC Electronic is proud to announce it's all-new Nova Repeater, a "no-frills-with-a-sound-that-kills" delay guitar pedal. This pedal is a great asset to have in the arsenal for serious guitarists who live by the 'ready-to-rock n' roll' attitude. So, if you want your delay to sound as unique as you are, then read on… Read more
Rees is proud to introduce their all-new F-Light bass guitar. The F-Light is a well designed, korina body instrument, that boasts its light weight construction, and comfortable playability when either in the sitting or standing position. The F-Light Bass weighs in at only 6 lbs, compared to a traditional bass guitar of 10 lbs. Read more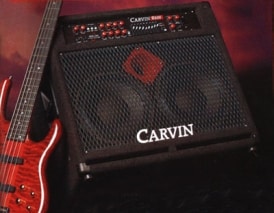 Due to popular demand and request from the GEARHEAD Gear-Vault readers, we are going to focus on bass equipment more often (cheers Marvin H.)
In 1999 Carvin made a bold follow-up and delivered the bass guitarworld the R600 bass amp series. The Carvn R600 featured a "mono bridge" output switch that delivers a thundering 600-watts from the amp's 2 x 300-watt amplifier. The hefty power comes courtesy of Carvin's HT (High-Energy Transfer) power module, which can also be split for bi-amping at any crossover frequency between 200hz and 2khz. Other refinements to the original R600 series include three levels of EQ and a blend-able tube/solid-state input for a wide range of tonal variations, as well as a foot-switchable effects loop, an XLR direct out with ground life, and three preamp outputs.
*The Carvin R600 Redline series is no longer in production.
Estimated used price for the Carvin R600 Redline Series bass amp head: $200 – $250 Gear Search
Carvin RC210
New for 1999 was the RC210 Red Eye Combo (pictured). This was a tiltback combo amp, based on the Series II Red Line amps. This 600W combo had all the features of the R600 head, in an ultra-compact package with a pair of 10″ speakers and the Red Eye horn. The RC210 sold for $749.95, and was also available as the RC210-18, which included the RL118 extension cabinet. Sold for $1049.95.
March 30, 2009 – Blackstar Amplification is proud to launch the Series One at Frankfurt 2009. The much anticipated Series 1 produces mind-blowing high gain performance with a level of tonal enhancement found previously in the very best boutique and vintage amplifiers.
From the extraordinary power of the 200-watt KT88 equipped head to the strikingly crafted 45-watt combo, each Series One design sets new standards in the industry for valve tone and flexibility.
The Blackstar Series One dual patent design is the result of hundreds of hours of research by one of the most experienced design teams in the business. The built in DPR power reduction system allows reduction to any level down to 10% of the rated power with no loss in tone or valve reliability and the ISF control provides tonal flexibility beyond that of any traditional tone control system.
SERIES ONE 45
By switching both preamplifier and power amplifier parameters the Series One 45W delivers both Class A style tones with a bell-like ring and classic push-pull crunch depending on the mode selected. The ISF control removes the limitations of traditional designs allowing you to tune the tone to exactly the sound you are looking for.
DPR can reduce the power down to 4.5W and MIDI switching and a series effects loop make this the ultimate pro's combo.
45W Watt combo with built-in DPR power reduction
3 x ECC83, 1 x ECC82, 2 x EL34 valves
Clean channel with Warm (Class A) and Bright (Plexi) modes Overdrive channel with Crunch and Super Crunch modes
ISF equipped tone control section
Presence control
Master Volume
Series effects loop
MIDI switching
Speaker emulated output
2 x Celestion custom designed Neo 12-inch speakers
SERIES ONE 100
Built on the rock-solid foundation of the classic 100W EL34 power stage, this amplifier sets new standards for clean and crunch tones. Two channels and four footswitchable modes, complete with ISF, include the amazing Super Crunch for the biggest, crunchiest tones yet heard.
The DPR control allows power to be reduced to 10W for studio and small venue work, while a series effects loop and MIDI switching further expand the flexibility of this professionally specified amplifier.
100 Watt head with built-in DPR power reduction
3 x ECC83, 1 x ECC82, 4 x EL34 valves
2 channels and 4 modes (footswitchable)
Clean channel with Warm (Class A) and Bright (Plexi) modes
Overdrive channel with Crunch and Super Crunch modes
ISF equipped tone control section
Presence and Resonance controls
Master Volume
Series effects loop
MIDI switching
Speaker emulated output
Advertisement—————————————
—————————————————————
SERIES ONE 200
Four selected KT88 power valves form the backbone of this 200W high gain power house and provide unbelievable dynamics and head-room. The DPR control allows the power to be reduced down to 20W for beautiful power amp distortion at a much lower volume level.
Setting new standards in tonal flexibility, the deceptively simple preamp section has four world-beating channels (6 modes) which are further augmented by dual ISF controls. With Series One customization comes as standard and you will effectively design your own sound.
200 Watt head with built-in DPR power reduction
4 x ECC83, 1 x ECC82, 4 x KT88 valves
4 footswitchable channels
Clean channel with Warm (Class A) and Bright (Plexi) modes
Crunch channel with Crunch and Super Crunch modes
Two overdrive channels with high and low output damping
Two ISF equipped tone control sections
Presence and Resonance controls
Master Volume
Series effects loop MIDI switching
Speaker emulated output
SERIES ONE 412A/B
240-watt / 16
extension cabinet
Switchable mono / stereo
Finger-jointed birch plywood construction
Heavy gauge wire
Celestion Vintage 30 speakers
Dual Patent Design
ISF (Infinite Shape Feature)
This fully interactive control allows you to infinitely adjust the response of the tone control network between British and American voicings. In this way you can design your own sound and find the sound in your head.
DPR (Dynamic Power Reduction)
The unique DPR system allows you to vary the amplifier output down to 10% of its rated power with no loss in tone or valve reliability. Pure valve output distortion and compression at any volume — a dream come true.
RR:
S1-45 — £899.00
S1-100 — £849.00
S1-200 — £1,199.00
S1-A412 — £579.00
S1 -B412 — £579.00
Visit Blackstar Amps' official website for more information at www.blackstaramps.com
The late great Tube Works (GenzBenz) 7200 bass combo was from the 1998 / 1999 rock scene. Though the Tube Works 7200 bass combo is no longer in production, we decided to take you on a journey with us to the blast from the past.
The 7200 bass combo offered a powerful 160 watts of Mosvalve punch into 4 ohms with a 15-speaker and a bullet horn. The amp also featured a two-stage preamp (F.E.T. or tube), flexible four-band EQ and a built-in limiter, as well as jacks for speaker out, line out, two balanced outputs and an effects loop.
If you currently are the proud owner of the Tube Works 7200 Bass Combo (12-inch or 15-inch speaker selection), here is the online .PDF manual of the unit. You can buy – sell – trade used musical instruments at our exclusive GEAR-SEARCH section.
Estimated used price: $75.00 – $100.00
Advertisement————————————
————————————————————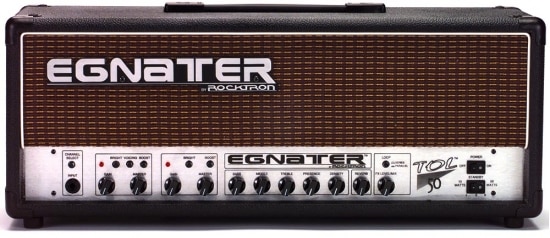 The Egnater TOL 50 is a two-channel, all tube 50-watt amplifier head powered with EL34 power tubes. Each channel is equipped with master and gain controls and switches for bright and boost. Channel 1 features a voicing switch for cleans and dirty rhythm tones. EQ controls include bass, mid, treble density and presence. The TOL 50 also features a power selector switch which runs the TOL 50 at either 50 or 100 watts. The TOL 50 was also available as a 1×12 and 2×12 combo amp.
Egnater TOL50 tube amp. 10 or 50 watts. (TOL100 10 or 100 watts.)
Rocktron/Egnater TOL 50 $1295. 10-watt or 50-watt. 1×12 combo version $1395, 2×12 $1495.
Has 10-watt setting. Beside the main power switch is a standby switch with a special feature: you can select 50 or 10 Watt for output power. Has fx level/mix control, the latter being of dual duty also. Can switch between series and parallel effect modes. In the series position, the control functions as a master volume; in parallel it controls the effect volume. Send and return jacks. Slave Out jack. Recording Out jack; the direct signal from the output stage can be routed from here to mixer, separate effects units, or additional amps systems. A push-pull pot sets the signal level, between 0 and -15 dB. Has an internal and an external speaker jack with impedance selector. TOL = Tone Of Life.
Rocktron – Egnater TOL 100 $1795. 10- or 100-watt tube 4-ch head MIDI. reverb. Ser/paraFX loop w/ level mixing. 10-watt power sw. 2×12 combo version $1995.
Top-mounted controls (on 1×12 and 2×12 combos) for convenient easy-to-use tone adjustments, reverse Oxblood grill cloth for an attractive look and black kayhide covering for the ultimate protection and road worthiness. Controls for Bass, Mid, Treble, Presence, Density and Reverb. The effect loop section features effect mix control for effect volume and a selector button for choosing either series or parallel effect loop option. Each of the two channels feature controls for GAIN and MASTER. Channel one features switches for Voicing, Bright and Boost for added tone manipulation. Channel two features controls for Bright and Boost. Footswitch controls for channel selection and gain boost (Egnater EG2 Footswitch included). 50-watt power amp section utilizing the time-tested Class A/B design, EL34 output tubes and the option to run at either 50 or 10 watts via the output selector switch. The preamp section features 4 specially selected 12AX7 tubes. Slave out with high/low level selector (for driving external effects and/or power amp.) Three-spring vintage reverb tank. Custom-designed 12″ Egnater Pro Speakers. (Celestion speakers optional on 2×12 combo) – Source: Amptone.com
Approximate Used Price: $900 – $1000 Buy – Sell – Trade used music gear at Gear Search
Egnater TOL 100
*note: the Rocktron Egnater TOL 50 tube amplifier is no longer in production.
Select either 50 or 10 watts into 4, 8, or 16 ohms
Two channels each with selectable gain/voicing and bright switches – Channel one for clean to crunch. Channel two for clean to Megadrive
Master Presence and Density controls
Series/Parallel effects loop with return level control
Slave out with level control for driving external effects/power amp
Rich, 3-spring vintage reverb
EL34 power tubes
Top mounted controls (on combos)
Combos come with heavy-duty removable casters
The Tone Of Life
Dimensions: 1 x 12 – 23.5″w x 20.5″h x 10.5″d. 2 X 12 – 27″w x 20.5″h x 10.5″d. Head – 23.5″w x 9″h x 9.5″d
Output Power: 50 watts into 4, 8, or 16 ohms
Input Impedance: 1meg Ohm
Density: +8dB at 100Hz
Presence: +8dB at 5kHz
Kyser Quick-Change Capo
The Kyser Quick Change Capo has a perfect design to fit the necks and fingerboards of acoustic 6-string and electric guitars; the unit also has a lighter capoing tension for lighter gauge strings. The Capo is made of a strong, lightweight aluminum and is designed to be operated comfortably with on hand.
Street Price: $15.00
Advertisement—————————————
—————————————————————
Ibanez's Ergodyne EDC basses are better balanced than typical basses, thereby freeing the fret hand from the effort of holding up the neck. The basses were built of Luthite, a material formulated specifically for electric string instruments. Luthite's low cost let Ibanez create most bass shapes at a fraction of the cost of carved wood bodies. This flexibility allows Ibanez to give the Ergodyne EDC basses an extended upper horn that contributes to the instruments' balance and a special design that keeps tone and volume controls from interfering with right-hand movements. Other features include Vari-Mid Hi-Fi Active EQ with sweepable midrange, Ibanez SFR passive pickups, Accu-Cast bridge and a die-cast jackplate which improves contact and eliminates cutoffs. Approximate street price used: $150.00
The Orange Dual Terror Guitar Amplifier is brand new for 2009 (street price will be $819). Based on the infamous Tiny Terror, the Dual Terror head features two channels Read more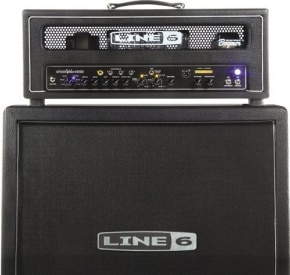 Line 6 – Spider Valve head boasts 12 channels of amp modeling – combined with several flavors of built-in modulation, delay and reverb driven by an all tube, all Bogner amplification design boasting 6L6 power tubes and 12AX7 preamp tubes. Read more