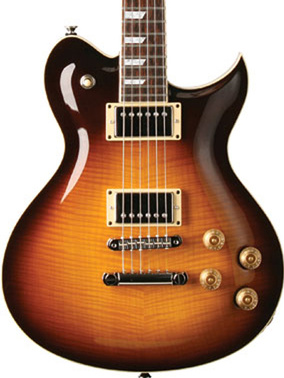 We noticed that not much information was presented on the interweb about Washburn's Idol series guitars. That's a shame because these guitars are an absolute craft of beauty and extremely underrated. There has never been a better time to choose your Idol with the recently released (October 2008) models available.
Washburn's "Wi" Idol series are passionately hand-built at the Washburn's Chicago facility by some of America's finest luthiers, the USA Idol Series consists of five amazingly crafted Custom Shop Guitars. Read more

Washburn's Idol Series W164 is a great choice if you don't want a bland look-alike or sound-alike instrument. This distinctively shaped single-cutaway solidbody features an exceptionally thin mahogany body and beveled edges reminiscent of an SG, and it's loaded with several unusual features that truly makes it stand out from the crowd. Read more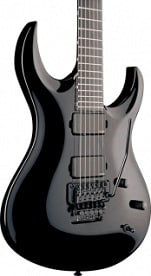 For many players, the notion that shred has died is nothing but a bold faced lie, even though the rumors have been bouncing around since the beginning of the same. Shred still maintains a solid fan base, thanks to fast-fingered players like Via, Satch, John Petrucci, and a few select others. Of course, when it comes to near godlike technique, one needs an equally well built axe that can dish out the shred (as well as take the abuse…seriously, have you ever seen Vai live?). Fortunately, Washburn Guitars graced us with the HM series of guitars, which are designed with shredders and heavy metal warriors (hence the HM) in mind. Of course, one couldn't have shred without being quirky, so oddly enough the model numbers do not begin with HM. Today, we're checking out the Washburn WM526.
If you are looking for a guitar that is built for speed, the WM526 is it. The Washburn guys gave the WM526 a set Mahogany neck that comes in a 25.5" scale, a carbon glass composite fretboard, Parker stainless steel frets, a Buzz Feinten tuning system, an original Floyd Rose tremolo setup (mandatory for dive bombing and screeching), Grover tuners and pair EMG active pickups (namely an EMG 85 in the neck and an EMG 81 at the bridge). OK, you can breathe now. Read more
Washburn Guitars, pioneering the world's finest cutting-edge instruments for over 12 decades, has announced today of the release of a stylish yet affordable HM Import Guitar Series. The HM-Series is designed for superior tone and quality, the Import Series features a revolutionary Phenolic fretboard, providing the ultimate surface for fast riffs, arpeggios and runs. Phenolic is a resin that has a very smooth glass like feel similar to ebony. Notably, some pool balls are made from Phenolic Resin.
The HM Import line includes 6 stylish guitars: WV40, WV40V, WM24V, WM24, WI50 and WI50V
All Washburn HM Import Series Guitars feature a solid mahogany body and neck, Grover Exclusive tuners. The series also includes Randall pickups, which have been specifically designed to match the tone woods of these guitars, providing the ultimate guitar to amplifier tone.
"Our Washburn HM Import series offers a tremendous value for guitarists who want the lightning fast speed and quality build that our HM series is known for," said Jody Dankberg, Director of Marketing and Artist Relations at Washburn Guitars. "With the HM Import Series, we have been able to provide high-end features at affordable prices, resulting in a line of guitars that allows musicians across all genres to perfect their sound while using a meticulously crafted and visually stunning instrument."

Advertisement—————————————
[% oiopub-banner-3-left %]—————————————————————
Features:
Solid Mahogany bodies. The WV40, WV40V, WI50 and WI50V feature set Mahogany necks, while the WM24V and WM24 feature Mahogany bolt on necks
Phenolic fretboard
Grover Exclusive tuners
Randall humbucking pickups
Licenced Floyd Rose Bridge featured on the WV40V, WM24V, WI50V, Tune-O-Matic Bridge featured on WV40, WM24 and WI50
Buzz Feiten nut and saddle allows for pristine intonation
The HM Series is currently available at Washburn retailers.
For more information, visit Washburn's official website at www.washburn.com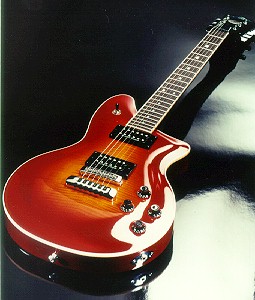 Washburn's P-series were a fine instrument, especially the P4 Deluxe. The guitar was introduced in early 1997, featuring a mahogany body with a flamed maple top that was so beautiful that you would literally drool down your chin.
The guitar also featured Washburn's (exclusive) sound chambers, which made the guitar extremely lightweight and resonant. The P4 came from the factory with Seymour Duncan classic '59 and custom humbuckers installed, the tone was absolutely to die for.
Also included in the P4 Deluxe was Schaller locking tuners and a fine-tuning tailpiece, which was designed to give you full control over tuning with the added benefit of a graphite nut. The instrument was available in a variety of burst colors, including Wineburst, Cherry Sunburst, Blueburst, Honeyburst, Coffeeburst and Tobaccoburst.
Advertisement————————————
[% oiopub-banner-3-left %]————————————————————