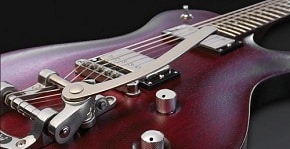 Framus guitars have come a long way since their sixties heyday. Founded in 1946, achieved great heights through the years, but failing to market their product properly to gain more customers forced the company to bankruptcy in 1975. In 1995, Framus guitars were revived by Warwick, however are much different than the originals; centering on modern designs that are perfectly made Read more
The Warwick Alien Acoustic Bass, which has already been awarded the M.I.P.A. Award at the 2009 Musikmesse, is now available as a 5-string instrument. The additional B string brings the full and dynamic punch of this bass to an even lower frequency range. This is also possible thanks to the longer 34″ long scale when compared to the 4-string version.
All Warwick Alien bass models come equipped with a Fishman Acoustic Matrix Pickup and the Fishman Prefix Plus T Preamp. The Warwick Alien 5-string bass is available as a fretted or fretless instrument. Left-handed versions are naturally available at no additional cost as is the norm at Warwick. Check for price.
[% oiopub-banner-3-left %]
Beginners and other price-conscious musicians can now afford their acoustic Warwick dream bass: The extraordinary and very popular Alien is now available in two high-quality RockBass versions: Standard and Deluxe. Both come as 4- or 5-string instruments, with frets or fretless. The tone is concise, dynamic and rich; it's punchy with a snarly acoustic accent, making it unmistakably a Warwick Alien bass. Read more
[% oiopub-banner-3-left %]
The fact that Adam Clayton of U2, the bassist of one of the biggest rock' n 'roll bands in the world, sought the collaboration with Warwick 2 years ago is a milestone for the soon to be 30-year-old success story of Warwick as a manufacturer of bass equipment. An intensive collaboration with the Warwick team under the guidance of Marcus Spangler created an unmatched bass that shines with its own voice and design.
The Warwick Adam Clayton Reverso Signature Bass not only stands out because of its extravagant design. The high quality components, like the selected 5A quilted maple top for the body and headstock, the Khaya Mahogany body, the 3A flamed maple neck with tiger stripe ebony fingerboard give this bass a unique tone with smooth elegance and a punch that a band like U2 needs every time they play. Read more

Warwick leaked some news about the Bootsy Collins Infinity Bass. This bass reaks bling. Personally, I'm not fond of the star inlays, but I do like the graphics on the body around the f-holes. Read the presser below… Read more