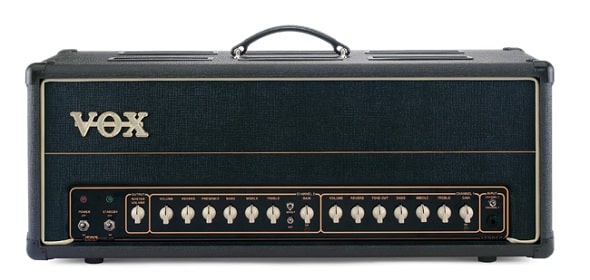 Here's a great review for those Vox lovers. I know I am one! For several decades Vox was pretty much considered a onetrick pony when it came to amp production, but the Vox AC30 was one hell of a studly stallion to build any company's stable around. Since the dawn of the new millennium, Vox has introduced several impressive amp models to expand the company's appeal beyond AC30 aficionados, including the acclaimed Valvetronix digital modeling series and the Custom Classic series, which adds modern features and flexibility to the timeless Vox sound.
Vox's Classic Plus range further broadens the company's offerings by providing an even wider palette of tube tones, including high-gain distortion as well as classic Vox chime and grind. The line currently consists of 50- and 100-watt heads and a 50-watt combo. I tried out the AC50CPH 50-watt head with a matching Vox V412BN cabinet loaded with four Vox vintage-style 12-inch speakers. Read more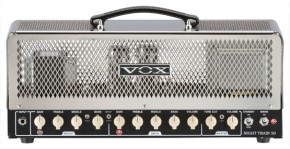 Vox has always made good quality guitar amplifiers since the 1950's. Beginning with the AC15 and AC30, many guitarists made it clear that Vox amps bring a high-quality sound. This is because of their simplicity, and Vox has continued to keep that minimalism alive with the new Night Train NT50. Read more
NAMM 2011 — Announcing the newest member of the Vox Night Train family: the Night Train 50 This powerful, all-tube head offers two channels for traditional and high-gain sounds. Also available is the V212NT cabinet; a perfect match in both looks and sound.
The Vox Night Train Series projects a powerful personality with its mirror-finish metallic exterior and serious all-tube sound. Now welcome our new 50 Watt model: the Night Train 50.
Unlike the existing Night Train (15W) model – or even the AC15 and AC30 Custom Series – the Night Train 50 features EL34 tubes in the power stage, producing a powerful high-gain sound. Of course, the Night Train 50 also covers the traditional VOX sound, and its rich array of sonic variation makes it such a great and versatile choice for so many guitarists. Read more
NAMM 2011 — The AC30C2 tube combo amp – a worldwide favorite – is now available in a limited Vintage Red edition.
From their earliest origins to the present day, Vox has sent numerous custom-color and limited-color amplifiers out into the world. Ranging from standard colors such as gray, blue, green, and purple to original colors such as two-tone and tan, this range of variation goes far beyond that of other amp brands.
Each of these models has represented a further enhancement of the superb Vox design and unique look, and has captured the interest of guitarists in every generation. Now, this limited edition Vintage Red AC30C2 follows in the footsteps of the highly desirable AC15C1 Vintage Red model. Read more
NAMM 2011 — In collaboration with legendary American boutique amp designer Tony Bruno, Vox has taken a trip into new tonal territory with the TB35C1 and TB35C2 guitar amplifiers, featuring an all-tube, Tony Bruno design. Read more
Everyone knows that Vox is one of the original guitar amp companies that helped change the world we live in. From The Beatles to Brad Paisley, many legendary players have relied on Vox amps to carve out their tone and make great music. Not content to rest on the laurels of past glories, Vox is still making cool amps that many modern guitarists have turned on to, but just as many players love the old stuff and build their sound on simple tube platforms that have launched thousands of licks. For these folks, there may be nothing better than the Vox AC15C1. Vox has made the AC15 in one form or another since 1958, so you know it is a proven performer. The AC15C1 pumps out 15 heavy-duty watts of EL34 goodness through a single 12-inch Celestion G12M Greenback speaker. The amp's preamp section runs on three 12AX7 tubes for maximum tone-shaping power. Read more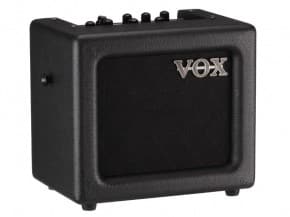 After a week of testing, let me introduce, the one and only VOX Mini3 portable guitar modeling amplifier.  I received VOX Mini3 for review purposes, and let me tell you, this little amp didn't disappoint.
What is a modeling amplifier?
I won't go into amplifier classes too deeply and the difference between "real" and "not real" amps. This is a subject for some other article, this debate is 20 years old or so, when modeling amps started to hit the market. It will be better to picture a machine that with the press of a button, or twist of a knob, could change between the sound of a Fender or Gibson, Marshall or Vox amps.
Also with a Mini3 you can choose sounds from 50's to 90's, from classic Chicago blues tone, via UK '70 & 80's and finishing with a powerful and heavy sound for metal acts wielding guitars. Modeling amps are for guitar players who want to get a tonal palette that they wouldn't have access to with just one amp. On VOX Mini3 you have 11 amp models!
Great Amp For The Money
Well, I know I got this amp as a review item, and I don't want to check how much it cost, but just for purpose of the review I will. For just about $100 you get much more than competitors with a higher price. First, this is a British product with a long heritage. Secondly, they have a great respect from musician community and music industry.
There is nobody on this planet who didn't hear about the Beatles! In 1950's when the Beatles just started, they chose VOX amps and that would come to define the British Valvetronix sound for years to come!
For less than one Benjamin you get 11 amplifiers in one, with 8 different effects, bunch of inputs and outputs, so you can connect microphone,bass guitar, MP3 players, CD players, and adjust it separately to become a genuine one man band and a piece of that VOX history!
Main Features of VOX MINI3
The compact Mini3 features 3 Watts thru 5″ speaker a stellar tones inherited from the VOX Valvetronix series. Also with a great input logic, which include an AUX IN Jack, for connecting an external audio devices like MP3 player, and a MIC IN jack. You can play along with recorded music accompany your vocals on guitar.  Another great feature is that you can also adjust the send level from the MIC IN jack to the DELAY/REVERB effects by using the dedicated DLY/REV SEND knob.
11 Amp models – from blues to heavy metal; you want it 's got it
8 Studio quality effects – Tremolo, Chorus,Flanger, Reverb, Delay to name a few
Battery or AC powered – This portable amplifier is powered by 6 AA batteries or with an AC adapter, enabling you to play anywhere.
Built in Tuner – very simple but effective tuner for adjusting your 6th string via INPUT jack.
Mic input with independent volume,reverb, and delay
AUX and LINE inputs – for a sing along of your favorite songs from your MP3 player
Headphone Outputs
The TAP button – enables you to easily set the delay time and sync with the tempo
Carryng strap for easy portability
VOX MINI3 Front Panel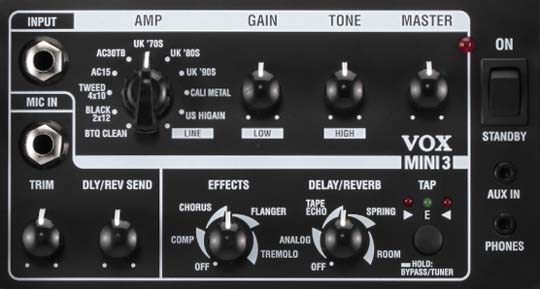 1. INPUT jack – This is where you plug in your guitar.
2. MIC IN jack – Connect a microphone here.
3. TRIM knob – Enables you to adjust the volume level of the microphone input.
4. DLY/REV SEND knob – Enables you to adjust the send level from the microphone input to the delay/reverb effects.
5. AMP selector – Enables you to select an amp model. From blues to heavy metal, all this at your fingertips.
6. GAIN knob – This knob enables you to adjust the pre amp gain for the selected amp model.
7. TONE knob – This knob enables you to adjust the tonal color.
8. MASTER volume – This knob adjusts the overall volume of the amplifier.
9. EFFECTS knob – This knob enables you to select the effect type and set intensity of the effect.
10. DELAY/REVERB knob – This knob enables you to select a delay/reverb-type effect and set the intensity of the effect.
11. TAP switch with LED/TUNER indicator – this switch enables you to set the time of the DELAY and REVERB effects. Also by pressing and holding the switch, it goes to tuner mode and with leds you can tune in your 6th string and the other accordingly.
Video of VOX Mini 3 Guitar Amplifier
VOX Amplification has added the new NT2 Lil' Night Train to its Night Train amplifier lineup. Lil' Night Train is an all-tube lunchbox-style amp that comes complete with a matching 1×10″ Celestion speaker cabinet. Weighing in at less than five pounds, the Lil' Night Train is truly little, making it excellent for effortless portability.
Sharing many Vox Amplifiers cosmetic elements with the original VOX Night Train, the new Lil' Night Train features mirror-finish metal exterior, cut with the distinctive VOX diamond pattern. Inside, it features two 12AX7 vacuum tubes in the preamp stage. A single 12AU7 power amp tube delivers two watts of power into the matching V110NT cabinet. Read more
VOX Amplification has announced an entirely new lineup of hand-wired AC15 and AC30 amplifiers. The Hand-Wired Series includes innovations to satisfy the versatility a modern player needs. Included are four combo models, plus a head and matching extension cabinet.
The ultimate take on the VOX classics, these amplifiers make use of high quality components, an all-tube design, hand-wired turret board construction, and over 50 years of VOX AC15 and AC30 refinements.
Finished in fawn-colored vinyl reminiscent of the 1960s AC amplifiers, the birch-ply cabinets feature solid, tight bracing and a natural high frequency diffuser. Matched Ruby Tubes are used throughout for an extended dynamic range. All models provide three 12AX7/ECC83 preamp tubes. The AC30 models are equipped with Read more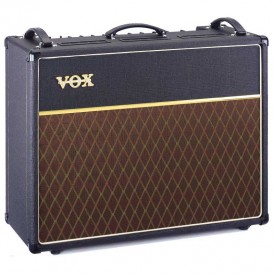 It's not just the notes you play, it's the tone you choose. Since 1959, thousands of guitarists have chosen the VOX AC30 for an authentic, honest, style-defining sound. For the purist, Vox offer the all-tube Custom Series, equipped with original Celestion Blue AINiCo speakers (AC30C2X) or Celestion Greenbacks (AC30C2). Looking for something lighter to carry and lighter on checkbook? Check out the AC30VR, equipped with Vox's highly-acclaimed Valve Reactor circuit. As expected the AC30 delivers an iconic tone as unique as you are. Read more