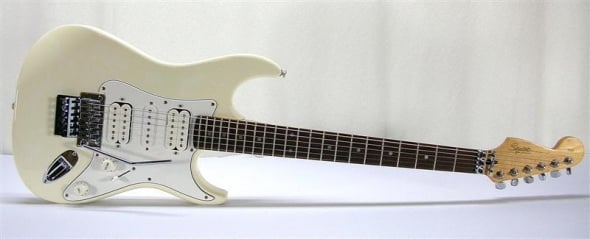 Squier Stagemaster is a uniquely different tailor of the typical Fender Stratocaster guitar. The Squier Stagemaster is made explicitly for the rocker players alike. With its sleek Strat body design, reverse Fender-shaped headstock and its drive-bombing License Floyd Rose double-locking tremolo system, the Stagemaster spells "flash" with all of its humbling features.
Much like Fender's Fat Strat, the Stagemaster guitar is equipped with a lustrous hardwood body, smooth-shredder-fast maple neck. The neck is much thinner than the typical C-shaped Stratocaster and with its reverse headstock, the guitar has appeal and zazz. Playing it feels like Jimi Hendrix's reversed Stratocaster; for his left hand playing–however, the Stagemaster is a right hand guitar. Whats more, the Stagemaster is equipped with a solid Rosewood fingerboard (12.6″ radius) and 22 frets. The die-cast machine head tuning pegs are what you'd expect from a guitar with Fender's name on it. The pickups are a bit bland, but certainly not bad for a guitar in this price range. The pickups are managed with its 5-way selector switch, master volume and a single tone control. Read more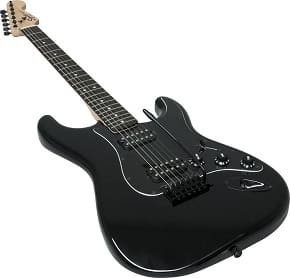 Many guitar players tend to make a certain face when they hear the word "Squier". It's the same face you make when someone says "telemarketing job" or "infomercials". Forever destined to be the Yugo of the music world, the good folks overseas who make Squier guitars for Fender have pushed out a new model that is already changing the minds of those who put their hands on it: The new Squier Bullet Strat HH. Read more
It's that time of year again, when everyone is on the edge of their seat—waiting and watching, for the shiny new products to be rolled out at NAMM. Calm down – this isn't a game changing miracle device, but it's still pretty cool.
Fender has introduced the new Squier models for 2012, putting some nice touches on a guitar line that has had less than impressive results in the past. Read more


Squier has teamed up with Joe Trohman of the Fall Out Boy and The Damned to create the Joe Trohman Telecaster, which is loosely based on the early '70s Fender Telecaster Deluxe.
The Joe Trohman Telecaster guitar, like the other artist signature series of Squier was designed to provide inspiration to guitar players by making great value guitars that have the approval of great artists, ensuring quality workmanship and superb sound. Read more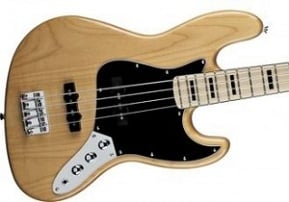 The Squier Vintage Modified Bass is well known as a fantastic starter guitar. Produced by Fender, it is well priced and with today's build quality, it can play a range of sounds from P-bass to the smoother warmer jazz sound. Read more
Squier is a second-line guitar company that sells low cost products akin to those of Fender Guitars, which was not always the case. Read History of Squier Guitars.


Squier's trademark comes from the Squiers, an English immigrant family. The family's first settler, Jerome Bonaparte Squier, built and repaired violins together with his son in Boston during the late 19th century. Victor Carroll Squire, Jerome's son, eventually settled at Battle Creek, Michigan, where he founded his own string shop named V.C. Squier Company. The company's first contact with Fender came in the 1950s, when Squier began making electric guitar strings for Fender's first products. Read more
Squier Classic Vibe Telecaster Thinline Guitars–Squier is proud to introduce three new guitars for 2010 – two exciting new versions of classic Telecaster models and a practical, no-frills Stratocaster model with the roar of a humbucking pickup. All deliver great Squier look, sound, feel and value.
The two latest additions to the award-winning and best-selling Classic Vibe series – the Classic Vibe Telecaster Custom and Classic Vibe Telecaster Thinline guitars – are based on a pair of classic Telecaster designs from the 1960s that were prized among rock, blues, country and jazz players alike. Read more
Squier Guitars are extremely proud to release details of the Biffy Clyro Signature models. The instruments designed in collaboration with Simon Neil and James Johnston from the band will be available from 20 October 20 2009 in Europe only. Read more