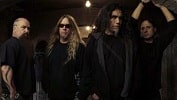 Someone with a YouTube account and a copy of Slayer's Reign In Blood just uploaded the following video, which features every track off the seminal thrash album… playing at the same time.
Yes, it's very loud, and perhaps, you can hear the real inner messages. Okay, well, maybe not. Enjoy! Read more
Tags: slayer 2011 guitar, slayer LTD 25th anniversary guitar,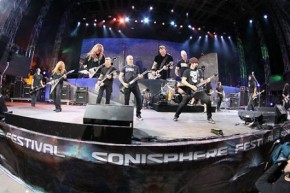 On Tuesday, June 22, metal fans in Sofia, Bulgaria got a rock-gasm to rattle all the bedsprings of the bowels of hell: for the first time in history, members of the founding fathers of thrash metal, the infamous "Big Four" — Megadeth, Slayer, Anthrax and Metallica — were all onstage together for an epic rendition of Diamond Head's "Am I Evil?" Read more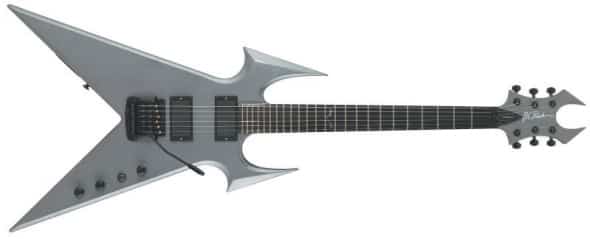 B.C. Rich is back with a firestorm of new signature models created in collaboration with Kerry King, legendary guitarist for Thrash Metal titans Slayer. Four new models are available, each bearing finishes, features and tones approved by King himself.
Two models feature an intense new Kerry King graphic: The Kerry King V Flame Generation 2 depicts a two-tone tribal graphic over a flaming backgound image and the Kerry King V Metal Master Generation 2 shows this same graphic over a gloss Black finish. The Generation 2 images are based on the B.C. Rich Handcrafted guitars that King plays on tour with Slayer.
The V Flame features a Kahler X-Trem tremolo unit, 24-fret Ebony fingerboard, beveled body top, black hardware and B.C. Rich Active pickups for a street price of $569.99. The V Metal Master guitar utilizes a wrap-around bridge, 24-fret Rosewood fingerboard, beveled body top, chrome hardware and B.C. Rich BDSM humbucking pickups for a street price of $399.99. Read more
Tags: slayer guitar,
The monarch of uniquely designed and shaped guitars have once again teamed up with the ruler of metal to introduce the next innovated guitar design. So sit back and brace yourself for the sinister B.C. Rich Kerry King Beast V, Beast V NT and V2. Inspired by Kerry King himself, the Beast V is known as the unholy alliance between B.C. Rich's famous Beast body shape and Speed V design.
The Beast V (pictured below) is equipped with B.C. Rich B.D.S.M. humbucker pickups and a fully adjustable bridge with a string-through body design for even more added sustain. The guitar has a rosewood fingerboard, Beast headstock and bolt-on neck construction.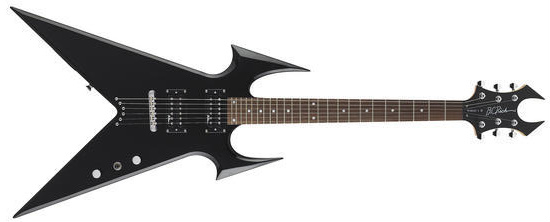 The Beast V NT version (pictured below) features neck-through body construction for added sustain and tone and improved access to the upper frets. It is equipped with B.C. Rich active pickups and a Kahler locking tremolo.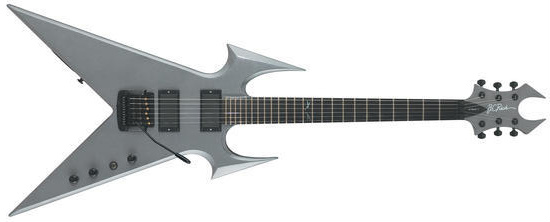 Advertisement—————————————
—————————————————————
In addition to the new models, B.C. Rich is now offering Kerry's exclusive
Generation 2 graphics
on the
V2
and
Metal Master V2
model guitars.
For the hundreds and thousands of people that have seen the godfather, Kerry King, on stage with Slayer have recently seen his Generation 2 graphics. This striking new tribal design is floating over a hand drawn flame making it visually stunning. Now B.C. Rich is bringing this remarkably new graphic to a new production model V-shaped guitar called the Kerry King V2. (see photo below)

The body shape is the aggressively styled B.C. Rich speed V and it has been augmented with many Kerry King inspired features. The V2 model is equipped with B.C.R.A. active pickups and a genuine Kahler locking tremolo. It also features a basswood body, bolt-on construction, ebony fingerboard with a specially designed inlay and a Beast headstock. The 24 jumbo frets provide 2 full octaves of notes to shred.
For more information, visit their official website at www.bcrich.com.
Tags: bc rich guitar v, kerry king v2,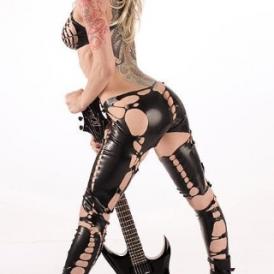 Are you excited about all the new gear that's going to be unveiled during the 2009 NAMM show? We are! Good news for those who can't travel to NAMM, B.C. Rich Guitars will be hosting a private online "Grand Unveiling" that will be featuring all of their new guitar models for 2009. These new B.C Rich models have never been seen by anyone outside of B.C. Rich headquarters!
B.C. Rich Guitars will be providing photos, information and even videos on all of their new models for 2009. Register online at bcrich.com to get yourself an all-exclusive pass to view these new and exciting models… even before music retailers see them at the 2009 NAMM Show.
Here's how to access the special online screening, you must first go to www.bcrich.com and sign up before JANUARY 10TH – 12:00 Midnight! Every gear head who signs up by the deadline will be given exclusive private access to the "Grand Unveiling" on January 12th at 12:00 a.m. Eastern Standard Time. Gear-Vault will be there!
The "Grand Unveiling" will include the following new and exhilarating guitars:
New Special 40th Anniversary models
Four brand new Kerry King models
New exciting models from the Handcrafted shop
A "BRAND NEW" B.C. Rich body shape revealed
And the return of the Seagull, B.C. Rich's first body shape
Now if we can get more instrument companies to host exclusive online screenings of their new gear!
History of B.C. Rich Guitars
It is said the person who birthed B.C. Rich axes and bass guitars founded the company in the early 1970s by Bernardo Chavez Rico. Currently, most B.C. Rich guitars are manufactured in Asia, however, luthiers of the company's custom shop continue to build hand-made instruments. Hanser Music Group now manages the Southern California B.C. Rich custom shop. As of 2001, no members of the Rico family are involved in the production of any B.C. Rich guitars. The legendary B.C. RICH remain an icon in the rock and metal music industry. Visit B.C Rich's official web site at www.bcrich.com for more information.
Tags: bc rich custom guitar, bc rich girls, bc rich models, www thehandcraftedshop com,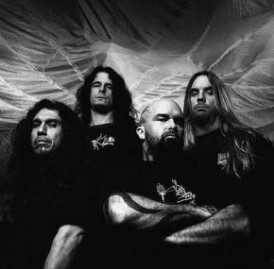 Kerry King and Jeff Hanneman's paint-splattered Gibson Les Paul Standard and BC Rich Mockingbird have much to answer for. After all, they're the axes that helped launch Slayer's now infamous legacy of brutality. "That Les Paul was defiantly my first real guitar," recalls Jeff Hanneman. "I had a couple of clunkers before that but nothing that really played that well or even stayed in tune. I bought it off a friend for $500, I'm not sure when it was made but it was in great condition when I first got it. Since then I've pretty much beat it to hell," he laughs.
"I put a Seymour Duncan pickup in the bridge position—I can't remember which on but it may have been a Distortion," Hanneman continues. "I had a Kahler tremolo put on her, too. Actually, the guy who put it in for me was the first guitarist in Megadeth, Chris Poland. I think he did it for 50 bucks! To do the paint job I taped up the pickups, dipped a stick in some red paint and just splashed it on there. I think I screwed some chains on her for awhile, too."
Hanneman's Les Paul appeared on both Slayer's debut, Show No Mercy (1983), and the Haunting the Chapel mini album (1984). "It might have showed up on a couple of songs after that but I retired it before Reign in Blood (1986)," he says. "Like I said, I'd pretty much beat it to shit. I used to drop it on stage and let it bounce and I'd drag it across the stage by the lead too. I think it's still playable but the neck is pretty tweaked!"
"My dad got me that '77 BC Rich Mockingbird when I was about 16," says Kerry King. "That was before strap-locks were real popular, and one time it just fell down and broke the headstock right off. I didn't know what to tell my Dad! I was like, 'Oh man, I might just as well move now, because I've got a gun shot coming to my head! He was cool about it, though, and we took it to the BC Rich factory to get it fixed. They put three rods in the neck where the head broke off, and we had it painted red too. It was natural koa wood before that. Had I known how cool the guitar was at the time, I'd have probably never had it painted."
Like Hanneman, King had a Kahler whammy system added ti his guitar but left the pickups alone. "I'm pretty sure they're the stock DiMarzios it came with—probably a Super Distortion [bridge] and a PAF [neck]." Also, like Hanneman, Kerry added his own personal touch to the axe. "I don't think I did mine because Jeff did his, but it's so long ago I don't remember," he laughs. "I got a little eight-ounce can of black paint, stuck a drum stick in it and dribbled paint all over the guitar—very musical!
"I used it on Show No Mercy, Haunting the Chapel and Hell Awaits (1985). I might have also used it on some Reign in Blood, but by then it was pretty much retired and replaced by a [BC Rich] Warlock."
Tags: jeff hanneman bc rich, jeff hanneman les paul, B C Rich koa, jeff hanneman duncan distortion, Jeff hannemans les paul, kerry king bc rich mockingbird, les paul hanneman, ケリー キング モッキンバード,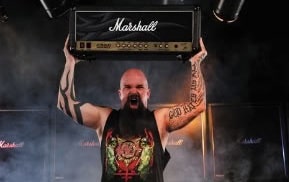 When you take the amp that has been the source of pure rock and roll crunch for decades and mix it with one of the most powerful metal guitarists ever to unleash havoc on this planet, what do you get?
Give up? How about Marshall's 2203KK. What's the 'KK' for? Why, the loveable Mr. Kerry King from Slayer, of course! Did I say 'loveable'? OK, perhaps not so much, but this amp sure is!
The 2203KK is essentially a modified JCM800, tweaked to Kerry's specifications. The guys at Marshall took his threats…um…I mean, suggestions, and incorporated some very awesome features. Read more
Tags: marshall jcm 800 kk, the beast kerry king marshall,