Don't believe the hype. After the barre chord, the most important thing I learned as a guitarist was to take any and all advertisements that promise "monster tone at affordable prices" and budget friendly, triple-digit-decibel orgasm" with a grain of salt. After all, what are manufactures suppose to say? "Our product sounds cheesy and tinny, but what do you expect for $500?" I think not. Read more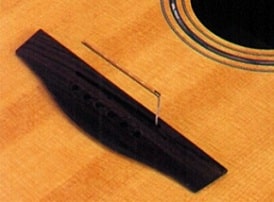 Piezo Electric pickups employ a crystal that has the unusual ability to transform mechanical energy into electrical voltage. During the Sixties, pickup manufactures realized that if a small piezo-electric crystal could be attached to the soundboard of a guitar, the vibrations from the guitar would produce pressure upon the crystal and create a series of corresponding electric pulses. Add a couple of wires and an amplifier, they figured, and—in theory, at least—you should hear something pretty close to the instrument's true tone.
The first piezo pickup format was the contact transducer, a small encapsulated device that could be temporarily attached to the soundboard. The most successful original version was produced by DeArmond, but in the late Sixties Barcus-Berry introduced an improved design that fit inside the guitar, under the bridge. These soundboard transducers are still made today by a number of companies and offer a simple, no-modification solution to amplifying acoustics. However, they replicate only the vibrations of the soundboard, not of the strings. Read more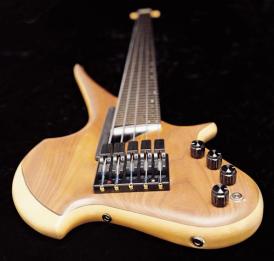 First there were magnetic pickups, hex pickups for guitar synth, and piezos for that acoustic guitar sound. Now there's LightWave Pickup System from Audio Optics, Inc. The LightWave is a departure from conventional magnetic pickup technology.
Photodetectors use infrared illumination to measure the shadow cast by each vibrating string. This optical signal is then converted into an audio output. Meanwhile, each string is also "felt" by a piezo signal in the bridge, which contributes other components to the string's sound. The bass player controls the blend of these optical and piezo outputs, and selects among 15 presets EQ settings for a wide range of tone colors. The LightWave is rockin' in 4-, 5-, and 6- string basses. With acoustic-electric guitars to follow the lead. Your ears will be amazed at what your pickups are "seeing". http://www.lightwave-systems.com
Gear-Vault Classifieds is an eBay alternative. Come sell your guitars and amps with us, for free!

Advertisement————————————
[% oiopub-banner-3-left %]————————————————————