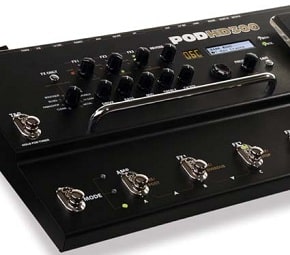 Late last year, Line 6 ramped up their strategy to claim a larger stake in the Multi-Effects arena. The flagship series they constructed to spearhead the entry, was the POD HD series. Before this series, the market was largely dominated by a handful of large companies, namely Digitech, Boss, and a few others. To this day, these large companies still hold the large share, but that all may change in the future. Read more
NAMM 2011 — The evolution of the chorus effect seems to have gotten stuck in '80s pop, along with over-processed guitars, cheesy synths and popped collars. This ain't that kind of chorus.
When we designed the Boost Chorus pedals we went back to the '70s, when choruses were rich, smooth and manly. We figured out what made these vintage stompboxes sound so good and poured that knowledge into a new kind of chorus pedal with greatly improved performance and a whole slew of never-before-heard sounds. Slapback, echo, flanging and doubling effects are all possible from the modestly named Boost Chorus pedals.
Tech 21 Boost Chorus
Designed primarily for guitar (but sounds great on everything else) the Boost Chorus features unprecedented tweakability for this type of pedal. No fewer than six controls allow players to easily dial-in the right tone, speed and depth of the effect.
The Mix control allows a 0-100% wet blend of the effect, while the Level control offers increasing amounts of boost to compensate for the volume loss perceived with chorus. The final control is the Pre-Delay, which alters the chorus' range to produce effects from flange/chorus, to regular chorus, to chorus/doubler.
The secret weapon is the Multi Voice switch. Engage this to bask in the multiple chorus voices of an Ensemble-style effect
Tech 21 Boost Chorus Bass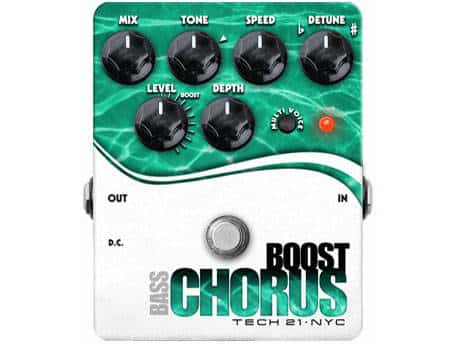 Because of the way traditional chorus pedals typically interact with their amps, most bass players would rather put an angry badger on their pedalboard. The Boost Chorus Bass avoids seasick tones, and badgers, through a specially-tailored design.
It features the same control set as the standard Boost Chorus, including the Multi Voice switch, but differs in having a Detune control in place of the Pre-Delay. The Detune control adjusts the pitch of the choral voices, adding sonic girth to create thick, lush, bass-perfect chorus.
Speed and Depth controls add modulation, so at minimum your fundamental notes are preserved. Finally, a chorus that works in harmony with your bass.
Roto Choir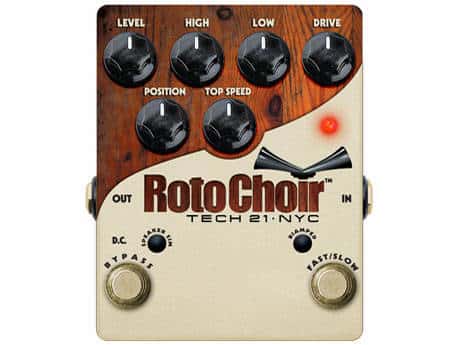 No musician can deny the deep, swirling glory of a vintage rotating speaker cabinet, that uniquely lush, pulsing tone that brings any instrument to life. So, why doesn't everyone use one? Because they're the size and weight of a bulky refrigerator, cost big bucks and are more high-maintenance than a platinum diva.
But, imagine getting all of that inspiring rich modulation with cutting-edge features in a studio-quiet, road-worthy pedal. Just one little pedal. Now imagine you can use that pedal with guitar and to record direct.
The Roto Choir recreates both the rotating lower speaker and the treble rotor horn – the only way to attain that complex, multi-dimensional tone. In fact, the Roto Choir utilities a specifically formulated SansAmp technology to deliver the entire signal chain – from the original tube power amp to the speaker and high-frequency rotor horn, to the microphone used to capture it. This is HD, 3D emulation.
The simple controls hide a wealth of options. Drive adds just the right amount of compression, harmonics and grit. Low and High sculpt the tube amp emulation with powerful EQ curves. The Fast/Slow footswitch allows users to ramp up, slow down or even stop the rotating speaker. There's also a dedicated control to custom set the Top Speed of your rotor. Want to vary the intensity of the effect? Simply adjust the Position control to move the Roto Choir's virtual mic closer or further from the horns.
Other features include a biamped/single-speaker mode switch, stereo output and a Speaker Sim switch for direct recording. Find the easy way to celestial sounds you can get lost in with the Roto Choir.
Tech 21 Guitar Pedals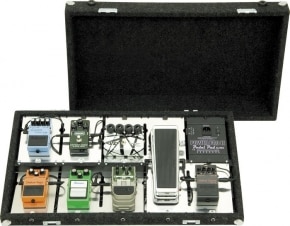 Sooner or later, all guitars who are into pedals quit fooling around and go for a serious, high quality, well designed pedalboard. When they do, their choice is often a board from Pedal Pad. It's a company that specializes in pedalboards, makes really good ones, and keeps improving its designs. The latest examples are the MPS II and MPS XL II, two new entries in the popular MPS series. Actually both models are identical, except that the XL II is 10" longer and holds more pedals. Both are powered and have all the ruggedness and flexibility found in the original MPS design, but with a lower onstage profile. Instead of being 7" high on the audience side, the new models are just 4-½" (that's including rubber feet). Besides a lower profile, this new design gives the pedals more room and allows you to conceal cables in the space below the pedal surface. Read more
Here is a picture of Satriani's pedalboard that he uses with his new band Chickenfoot. Can you guess what those pedals are? Read more
When the word got out that we are reviewing Electro-Harmonix's reissue of their Micro Synthesizer, reactions were decidedly mixed. Some exclaimed, "It's about time they reissued it!" Others muttered quietly, "Yeah, I had one once, but I couldn't tell if it was working right." Love or confusion, indeed.
Perhaps some clarity will emerge by first clearing up the "synthesizer" misnomer. Unlike other guitar synthesizers, the Micro Synth is really a pedalboard's worth of stomp boxes rolled into one, allowing your guitar (or whatever else you plug into it) to emulate the phat tones of vintage Seventies synth. Imagine feeding your guitar to three fuzzboxes, an automatic volume pedal and an automatic wah, and you'll begin to get the picture.
The Micro Synthesizer is housed in a sheet-metal enclosure measuring 8 x 6 x 2 inches. A trim pot on the back of the pedal sets the unit's sensitivity to either single-coil or humbucker pickups, but all the important controls are in the form of sliders on the unit's face. The controls are in two groups, voice and filter sweep, with a couple of sliders to control the note attack, and entry of the filter characteristics.
In brief, the voice section consists of three forms of distortion and a clean tone. The suboctave voice adds a tone one octave below the guitar's pitch, sounding very much like the Boss Octave pedal. The guitar voice is a dry signal, somewhat colored by the Micro Synth's preamp circuit, and the only voice that will tolerate chords without generating wickedly erratic distortion. The octave voice could go head to head with Roger Mayer's Octavia pedal, and the square wave voice is a fuzz box tone of Sixties vintage, full of crackle and fizz. These four voices are processed in parallel, allowing you to mix their various idiosyncrasies as you please. Is that octave tone a little too bright? Mix a little suboctave in. Is the guitar voice in need of just a touch of background static? Tweak that square wave to taste.
Whatever odd little swarm of buzzes you raise in the voice portion can be shaped with the attack delay control. This functions like an automatic volume swell, sensing your pick attack and dropping the output accordingly. This allows you to emulate everything from subtle bowed effects to those backwards tape solos so overdone for about six months during 1969.
The filter sweep section consists of four controls: resonance, start frequency, stop frequency and rate. Think of the start and stop frequencies as vowel emulators and the resonance control as an added boost. The rate control determines the velocity at which the filter sweeps from the start frequency to the stop frequency. Lower settings create percussive quacks and grunts while higher settings summon vocalesque "awwww" and "mewhhh" sounds.
Pretty exciting stuff in theory, but the Micro Synth is a box of quirks. To name just a few:
1) Technique is critical. Pick too soft and notes disappear; too hard and they blat like a foghorn.
2) As noted above, you can only play single-note lines on most settings. Two or more notes will either screech or disappear.
3) Tracking is uneven. What works on the lower strings won't work higher up, and vice versa.
4) The background noise and leakage between voices is very high. Add this together, and you might question the sanity of anyone who owns a Micro Synth.
And yet, the variety of distortions (including deliberately overdriving the preamp) would please any connoisseur of Edge City tone. The filtering would sit well in a hip-hop or techno mix, and the background noise is just the kind of thing Beck would pump up in a scratch break. And for a couple hundred bucks for a used one, it's cheaper than the equivalent collection of individual stomp boxes.
The End Line
One wishes that Electro-Harmonix would have upgraded the Micro Synth to current technical and construction standards. As it is, you'll either love it for its quirky low-tech peculiarities or avoid it for, uh, its quirky low-tech peculiarities.