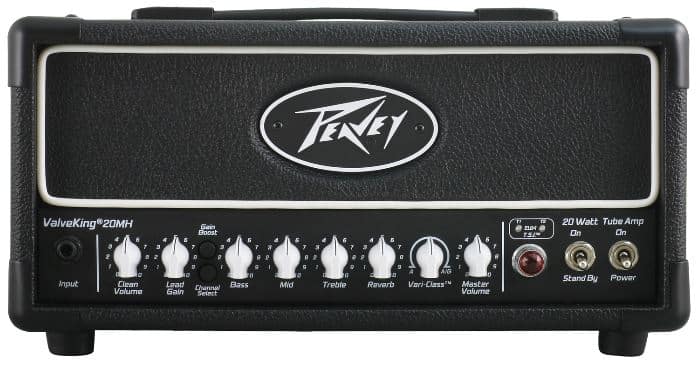 When it comes to rocking it out on stage or in the studio, you need a reliable amplifier that can provide that big tube tone. In this regard, Peavey's ValveKing II Micro-head seems to be on everyone's lips.
Boasting top-of-the-line features such: as a switchable 20W/5W/1W power output, three 12AX7 tubes, pair of EL84 power tubes, and a USB recording output. The Peavey Valve King II micro may be what you've been looking for.
In this Peavey ValveKing II review, we examine whether this unit is worth your money. Read more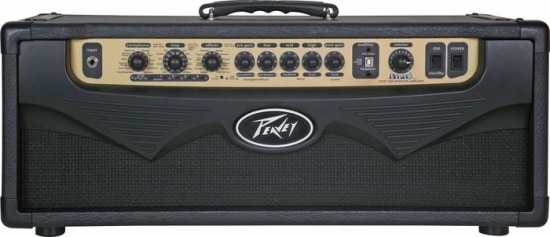 Since 1965, Peavey has built a reputation for making awesome guitar amplifiers, and they continue to evolve under the guidance of the company's founder, Hartley Peavey. Their reputation has been solidified with a series of amazing amps, such as the 6505, JSX Joe Satriani signature amp, the Valve Kings, XXX, the Classic series, the Windsor, and others. In the non-tube amp category, their patented TransTube technology is almost indistinguishable from real tube-driven amps, setting the standard for performance, tone, and affordability. And now, with their VYPYR series of amps, Peavey finds themselves at the forefront of the modeling amp race as well. Read more
This year's NAMM show in Anaheim brought many new and innovative guitars and amps to a music scene that has been evolving at a dizzying pace over the past decade. Not open to the public, this inside-baseball convention caters to those who make their living selling instruments and equipment to the unwashed masses, so those who attended the show were probably quite ebullient about the new EVH Stealth and the EVH 5150 III mini-amp head. Read more


Anyone who's a fan of Eddie Van Halen and plays guitar more than likely knows about the Peavey 5150. Most metal guitar players also know about the 5150. That's because from EVH raunch to drop C circle picking, the 5150 is an absolute tone machine.
The Peavey 5150 II is a simple amp made up of a clean and lead channel. The clean channel can be switched into a rhythm channel, so you could say it flirts with three simple channels. The clean channel, despite what anyone tells you, boasts a beautiful clean tone that's full of headroom. Setting the gain knob around 6 or 7 will give you that awesome breakup that accents a clean guitar sound to really give it some shimmer.
The lead channel is somewhat similar to the clean channel, in that it's absolutely nothing like the clean channel but BRUTAL! The lead channel is controlled by a gain, low, mid, and high adjustment. The lead sound that comes from the 5150 is grimy, raunchy, loud, and… did I say, loud? Setting the gain around 5 will give you a perfect rhythm sound that will deliver a Marshall JCM 800-esque tone while still delivering enough gain for pinch harmonics. Setting the gain any further than this and you're trying to emulate some ENGLs or Soldanos. Pretty much begging for high gain madness! Read more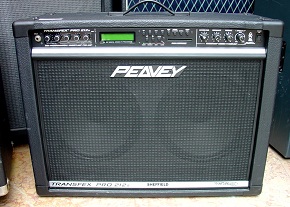 Remember that one amp you had? Sure, you've finally upgraded to a full tube head or something that's a little more professional, but there was something about that one that you've forgotten that you still miss. That amp for me is the secret gem that Peavey contrived in 1997, the Transfex Pro 120. Read more
Yes it's a Peavey. Of course it kicks ass. But is the Triple XXX II truly a new ear blistering apparatus never heard from before? We go inside NAMM, where Peavey unveiled its predecessor to the Triple XXX, to find out the answer to this and more.
Like most high gain amplifiers the Triple XXX II boasts three channels; clean, rhythm, and lead. If you've ever played any all-tube high gain amp made by Peavey, this is usually the norm. Aside from the standard gain adjustment, three band EQ and resonance and presence controls, the Triple XXX II boasts a new "FAT" switch to do just that; make your sound FATTER than anything else on stage! Dissecting even further into the amp, the noise gate on the rhythm and lead channels is a really nifty feature. This is not a typical feature onboard most guitar amplifiers, and can be convenient when trying to keep that gain in check or shush a nasty 60 cycle hum. This 120-watt beast is probably more suited for those looking to take the stage in the club or arena, and not the corner of your bed in the bedroom. Read more
NAMM 2011 — EVH 5150III Mini Amp heads deliver the sound–the incredible tones Eddie Van Halen has chased his whole life. The EVH 5150III Mini Amp is a triple-threat, 50-watt monster: a truly clean channel, a molten crunch-time channel and an off-the-scale overdrive channel you're simply not gonna believe. In black and ivory, with an unmistakable look and sound that's pure EVH amplification; a big head in a small box. Read more
NAMM 2011 — In 1995, Peavey Electronics revolutionized the guitar amplifier industry with its patented TransTube technology. Peavey had unlocked the secret of realistic tube emulation, spawning one of the most successful solid-state guitar amplifier series in history: the Peavey TransTube Series. Read more
NAMM 2011 — Peavey proudly announces the new Peavey Triple XXX II three-channel, 120-watt guitar amplifier.
The Peavey Triple XXX II delivers tones ranging from the Peavey Classic 50 to vintage British to the modern Triple XXX and all tones in between. The versatile and comprehensive control section supplies a master volume pot and independent volume knobs for each of the three channels Read more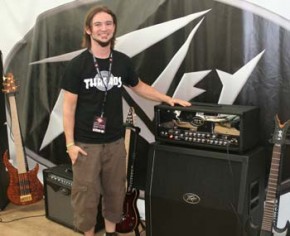 Peavey may not have the most recognizable or distinct guitar models, but they're still among one of the most popular amplifier and electronics manufacturers to date. Read more