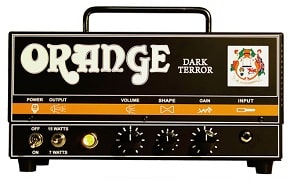 We all know who Orange is. World renown for making some of the nicest, sleekest valve amplifiers, they've been working on a high gain monster. Behold, the Dark Terror! Read more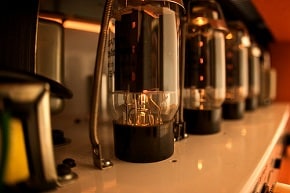 Have you ever wanted to hear what a few EL34's and some 6L6's blended together in your powerstage sounded like? Orange Amplifiers has struck a distribution agreement for a new technology called DIVO Tubesync that will allow users to do just that! Read more
Orange Amps continue to advance their guitar amps range with the new TH100 head, the 100 watt big brother of the TH30. Read more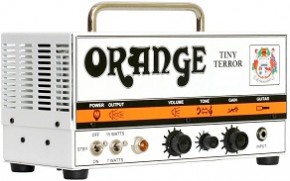 "Lunchbox" guitar amps are all the rage, and why not? They're portable, can drive just about anything, and are great for recording. Orange was one of the first companies to see the merits of the lunchbox approach, so the Tiny Terror is the result not just of what Orange knows now, but what they've learned in the past. Furthermore, it's a member of a family of products that includes the high-end Tiny Terror Hard-Wired Edition, the two-channel Dual Terror, and two Tiny Terror combo amps with cabinet (versions with 10" and 12" speakers). Read more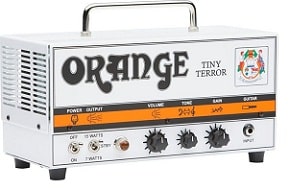 The Orange Tiny Terror is the amp we have to thank for making lunchbox-sized amplifiers a very trendy and popular part of the guitar amp market. Sure, there have always been builders out there who cooked up gourmet/boutique welterweights for the well-heeled low-volume slinger, but the Tiny Terror put this sort of thing in front of Read more
Storming into the New Year, Orange Amps are giving their range of guitar amps a boost with the launch of the new Thunder 30 combo and head. This replaces the Rocker 30 and will roar into the shops spring 2010.
The Orange Thunder 30 is an all valve class A 30 watt, twin channel amplifier, powered by four EL84 power valves (two more than the Rocker 30). It will be available in head and 1 X 12 configurations and includes an F/X loop (not featured on the Rocker 30) and the 1×12 is front loaded.
A brand new design incorporating the best of the Rocker and Thunder series, the new amps have two channels. The first is a classic vintage channel which has crystal clear clean sound and when turned up delivers a thunderous vintage power amp overdrive, much like the Orange Dark Terror amplifer. The second overdrive/distortion channel, features a shape control as seen in the Thunderverb models and has a British tone crunch of numbing proportions! Read more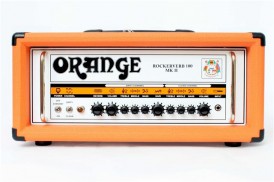 The Rockerverb series has long been regarded as a masterpiece of guitar amplification and Orange amps are proud to announce the launch of the new Rockerverb II, which builds on the classic proven Rockerverb formula and improves the specification and range available. Read more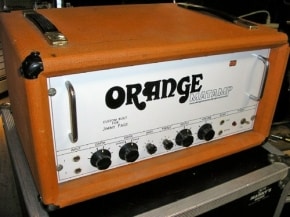 Turns out just one Led Zeppelin fan had the means — or perhaps the inclination — to buy one of the coolest pieces of Led Zep-associated memorabilia to surface in some time.
According to Gibson.com, a sole eBay bidder coughed up a whopping $30,000 Read more
The Orange Dual Terror Guitar Amplifier is brand new for 2009 (street price will be $819). Based on the infamous Tiny Terror, the Dual Terror head features two channels Read more
You can feel the rumble, tremor and quake… but when you see the size of the new Orange Terror Bass you will find it hard to believe the sound that comes from this diminutive amp. Punching well above its weight, the new amp joins the famed 'Orange Terror' family, which has won the hearts of guitarists the world over.
Even smaller than the famed Orange Tiny Terror and weighing in around 5 kilograms, the New Orange Terror Bass is a 500-watt hybrid amplifier with a Class D solid state power section and a twin valve 12AX7 preamp to deliver a high-powered performance that can crank out 500 watts of pure legendary Orange tone. Read more