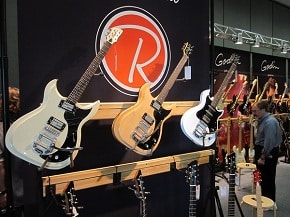 In the past decade, Godin Guitars have been making quite a name for themselves with their beautifully designed guitars becoming more and more popular each day. This isn't only because of their looks, but functionality as well. This year, Godin overwhelmed Winter NAMM with many new, affordable instruments. Read more
NAMM 2011 — The evolution of the chorus effect seems to have gotten stuck in '80s pop, along with over-processed guitars, cheesy synths and popped collars. This ain't that kind of chorus.
When we designed the Boost Chorus pedals we went back to the '70s, when choruses were rich, smooth and manly. We figured out what made these vintage stompboxes sound so good and poured that knowledge into a new kind of chorus pedal with greatly improved performance and a whole slew of never-before-heard sounds. Slapback, echo, flanging and doubling effects are all possible from the modestly named Boost Chorus pedals.
Tech 21 Boost Chorus
Designed primarily for guitar (but sounds great on everything else) the Boost Chorus features unprecedented tweakability for this type of pedal. No fewer than six controls allow players to easily dial-in the right tone, speed and depth of the effect.
The Mix control allows a 0-100% wet blend of the effect, while the Level control offers increasing amounts of boost to compensate for the volume loss perceived with chorus. The final control is the Pre-Delay, which alters the chorus' range to produce effects from flange/chorus, to regular chorus, to chorus/doubler.
The secret weapon is the Multi Voice switch. Engage this to bask in the multiple chorus voices of an Ensemble-style effect
Tech 21 Boost Chorus Bass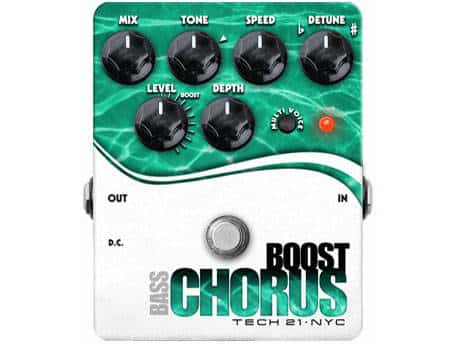 Because of the way traditional chorus pedals typically interact with their amps, most bass players would rather put an angry badger on their pedalboard. The Boost Chorus Bass avoids seasick tones, and badgers, through a specially-tailored design.
It features the same control set as the standard Boost Chorus, including the Multi Voice switch, but differs in having a Detune control in place of the Pre-Delay. The Detune control adjusts the pitch of the choral voices, adding sonic girth to create thick, lush, bass-perfect chorus.
Speed and Depth controls add modulation, so at minimum your fundamental notes are preserved. Finally, a chorus that works in harmony with your bass.
Roto Choir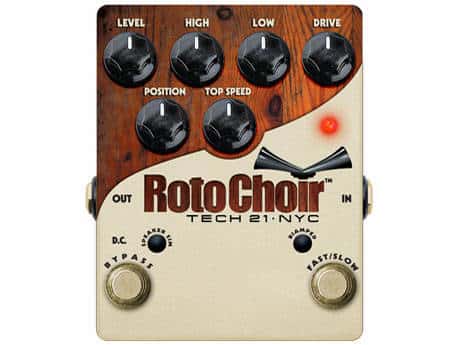 No musician can deny the deep, swirling glory of a vintage rotating speaker cabinet, that uniquely lush, pulsing tone that brings any instrument to life. So, why doesn't everyone use one? Because they're the size and weight of a bulky refrigerator, cost big bucks and are more high-maintenance than a platinum diva.
But, imagine getting all of that inspiring rich modulation with cutting-edge features in a studio-quiet, road-worthy pedal. Just one little pedal. Now imagine you can use that pedal with guitar and to record direct.
The Roto Choir recreates both the rotating lower speaker and the treble rotor horn – the only way to attain that complex, multi-dimensional tone. In fact, the Roto Choir utilities a specifically formulated SansAmp technology to deliver the entire signal chain – from the original tube power amp to the speaker and high-frequency rotor horn, to the microphone used to capture it. This is HD, 3D emulation.
The simple controls hide a wealth of options. Drive adds just the right amount of compression, harmonics and grit. Low and High sculpt the tube amp emulation with powerful EQ curves. The Fast/Slow footswitch allows users to ramp up, slow down or even stop the rotating speaker. There's also a dedicated control to custom set the Top Speed of your rotor. Want to vary the intensity of the effect? Simply adjust the Position control to move the Roto Choir's virtual mic closer or further from the horns.
Other features include a biamped/single-speaker mode switch, stereo output and a Speaker Sim switch for direct recording. Find the easy way to celestial sounds you can get lost in with the Roto Choir.
Tech 21 Guitar Pedals

NAMM 2011 — Launched in 1987, Yamaha's APX range was designed to be the ultimate performance electro-acoustic guitar – combining great on-stage tone thanks to a unique body design and the latest pickup and preamp technology with incredible on-stage comfort.
Joined later by the bigger bodied CPX series, designed to give a fuller, louder unplugged tone and a different look and voice, the combined ranges have defined the benchmark for electro-acoustic for over 20 years.
For 2011, the APX and CPX ranges get a full overhaul with new electronics and updated cosmetics while remaining true to the original design brief – an acoustic guitar that's born to be on-stage. Read more
Fender Custom Deluxe Stratocaster Flame Top
The previous guitar's sibling, the 2011 Fedner Custom Deluxe Stratocaster Flame Top, shares those features and finishes but boasts the additions of a scorching AA flame maple veneer top and an equally scorching Seymour Duncan TB-11 humbucking bridge pickup. Price check Read more
Marshall is proud to present the AFD100 Slash Signature amplifier: a dual mode, all-valve 100. head that captures the tone and spirit of one of rock's most celebrated and sought after sounds – Slash's guitar tone on Guns 'N' Roses legendary, "Appetite for Destruction" (AFD). Released in 1987, this highly influential has sold in excess of 18 million copies worldwide and is the best selling debut album of all time.
Using the original AFD master recordings, Slash and Marshall painstakingly worked together to replicate his AFD sound. "This is an idea I've had for quite some time," the guitarist reveals. "So many fans have been trying to duplicate that sound. I thought, 'who better than to really perfect it other than Marshall?' We spent a lot of time together developing this amp. We stripped a couple of guitar tracks off the original AFD masters and basically got in there with a fine tooth comb so we could suss out exactly what made that sound the way that it was."
After countless hours and several prototypes, the Slash AFD100 was born with two distinct, footswitchable modes labeled #34 and AFD – both offering 100% pure Slash sounds. The first is based on the modified JCM800 2203 he's used since the late '80s and had "34" stenciled on the side, hence the "#34" name. The second is, of course, pure, unadulterated AFD. "We used 'Night Train' as one of the man reference tracks and the amp sounds just like it." Slash concludes. "I think we've been totally successful!" The amp boasts a mixture of both traditional and modern Marshall aesthetics – a unique blend of Plexi, JCM800 and Silver Jubilee cosmetics. In addition to its dual, footswitchable modes, the Slash AFD100 also has the following features:
1. Two inputs – high and low sensitivity
2. Built in Electronic Power Attenuation. Controlled by a front-panel knob, this allows you to adjust the amp's output from 100% to 0.01%, and anywhere in-between, without sacrificing the tone and feel of those all-important power valves
3. Footswitchable* Series FX loop with Return Level control
4. Valve Fault Indicator: meaning that if one of the output valves develops a fault, a visual indicator on the rear of the amplifier shows which one is working incorrectly. This "roadie friendly feature" will save valuable time getting the amplifier back up and running again, should a valve issue occur
5. Auto-Bias & Bias Current Trimmer to ensure correct power valve biasing and optimal valve life and function
*NOTE: A two-way, LED Footcontroller (PEDL-00054) comes supplied with the AFD100, facilitating switching between the #34 & AFD modes, plus FX Loop on/off.
To commemorate the 23 years that have passed since the recording of "Appetite for Destruction", the AFD100 is Limited to 2300 units worldwide, 500 in the US. Retail price is $2899 (but can be had for much cheaper – surf the online stores below to find better deals).
SLASH BACKGROUND
Slash is widely considered one of the greatest rock guitar players of all time. He has received countless accolades and awards including a 2007 star on the Hollywood Walk of Fame alongside his idols Jimmy Page and Jimi Hendrix. An original member of iconic rock band Guns N' Roses, Slash helped the band create signature sounds like the guitar riff of #1 hit "Sweet Child o' Mine" and "Welcome To The Jungle." The band dominated the 1980's and 90's music scene selling more than 100 million albums worldwide and ushered in a decade of hard charging rock music. After leaving the band, Slash went on to critical acclaim in his personal project Slash's Snakepit, and global success with supergroup Velvet Revolver.
Slash has been widely sought after by the biggest musicians of all time, performing with everyone from Michael Jackson to Stevie Wonder to Ray Charles. Slash is one of the marquee playable characters in Guitar Hero III, has two signature Gibson guitars in his name, and authored his own top-selling biography Slash in 2007. Slash recently landed on the top of the charts with his first true solo album, SLASH, which debuted as #1 Rock Album and #3 overall on Billboard's coveted Top 200 charts, in addition to going #1 in more than 13 countries. The album features an all-star roster of guest musicians including Ian Astbury, Chris Cornell, Rocco DeLuca, Fergie, Dave Grohl, Myles Kennedy, Kid Rock, Lemmy Kilmister, Adam Levine of Maroon 5, Duff McKagan, M. Shadows of Avenged Sevenfold, Ozzy Osbourne, Iggy Pop, and Andrew Stockdale of Wolfmother. In addition to a long career filled with prestigious awards and accolades, Slash was recently honored by the Hollywood Chamber of Commerce who named him as an official selection for 2011 to receive a star on Hollywood's iconic Walk of Fame. A date for the ceremony has yet to be determined. See the Marshall Randy Rhoads JCM800 1959RR Guitar Amplifier.
Black Cat Pedals is pleased to announce their latest product, the Black Cat Mini Trem
After focusing on Custom Shop creations over the past year, the Mini Trem is the first standard production Black Cat pedal to be introduced since the company launched its debut line.
The Black Cat Mini Trem is a dual function tremolo/clean boost in one pedal. Part of the legacy of the original Black Cat line, the new Mini Trem sports some additional features and a spiffy new look. Read more
ESP / LTD Guitars — New Signature Series Models from Metallica's Guitarists and vocalist, James Hetfield. Your eyes aren't deceiving you. The James Hetfield Snakebyte is a brand new body style for ESP and LTD in 2011. Read more
Paul Reed Smith "Experience PRS" has become the place for PRS to not only premier new products, but to give customers exclusive access to the latest and greatest in PRS gear. While the Stevensville, Maryland based manufacturer is known for stringed instruments, it has also gained a strong foothold in the amplification industry in recent years. During this year's fourth annual open house event, PRS unveiled and intimately demonstrated several limited run amplifiers that illustrate PRS's dedication to innovation and quality. Read more

Ibanez Guitars — The Ibanez RG321E electric guitar features a 3-piece maple bolt-on neck with the fast and thin Ibanez wizard II profile and a mahogany body that produces extra punch, warmth, power, chunk, and incredible sustain. The bound rosewood fingerboard has 24 jumbo frets and pearl dot inlays. All hardware is black-chrome, including die-cast tuners and a fixed Gibraltar Standard bridge. The RG Fixed series brings you the world's premier metal ax-with the simplicity and sustain of a Gibraltar fixed bridge. Not only does the Gibraltar bridge give your more sonic sustain, but also features a low-profile design that offers maximum playing comfort while you pump out those blazing licks. Read more
Schecter Guitars adds a Single Cut to the minimalists metal machine line of Blackjack ATX series. For no-frills, reckless abandon, Schecter's Blackjack ATX Solo-6 addition rounds out an already small grouping of reclusive siblings packing serious aggression.
The heavy metal purist will find the pair of Seymour Duncan Active Blackouts as the prominent standout on this heavily subdued Mahogany body at 25.5″ scale. A 3-piece Mahogany neck is set in with Schecter's Ultra Access for nailing the 24X jumbo frets on ebony. Read more