Charvel Desolation DST and DX guitars offer a variety of features and finishes prized by discerning players everywhere, and both deadly models deliver the devastating tone, killer looks and high-performance playability that separate the Desolation series from all others. Read more
One of the more overlooked and underrated guitar makers could be found in Booth 3084 at the NAMM 2012 Winter Show, with musicians Rick Vito and Pete Anderson in tow. Celebrating its 15th anniversary, Reverend had three of their models on display, continuing their impressive upward trajectory. Read more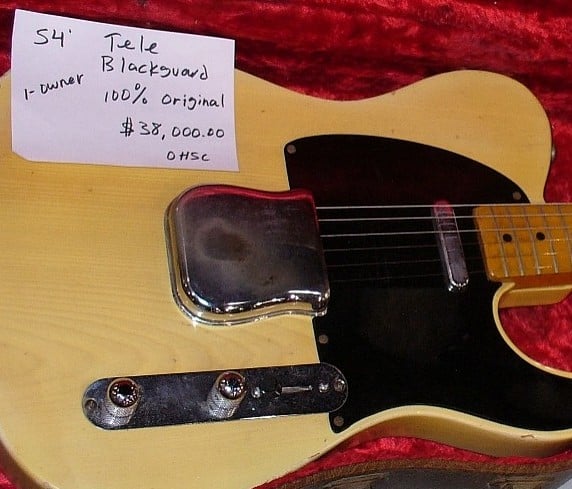 Just over a week ago I had the chance to visit the Orlando International Guitar & Music Expo 2012. That's fancy-talk for 'guitar show'.  If you're not familiar with what a guitar show is then try thinking of it this way – we all get the concept of a convention or conference for business professionals – a big room with various vendor booths showing off the latest products (expo hall) and there are usually some speakers/presenters teaching or otherwise discussing the latest industry news, etc.  Well, other than NAMM, guitar shows are the closest thing to a business convention that we players, collectors and all-around guitar lovers have for our favorite subject!
While some of the largest guitar shows may offer special 'clinics' (training sessions are often sponsored by a manufacturer hoping to show you why you need to buy their latest products) not all guitar shows will offer much in the way of training.  However, what they ALL do have in common is their version of the 'vendor expo hall' where guitar dealers bring lots of cool (and often vintage) guitars, amps, effects and more hoping to sell/trade them to/with show attendees. In other words, it's a lot like a big flea market for guitar and music gear!  And for the guitar lover it sure beats just about any other kind of shopping experience since you have so many cool old guitars under one roof.  I'll take a guitar show over going to the mall with my wife any day! Read more
The new Peavey AmpKit LiNK HD pocket-size iOS guitar interface features twice the fidelity and convenience of the original AmpKit LiNK. Based on USB digital audio technology, AmpKit LiNK HD eliminates crosstalk and feedback for pristine high fidelity, even with authentic high-gain amp models in AmpKit, the companion amp app from Agile Partners. Read more
Carlsbro is among the most famous names in British guitar amplification and has been designing and manufacturing guitar tube amps since 1959, selling its early models to Jim Marshall's shop in Denmark Street, London's famous 'Tin Pan Alley'.
The famous 50 Top and TC series revives the Carlsbro tube heritage, with uncompromising build quality, hand selected components and authentic vintage tone throughout. The 50 Top head and 4 x 12 cab are available in classic red and black liveries, while the TC series comprises three classic combos and a 15 watt head and 1×12 stack.
The re-issued 50 Top is the classic Carlsbro tube head and cab of the 60s and 70s revamped and re-engineered to even higher build standards and sonic performance. The new twin channel amp head has switchable channels & two master volumes, which are footswitchable.
The valve complement of 4x 12AXT's and 2x EL84's give 50 watts of incredible power at 8? or 16?'s. The preamp has a host of features including Hi and Low sensitivity inputs, 3 band EQ using Silvered Mica Capacitors, and 'Sleep Mode' automatic muting with no input present. Tough ply construction, with durable covering and metal corners are essential for road use. Jack outputs are 2 @ 8? and 1 @ 16? allowing a wide choice of cabinets. Read more
It's that time of year again, when everyone is on the edge of their seat—waiting and watching, for the shiny new products to be rolled out at NAMM. Calm down – this isn't a game changing miracle device, but it's still pretty cool.
Fender has introduced the new Squier models for 2012, putting some nice touches on a guitar line that has had less than impressive results in the past. Read more
NAMM's Summer Show is officially in the books, giving wholesalers and musicians a whole new list of the stuff that dreams are made of, including a new lineup of 7- and 8-string guitars from ESP, as well as another Asian Invasion, the new GVT Series amplifier line from an expatriate veteran, Ampeg. Read more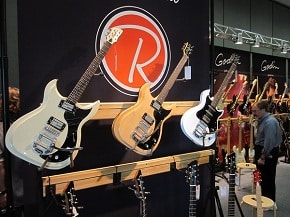 In the past decade, Godin Guitars have been making quite a name for themselves with their beautifully designed guitars becoming more and more popular each day. This isn't only because of their looks, but functionality as well. This year, Godin overwhelmed Winter NAMM with many new, affordable instruments. Read more
NAMM 2011 — The evolution of the chorus effect seems to have gotten stuck in '80s pop, along with over-processed guitars, cheesy synths and popped collars. This ain't that kind of chorus.
When we designed the Boost Chorus pedals we went back to the '70s, when choruses were rich, smooth and manly. We figured out what made these vintage stompboxes sound so good and poured that knowledge into a new kind of chorus pedal with greatly improved performance and a whole slew of never-before-heard sounds. Slapback, echo, flanging and doubling effects are all possible from the modestly named Boost Chorus pedals.
Tech 21 Boost Chorus
Designed primarily for guitar (but sounds great on everything else) the Boost Chorus features unprecedented tweakability for this type of pedal. No fewer than six controls allow players to easily dial-in the right tone, speed and depth of the effect.
The Mix control allows a 0-100% wet blend of the effect, while the Level control offers increasing amounts of boost to compensate for the volume loss perceived with chorus. The final control is the Pre-Delay, which alters the chorus' range to produce effects from flange/chorus, to regular chorus, to chorus/doubler.
The secret weapon is the Multi Voice switch. Engage this to bask in the multiple chorus voices of an Ensemble-style effect
Tech 21 Boost Chorus Bass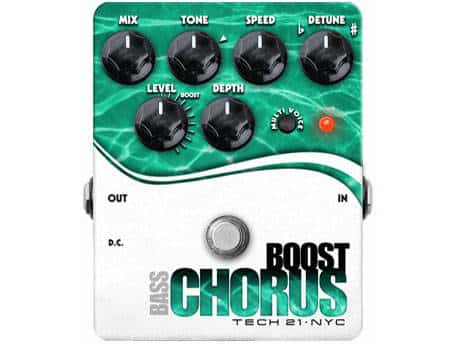 Because of the way traditional chorus pedals typically interact with their amps, most bass players would rather put an angry badger on their pedalboard. The Boost Chorus Bass avoids seasick tones, and badgers, through a specially-tailored design.
It features the same control set as the standard Boost Chorus, including the Multi Voice switch, but differs in having a Detune control in place of the Pre-Delay. The Detune control adjusts the pitch of the choral voices, adding sonic girth to create thick, lush, bass-perfect chorus.
Speed and Depth controls add modulation, so at minimum your fundamental notes are preserved. Finally, a chorus that works in harmony with your bass.
Roto Choir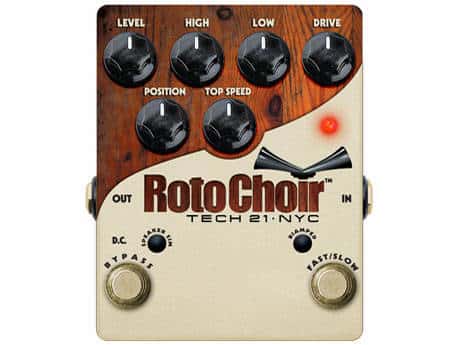 No musician can deny the deep, swirling glory of a vintage rotating speaker cabinet, that uniquely lush, pulsing tone that brings any instrument to life. So, why doesn't everyone use one? Because they're the size and weight of a bulky refrigerator, cost big bucks and are more high-maintenance than a platinum diva.
But, imagine getting all of that inspiring rich modulation with cutting-edge features in a studio-quiet, road-worthy pedal. Just one little pedal. Now imagine you can use that pedal with guitar and to record direct.
The Roto Choir recreates both the rotating lower speaker and the treble rotor horn – the only way to attain that complex, multi-dimensional tone. In fact, the Roto Choir utilities a specifically formulated SansAmp technology to deliver the entire signal chain – from the original tube power amp to the speaker and high-frequency rotor horn, to the microphone used to capture it. This is HD, 3D emulation.
The simple controls hide a wealth of options. Drive adds just the right amount of compression, harmonics and grit. Low and High sculpt the tube amp emulation with powerful EQ curves. The Fast/Slow footswitch allows users to ramp up, slow down or even stop the rotating speaker. There's also a dedicated control to custom set the Top Speed of your rotor. Want to vary the intensity of the effect? Simply adjust the Position control to move the Roto Choir's virtual mic closer or further from the horns.
Other features include a biamped/single-speaker mode switch, stereo output and a Speaker Sim switch for direct recording. Find the easy way to celestial sounds you can get lost in with the Roto Choir.
Tech 21 Guitar Pedals
NAMM 2011 — Rivera Shaman Making their surprise debut last Friday alongside the all-new Rockcrusher attenuator, Rivera have announced a new range of stompboxes – the first to be released under the Rivera name for thirty years.
The Shaman range kicks off with three very different overdrive pedals: the Blues Shaman is aimed at blues players; the Metal Shaman is for metallists – naturally; and for everything else the Double Shaman promises to be a highly versatile performer, with two channels called LA and Austin. Read more