Ovation's 2009 Collectors' Limited Edition strikes a perfect blend between acoustic purity and electric performance. It's beautiful hand-selected figured Koa top produces a warm, full-bodied tone while it's lightweight contour body pushes out the perfect amount of volume. Specially designed abalone Celtic knot rosette and fingerboard inlays give the guitar distinctive visual charm, which is further accented by over 200 individual abalone sections that encircle the top.
Powering the electric side is Ovation's OP Pro Studio preamp featuring exclusive / innovated "expressor" drive controls that accentuate each individual note and works especially well when playing finger style or single note solo playing. Production has been limited to 150 sequentially-numbered pieces worldwide.
Additional features include Scalloped LX bracing, 5-piece mahogany/maple neck and ebony fingerboard. The guitar comes with a molded deluxe case and retails at $3599. For more info, visit ovationguitars.com
Watch this video for more in-depth information:

Lace Debute Helix Bass Guitars at NAMM
An all new classic inspired version of the earth quaking Helix bass line was shown by Lace Music at this year's 2009 NAMM.
Hats off to the previous models, the new "L" style is loaded with Lace Aluma split pickups in chrome color. With the new add-ons the Alumitoneline of the original pickup equipment, which are only available through Lace is the highest quality of pickup design.
The amazing "L" model also includes a beautiful sunburst finish and a vintage gloss neck. This particular version has a maple fingerboard.


With this innovative Alumintone technology, the new "L" allows a feather weight cutting edge tone along with an easy cross over to suit any player's style. The new "L" stills holds the original sensation.
Advertisement—————————————
[% oiopub-banner-3-left %]—————————————————————
The Helix "L" is available now and it's ready to ship! It's suggested retail price is
$799.99
. The gig bag (Lave Red Label) is included as standard equipment. Go check this bass out today!
For more information, visit their web site at www.lacemusic.com. Also revealed at NAMM was Lace's Helix 6-string electric guitars, found here on GEAR-VAULT.
Hear y'all, hear y'all, Randall Amplifiers announced the all new Nuno Bettencourt Signature head and cabinet at NAMM 2009. With legendary Peter King along with the Nuno himself they collaborated a master piece of art like no other. From the amp's design and brilliant tone, this amplifier will blow you away.
Nuno Bettencourt's signature amp is a two-channel-plus-solo-mode design. The amp has a very cool and distinctive look; cross between a retro studio preamp and a modern guitar amp. Powered driven through its four EL34 powertubes, has a go-faster VU meter and is as eccentric as Betttencourt himself.

Advertisement—————————————
[% oiopub-banner-3-left %]—————————————————————
The NB King100 has the perfect mixture of classic feel and modern circuitry to create unforgettable tone. With its two channel amp featuring three different kinds of operation, (which you can easily select with the MIDI channel) has a refreshing clean channel and intense drive, and overdrive from modern to vintage rhythm tones, in addition to the aforementioned intimate SOLO mode for harmonized sustained. The back panel includes many goodies: MIDI in/thru, Power tube bias section and series effect loop.
What's more is the matching NB412 (4×12) cabinet, and of course, is designed perfectly to maximize the NB King 100 sounds. Constructed from solid birch plywood and loaded with Celestion Greenbacks, this cabinet provides a perfect level of character and breakup for the 100 watt NB King 100 head. This is a match made in heaven that produces ecstasy for vintage to modern tube tone.
If you are looking for an all tube rig and want to stand out from the rest, do the right thing and test drive the new NB King 100 & NB412. I know we will!
Pearl's Forum kit… Ready-Set-Go! This kit is the complete Package, providing the ultimate quality from an all-inclusive drumset package on the market, which now features #33 Pure White finish with Black Drum Hardware. This distinctive color option is sure to catch the attention of all fellow drummers and non-drummers alike!
Pearl's Forum Drum set package includes absolutely everything you will need to get started on your path to drumming ecstasy, including a set of high-quality cymbals, a pair of Vic Firth drumsticks, a sturdy drum throne, and even a free DVD with all of the set-up, tuning, and instructional pointers you'll need to help get you started. Read more
What do you get when you combine a USB guitar audio interface, a software controller, a wah pedal, and some awesome guitar recording software? You get the StealthPedal, the latest offering from IK Multimedia (a company known primarily for its software).
[% oiopub-banner-3-left %]
The StealthPedal is a USB-powered audio interface packaged in a wah pedal. The StealthPedal will allow you to both play and record in addition to actually controlling the AmpliTube software (or any MIDI controllable software, for that matter). Best of all, using the StealthPedal gives you the same feel, ease, and size of a regular guitar effects pedal. Read more
Gibson guitars customized by the likes of George Lucas, Devo, Stan Lee of Marvel Comics, and Seth Green of Robot Chicken highlight Petaluma's first Phoenix Guitar Gala & Carnival taking place during February 2009.
Legendary Star Wars creator, George Lucas, is honored by a Gibson Les Paul with a distinctive image of a Lightsaber-wielding Yoda. This one-of-a-kind axe joins others designed by the likes of Robot Chicken creator Seth Green and Marvel Comics' Stan Lee. Read more
NAMM 2009 – Marshall Amplification has totally renovated its popular MG guitar amp lineup for 2009 with its new MG4 Series. Harvesting analog tone, digital control, digital effects, and exclusive STOMPWARE technology, the new Marshall MG4 Series provides ultimate versatility. Seven new combo amps–plus a 100-Watt head–provide guitarists of every level with the ability to that legendary classic Marshall sound, all at an affordable price.
The all-new MG4 models are:
MG10 2-channel / 10-Watt / 6.5? combo amp
MG15 2-channel / 15-Watt / 8? combo amp
MG15FX4-channel / 15-Watt / 8? combo with digital effects
MG30FX4-channel / 30-Watt / 10? combo with digital effects
MG50FX4-channel / 50-Watt / 12? combo with digital effects
MG101FX4-channel / 100-Watt / 1 x 12? combo with digital effects
MG102FX4-channel / 100-Watt / 2 x 12? combo with digital effects
MG100HFX4-channel / 100-Watt head with digital effects
In addition, two 4 x 12? cabinets are available – the MG4X12B straight-style and the cabinet MG4X12A angled-style cabinet.
With the all-new MG4 Series, Marshall has returned to a straightforward, established-and-proven panel layout for an extreme ease of use. Gain, followed by a three-band EQ (two-band Contour Control on the MG10 Combo), Volume and Master Volume are intelligently arranged for smooth access. Push-button channel switching provides for effortless, uninterrupted transitions.
[% oiopub-banner-3-right %]
Blending true analog tone circuitry and Marshall's exclusive FDD (Frequency Dependant Damping) innovated technology, the solid-state MG4 Series achieves that authentic British Marshall tone and feel. The combination of line out / headphone out features speaker cabinet emulation, providing you with full Marshall-power sound when recording or practicing through headphones. What's more, MG4 is also equipped with a line input which allows for playing along with CDs, MP3s, etc.
The MG4 Series adds Digital Effects (Chorus, Phaser, Flanger, Delay), reverb and digital programmability. The delay time can be manually set using the front panel Tap button feature. Settings for each channel can be individually customized and saved for your instantaneous recall.
All foot switchable models are compatible with the new 4 way STOMPWARE foot controller with LCD tuner function (sold separately), and all models 50w and above include a 2-way footswitch. STOMPWARE the provides seamless transitioning from sound to sound and tap tempo. What's even better, the STOMPWARE technology allows this sophisticated multi-function pedal to be connected using a traditional guitar cable, eliminating the need for special or hard-to-find cables.
In addition, the MG50FX, MG101FX, MG102FX and MG100HFX feature a switchable effects loop for adding a favorite external effect to the sound. These models also include the STOMPWARE footswitch as standard equipment.
The End Line
Not only does the new MG4 offer the best in analogue tone, it also achieves the capabilities of digital control; from now on guitarists won't have to choose between functionality and tone, MG4 delivers it all in an unmistakable Marshall package.
Marshall MG4
The monarch of uniquely designed and shaped guitars have once again teamed up with the ruler of metal to introduce the next innovated guitar design. So sit back and brace yourself for the sinister B.C. Rich Kerry King Beast V, Beast V NT and V2. Inspired by Kerry King himself, the Beast V is known as the unholy alliance between B.C. Rich's famous Beast body shape and Speed V design.
The Beast V (pictured below) is equipped with B.C. Rich B.D.S.M. humbucker pickups and a fully adjustable bridge with a string-through body design for even more added sustain. The guitar has a rosewood fingerboard, Beast headstock and bolt-on neck construction.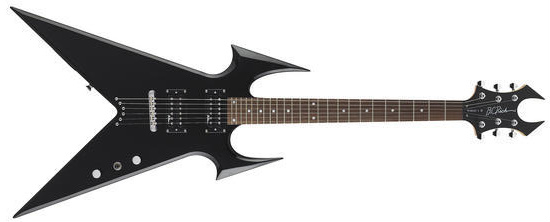 The Beast V NT version (pictured below) features neck-through body construction for added sustain and tone and improved access to the upper frets. It is equipped with B.C. Rich active pickups and a Kahler locking tremolo.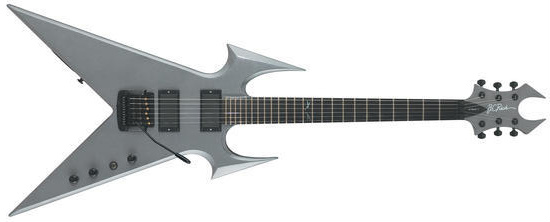 Advertisement—————————————
[% oiopub-banner-3-left %]—————————————————————
In addition to the new models, B.C. Rich is now offering Kerry's exclusive
Generation 2 graphics
on the
V2
and
Metal Master V2
model guitars.
For the hundreds and thousands of people that have seen the godfather, Kerry King, on stage with Slayer have recently seen his Generation 2 graphics. This striking new tribal design is floating over a hand drawn flame making it visually stunning. Now B.C. Rich is bringing this remarkably new graphic to a new production model V-shaped guitar called the Kerry King V2. (see photo below)

The body shape is the aggressively styled B.C. Rich speed V and it has been augmented with many Kerry King inspired features. The V2 model is equipped with B.C.R.A. active pickups and a genuine Kahler locking tremolo. It also features a basswood body, bolt-on construction, ebony fingerboard with a specially designed inlay and a Beast headstock. The 24 jumbo frets provide 2 full octaves of notes to shred.
For more information, visit their official website at www.bcrich.com.