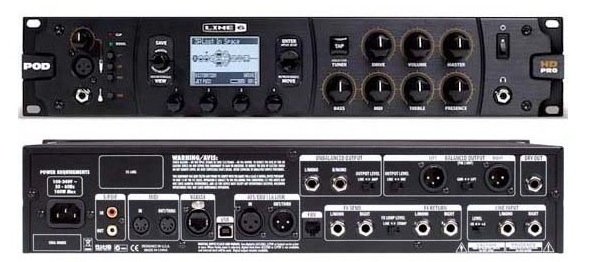 The art of competing in a modern industrial world is constantly changing, and constantly getting more difficult. Each year, companies give it their all and toss their eggs in a basket, hoping it will pan out for them and be the next big thing. Line6 sits at the table with the big guys when it comes to innovation and the forefront of effect technology, but just how well does their flagship unit, the POD HD PRO, stack up?
Construction and Controls
This thing is sturdy, to say the least. It's all metal construction gives a nice comfort to any of us who put our equipment through the paces, and expecting it to keep chugging along. The face of the unit has a nice tactile control system, reducing the menu-surfing to a much better level, and giving more direct control over things like drive, volume, and EQ. Other controls are a mic preamp, an XLR input for vocal effects, and a brightly lit LCD screen, displaying signal chain, effect options, and user presets.
I/O
There isn't much the HD PRO can't handle as far as inputs and outputs in a guitar setting. The unit offers a standard guitar in and headphone jack out front, but turn the unit around, and now we're really talking. In back, you are given the option of sending the dry signal out for later processing, connecting other mic preamps through the line input section, adding your own effects in the FX stereo loop, or using the HD PRO directly with your computer via a usb port.
Amp Modeling
The HD PRO's undeniable strength is its amp modeling. The vast array of amps and tones available is eye-popping, and the sounds that can be achieved are even better. From thick, crunchy tube drive, to airy, light acoustic tones, clearly there is quite a lot left to the imagination here, to play and create with as you please.
Effects
This is where things get a bit cheeky. Once again, Line6 gets close to a climactic group of effects, but misses the mark on a few things. For starters, the idea of a visual effect chain right in front of you is revolutionary, and a great concept that can be utilized to the greatest extent, if one puts in the time to program and set everything up in advance. Even with a great display however, it seems that there are just way too many effect packed into one box, and to control and manipulate them all is no easy task, despite the more hands-on approach taken on the control system. As with the previous POD HD 300, 400, and 500 units, all of the effect sculpting is done through menus, and is accessed by 1 or 2 knobs. Furthermore, the more digital and processed effects are not very responsive to the player, and the guitar signal itself. With the more digital effects, the guitar acts as more of a midi guitar, with the effects not using the guitar's signal at all, but rather listening to what notes you are playing, and producing a sound of its own based on the pitch. With these flaws though, there is still room to work with creating new tones, starting from scratch and making something all your own.
Flexibility
I was a little put off by the rackmount idea; in as much as that it does not come with an included footswitch, although there are rear ports to accommodate one. Without a footswitch, the idea of playing out live with the HD PRO seems all but impossible. The HD PRO would probably fit in better in a studio setting, tone creating and shaping, and as the middle man in a recording project.
All in all, I would have to say the POD HD PRO is an effective piece of gear, but is better left to a studio setting, or small gigs, unless you have a footswitch to operate it with. The tones are phenomenal, and the effects are interesting, but the price seems a bit high at $699.99. Overall, a good, reliable piece of gear that can open countless doors to the unknown of guitar tone.
Line 6 POD HD PRO Review
7/10
Line 6 POD HD PRO Video Review
The Mustang Floor shares its name with Fender's range of Mustang digital modelling amps, and is similarly packed full of digital effects and amp models. The unit also connects to a computer via USB for direct recording and preset editing. Read the press release below for full details. Read more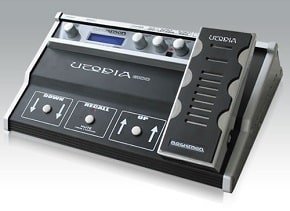 Floor-mounted guitar multiteffect units are unrivaled when it comes to stow-and-go convenience, but too often that convenience comes at a price. Most pro-quality units with rugged construction and versatile performance capabilities can cost as much as a good amp, while many affordably priced units have severely limited parameters and tones that aren't quite good enough for stage use. For many guitarists, dreams of a compact, rugged multieffect unit with an affordable price tag and a reasonable selection of professional-quality "meat-and-potatoes" tones seemed as unattainable as a perfect society.
With the Utopia G100 Professional Guitar System, Rocktron hopes to prove that dreams can become reality. This compact multieffect floor unit is built like a tank, packed with an impressive selection of versatile effects and priced less than what you'd pay for a boutique stomp box. Unlike many other low-priced multieffect units, which seem to suffer from a "jack of all trades, master of none" design, the Utopia G100 is designed to deliver the tones, effects and features that matter most to guitarists and operate in a streamlined and straightforward fashion. Read more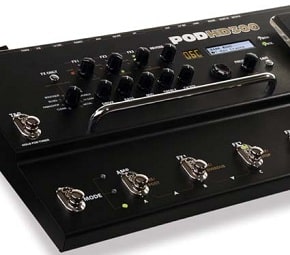 Late last year, Line 6 ramped up their strategy to claim a larger stake in the Multi-Effects arena. The flagship series they constructed to spearhead the entry, was the POD HD series. Before this series, the market was largely dominated by a handful of large companies, namely Digitech, Boss, and a few others. To this day, these large companies still hold the large share, but that all may change in the future. Read more
NAMM 2011 — Zoom is pleased to announce the addition of guitarist and lead vocalist Dave Mustaine of the iconic band Megadeth to our family of artists.
Mustaine has been a mainstay in the metal community for over 25 years, having formed Megadeth in 1983. Internationally acclaimed as one of the greatest metal guitarists in the world, Mustaine is also an accomplished producer.
Mustaine and Zoom will introduce the all-new ZOOM G2.1DM Dave Mustaine Signature Edition Guitar Effects Pedal at a press conference on Saturday, January 15, 2010 from 1:00pm-1:30pm at the Zoom booth (#5940).
[ ZOOM MULTI-EFFECT PEDAL PRICES ]
[% oiopub-banner-3-right %]
"This pedal is built for action," declares Mustaine. "With my personal sound effects and a large expression pedal modeled after the accelerator of one of my favorite sports cars onboard, the ZOOM G2.1DM leaves all contenders at the starting line."
2010 was a huge year for Mustaine and Megadeth. It marked the 20th Anniversary of Rust In Peace, considered one of the most influential heavy metal albums of all time. Megadeth also performed as part of the "The Big Four" tour in Europe alongside Metallica, Slayer and Anthrax, as well as the "American Carnage" tour. And 2011 is expected to be even bigger.
"It's been a honor working closely with Dave on this new pedal," says Mark Menghi, Artist Relations Director. "Zoom has been fully-committed to capturing his thrash metal guitar sound in the ZOOM G2.1DM. We are excited to be unleashing it on guitar players everywhere."
Visit www.megadeth.com for more information on Dave Mustaine or to see the band live on tour and hear those Zoom thrash metal guitar effects. Read more

Over the past decade, I have always used some variation of POD for recording. It is by far, the easiest and fastest method of recording guitars. But when I've tried taking those sounds to the stage, they have sometimes fallen a bit short.
So when I was approached for my take on the new POD HD500, and I was told that "all-new" Line 6 HD modeling technology "represents a giant leap forward for amp modeling" and delivers "previously unachievable realism," I plugged in with some skepticism. Read more
Electric Guitar Rig Tone Tip: How To Dial In Your Amplifier
Trying new and different electric guitar rig tones can literally open your mind up to a whole new world on your guitar. You don't have to be an expert to create a sound that exceeds your expectations, but you do need to have some relatively decent equipment and know the inside scoop on creating a sound that you love. Read more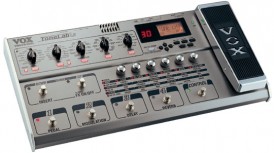 Vox ToneLab LE brings together some of the most soulful guitar tones you've ever heard into one compact, easy-to-use processor. In fact, the sounds are so authentic, you'll think you're plugged into a collection of real amps and cabs complete with a bunch of boutique effects.
The ToneLab LE gets a shed-load of cutting-edge features including an expanded EQ section, and extreme metal distortion, slap reverb, a luscious multi-tap chorus plus a stunningly lifelike acoustic guitar simulator. And all this on top of true tube tone courtesy of the sonically awesome 12AX7-powered Valve Reactor. The LE's multiple outputs mean you can use it in every imaginable application; live on-stage in front of an amp, D.I. through your PA and of course, recording at home or in the studio – Vox even added an S/P DIF output. With all these features, you'll be your sound engineer's best friend. Read more
IK Multimedia is pleased to announce AmpliTube iRig: the ultimate mobile guitar amp and effects rig system for iPhone/iPod Touch/iPad. AmpliTube iRig is a combination of an easy-to- use instrument interface adapter for iPhone, iPod Touch and iPad mobile devices, and the new AmpliTube for iPhone software for guitar & bass.
With AmpliTube iRig, you can plug your guitar into your iPhone* and jam anywhere with world-class guitar and bass tones, from the leader in studio-class guitar and bass software. Simply plug the iRig interface into your iPhone*, plug your instrument into the appropriate input jack, plug in your headphones, amp or powered speakers, download AmpliTube FREE for iPhone and start rocking!
You'll have at your fingertips the sound and control of 3 simultaneous stompbox effects + amplifier + cabinet + microphone just like a traditional guitar or bass stage rig! Read more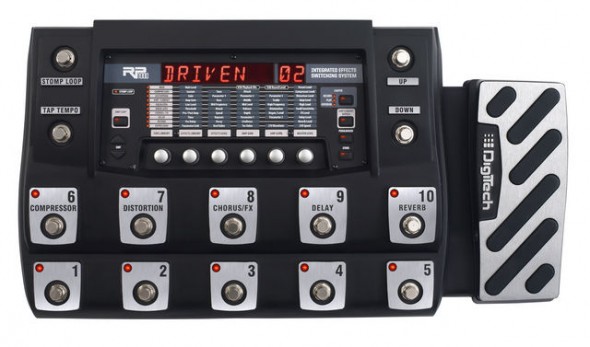 Guitar effects have really come a long way in recent years. Both multi-effects/modeling units and individual stompboxes are normal and every-day parts of many guitarists' arsenal of tones these days and players are getting used to this high degree of flexibility and are always looking for more. Enter the new Digitech RP1000. Read more