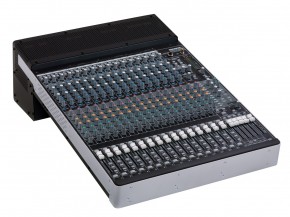 Mackie is widely known for designing high-performance, professional audio gear that fits into the budget of the working musician. They know mixers and continually create innovative new products that blur the line between professional studio applications and the world of live sound. So when I got a chance to test drive the new Onyx-i FireWire Production Mixers, I had high expectations, especially considering the buzz surrounding Onyx-i's breakthrough Pro Tools compatibility… Read more
The fun started with the Korg D8, which is by far the smallest of the three recorders I sampled for this series of reviews. In fact, if you weren't looking at it too closely, you might mistake it for a drum machine rather than a portable eight-track studio. Its appearance, however, is deceptive, for inside the D8 is a 1.4 GB hard drive, which allows a maximum of 34 minutes of eight-track recording.
All of these units record on internal hard drive, which aren't designed to be removed and replaced like tape formats. Instead, when the disk is full or you're switching projects, you transfer the data to another source. A SCSI port for connecting external disk drives, an S/P DIF digital interface for a DAT or MD recorder, and standard RCA analog outs are all provided for this purpose.
The D8 features a built-in 12-channel, four-bus mixer, which has two ¼-inch TRS balanced analog inputs, with a high/low impedance switch that works for both, as well as MIDI In and Out. While the recorder boasts eight tracks, a glance at the board will reveal only seven separate track faders; the seventh is labeled 7/8 and is designed to be used in stereo, which is helpful if you want to send both inputs to one track or bounce a bunch of tracks while keeping all their pre-fixed pan positions. Read more