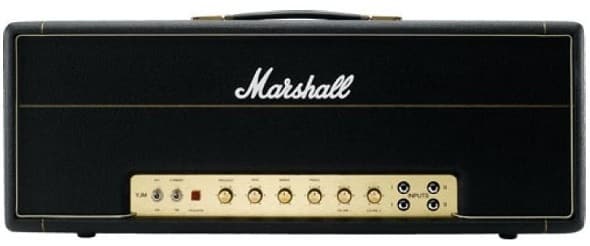 Most have been waiting for this for years. Others are still trying to pronounce his name. For those who have never heard of Yngwie Malmsteen, he's only one of best neo-classical gone hair metal guitar players of all time. Finally, he's getting a Signature Marshall Amplifier.
The Marshall YJM100 Signature Valve Amplifier is something like a dream for guitarists like me. It's a near clone of the 1959 Marshall Plexi that Malmsteen has made a staple of his arsenal. Though, this baby's got some features that really got me interested. First of all, it has reverb. Yeah, you may not think this is a huge deal, but having reverb on a head is pretty convenient. Next, it's got a half power switch so you can either operate the head at the full 100 watts or 50 watts.
[% oiopub-banner-3-right %]
This is great so you can keep your volume level where it needs to be so you don't sacrifice tone whether you're playing in the bedroom, or on the stage. But the coolest thing about this amp is the infinitely variable Attenuator control. This allows you to keep the power tubes cranked all while keeping your output level at a reasonable volume appropriate for the setting. This is something that custom amp companies began doing on many older amps like the JCM800 so that players could crank their master, but keep the volume at a practical level without losing their hearing. This feature is SO COOL! Why doesn't every tube amp come with an attenuator? Read more
We here at Gear-Vault.com have been keeping in tune with the progress of Slash's new AFD100 prototype. Here is the first audio samples of the amplifier–the video you've all been waiting for–Slash finally gets his hands on the AFD100 prototype (#1) and putting the amp through its paces with some classic Guns N Roses Appetite For Destruction riffage! Read more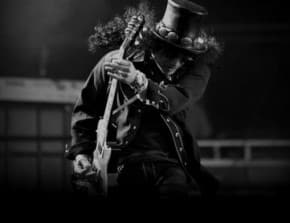 Marshall Amplifiers and legendary guitarist, Slash, have been working together to recreate the amp that was used on the 1987 Guns n' Roses album, 'Appetite For Destruction'. Marshall have been posting a number of updates on their AFD100 website.
Fans of both Slash and Marshall are able to follow the progress of the amp's creation by visiting www.afd100.com, where they will receive regular updates throughout the development stages of the amplifier. The AFD100 is planned to be released later this year 2010. Marshall Amplification has had a long association with Slash — the JCM 2555SL Slash Signature Series amplifier was released in 1996. Read more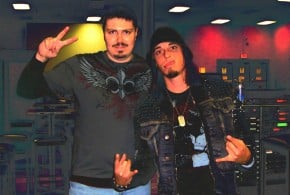 Ground Zero- Traverse City, Michigan — The meeting of Puddle of Mudd's guitarist, Paul Phillips… and crew. Read more
Page 1 | Page 2 | Page 3 | Page 4 | Page 5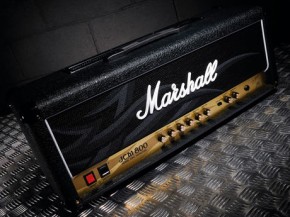 Did you really think number one on the list was going to be anything else? When it comes right down to it, Marshall IS metal. Marshall invented that sound we all love and is still building great amps today.
Notice that I didn't select any particular model; that is by design. Pretty much any tube-powered real Marshall will let you get your rock on, though I do prefer the JCM800. Some might need a pedal in front, some you can drive with preamp gain, some are big and a few are small, but they all have that Marshall sound that we know as the sound of rock music. Plus, they are the ultimate in cool, being seen for decades behind the biggest names in rock from Judas Priest to Ozzy to anyone else who ever mattered, really. Think about it: when you were in high school, did you ever dream about standing in front of a wall of Peaveys? I don't think so. Read more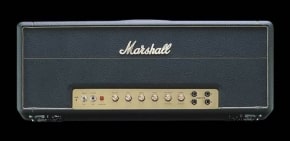 I bought a used Marshall Super Lead 100-watt reissue. It has four inputs: two labeled "I" and tow labeled "II". It looks just like the Marshalls Jimi Hendrix is seen playing in some concert photos. In one of those photos, I've noticed Hendrix had more than one cord plugged into his amp's inputs. Please tell me what he was doing with all those guitar cords hanging out of his amp, what all those inputs are for and, in your opinion, what the best-sounding input on this amp is.

Dan Mallory
xxxx@gmail.com
Older Marshalls like Hendrix played and the one you've purchased are known as "non-master volume" amps. Instead of a master volume, they have an overall volume control on each channel. Channel "I" is brighter and more 'trebly' sounding, while channel "II" is darker and better suited for bass guitar or a bassier guitar tone. Furthermore, each channel has a high and low input. The high input was designed to be a 'hotter' and better suited lead tone, while the low input, being not as sensitive as the high input, is better suited to rhythm playing. Although these were the intentions of the designers, in reality most people use the high inputs whether lead or rhythm.
As for all those guitar chords, chances are Hendrix was either "cross channeling" (or daisy chaining) multiple heads together. Cross channeling enables you to use bother channels of the amp at the same time, resulting in a fuller tone range. With cross channeling, volume 'I' acts as your treble volume and volume 'II' acts as your bass volume. Hendrix was also able to hook up multiple heads by daisy chaining them together and passing his signal from one input to another.
As for which input sounds best, although on occasion you might find one of the other inputs the perfect choice for the tone you're trying to create. As always, there are no rules when it comes to personal taste.
Vintage Marshall Super Lead 100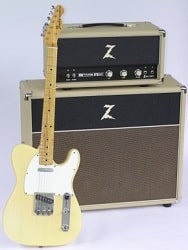 Many different types of speakers have been used over the years to amplify electric guitars. The most common are speakers with 10-inch and 12-inch measurements. Generally speaking (pun intended), a smaller speaker produces more top end, or treble, than a larger one. Thus, an amp outfitted with 10's usually has a brighter, tighter sound and the same amp with 12's will be darker sounding. Read more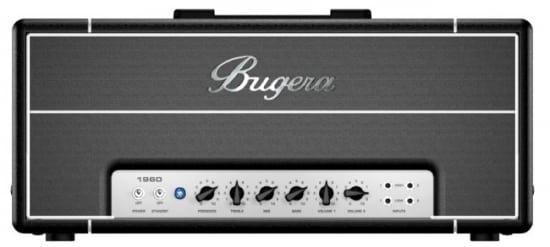 Bugera is probably one of the biggest buzz in the amp world: Made by Behringer, which is known for its wide range solid-state gear at amazingly affordable price, has entered the heavyweight tube-amp arena with a loud- and promising-explosion. Bugera amplifiers are made in Behringer's sprawling factory complex in Zhongshan, China. Bugera produces 17 different models: six highpowered heads, one 55-watt boutique-style vintage head, seven combos amps, a slant-front 4×12 speaker cabinet and two bass amp heads. Read more
Let's take a look at 4 killer Marshall stompboxes to help shape your guitar tone. In this review, we will sit down and play all 4 pedals, and also includes video tone sample. You want to hear how kickass these Marshall Pedals sound, right?
Pedals in review:
BB-2 Bluesbreaker II
SV-1 Supervibe Chorus
ED-1 "Edward" Compressor Pedal
VT-1 Vibratrem
BB-2 Bluesbreaker II

Modeled after Marshall's original Bluesbreaker pedal, the BB-2 offers two modes instead of one. The unit's clean, but merciless boost function can pummel an amp's input stage or drive long cables without altering the tone of your guitar, while the blues mode uses the pedal's drive and tone controls to create a wide range of valve-like overdrives rich in 2nd-order harmonics.
The Bluesbreaker II worked extremely well with a vintage Marshall Super Lead, producing no low-end loss when interacting with the amp's power tube distortion. It's performance was equally commendable with a Blackface Fender Reverb, where the BB-2's ultra-musical crunch was plainly in evidence. Read more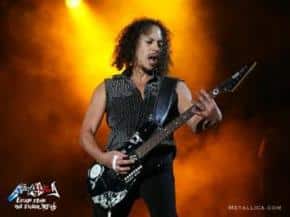 When Kirk Hammett, the lead guitarist of Metallica, was asked about his gear and tone for their new Death Magnetic album, this is what he had to say.
"I've added more midrange to my over sound. I can still appreciate my original scooped sound, but I need to feel the ground shake when I hit a chord. It hasn't been any radical change in gear as much as it's been a change in EQ. For Death Magnetic I used what I always use, which is my standard touring rack, which is filled with some [Mesa] Boogie stuff and a Marshall that I've had forever. I also used the new Randall amp that I helped design and Greg Fidelman, our engineer, turned James [Hetfield] and me onto Ampeg heads. Ampegs made incredible guitar heads in the early Nineties and then stopped. And I don't know why. The one we used had a nice clean, warm sound, and it blended well with the other amps that were in the studio. Read more