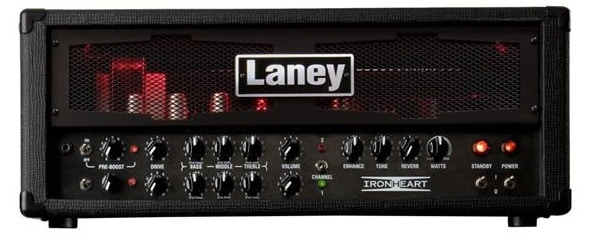 Forged deep within the Black Country — the metal beating industrial heartland of the US – where the sound of metal guitar was born comes the IRONHEART.
With molten metal flowing through its circuits, IRONHEART continues the legacy begun decades before by Laney amps such as KLIPP and AOR, and hits you hard between the eyes like a power hammer from hell.
Designed to be a metal amp on steroids, the IRONHEART posses masses of gain, and features an all important active EQ. Like its 80's metal predecessor the AOR, each IRONHEART channels feature 3-band EQ PUSH/PULL pots for extreme tone shaping and flexibility.
Along with a VARI-WATT feature, which allows the output of an IRONHEART to be screwed right down to less than 1-watt of its output, the IRONHEART also features a foot switchable Pre-boost function which works just like kicking in a gain pedal in front of your amp. Read more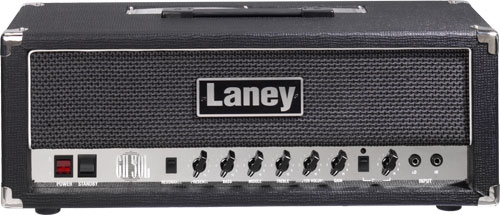 Laney amps, like their British brethren Orange and Marshall, have been around since the dawn of time, at least in rock and roll terms, and have helped to shape the sound of rock music and influenced the tones many of us strive for. One of Laney's current and most toneful offerings is the GH50L head. Read more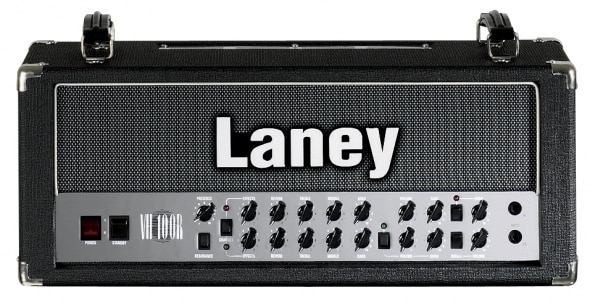 Laney Amplifiers, like Marshall and Orange, is one of the old school British amp companies that helped define what many of us consider the proper sound of a rock and roll guitar through a tube (or valve, to be more UK-oriented) amplifier from the 1960's to today. Laney has made many fine products over the years, but one of the company's newest and most modern offerings is the VH100R head. More than a simple one-channel plug and play rock and roll machine, the VH100R is an extremely versatile and up-to-date two channel affair whose mission in life is providing guitar players with as much tonal variation and flexibility as they could possibly need. Read more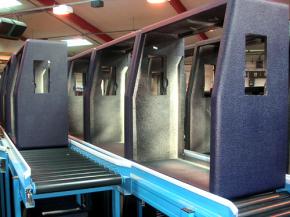 Lesson #1
Ask a group of guitarists what their favorite instrument, amplifiers and effects are, and each one will surely ramble on for hours about his gear of choice. Ask that same group about their favorite speakers and cabinets, however, and many of them will likely respond with a simple "I dunno." The sad truth is that even though cabinets and speakers play major roles in shaping the tone of a guitar sound, they are often overlooked by players.
The overall sound of a cabinet is the result of all the components that go into building it and how they're put together. Once you acquire the knowledge of what goes into building speakers and cabinets, you'll start to understand exactly what you like and dislike about different cabinets. In this lesson, I'm going to focus on defining the components and materials that go into building speakers and cabinets as they relate to the sound they produce. My hope is that at the end of the two lessons, you will be well informed and on your way to identifying what you preferences are and what speakers and cabinets complement your playing the best.
With very few exceptions, cabinets are made out of wood. Plied birch wood is far and away the most common choice, though some cabs are made from particle board or a combination of the two. Sonically, birch is great because it strikes a very desirable balance; it's rigid enough to produce punch and definition while being soft enough to sound warm but not floppy. Remember that the cabinet acts as a resonator for the speakers just as the wood of a guitar acts as a resonator for the vibrations of the strings. Birch is also super durable and is well suited to withstand the vibrations, abuse and travel that a cabinet is likely to endure. Read more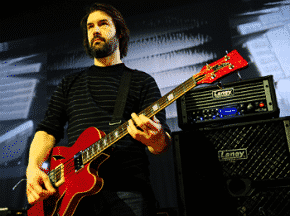 The Laney Nexus-FET bass guitar amplifier is a serious amp for serious musicians. This beast is built to achieve one goal: deliver powerful bass tone and enough power to get you through almost any gig you can throw at it.
The Nexus-FET is a 650-watt powerhouse built with a pair of 12AX7 tubes, a MOS-FET output stage, and two ECC83's in the preamp section. The Nexus-FET also features two-channel operation (FET and Tube), a footswitch, effects loop, a 6-band graphic EQ, active power stage feedback control, and a built-in compressor. Read more