A guitar used by Jimi Hendrix to compose several of his classic songs is expected to fetch $225,000 at auction next month. The Epiphone acoustic cost the rock legend just $22.50 when he bought it from a New York store in the 1960s. Hendrix enjoyed playing the instrument so much, he took it with him when he later moved to London.
Hendrix's ex-girlfriend Kathy Etchingham, who dated the rocker when he lived in the British capital in the years before his death, says: "Jimi loved that guitar – he played it constantly… Jimi used it for almost everything he composed in the U.K."
The instrument will be sold by London auctioneers Bonhams on 15 December 2010. Jimi Hendrix Fire Fender Strat Guitar sold for $497,000 at auction in September 2008.
Source: Contactmusic.com.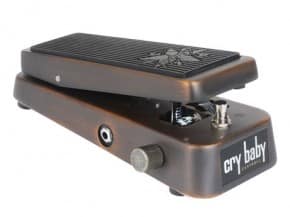 Wah-wah—it didn't take long for every guitarist, producer, and soundtrack composer to realize that they needed that sound. The early days of way production, however, were fraught with inconsistent components and a fundamental misunderstanding of the rigors a pedal would go through in the rock and funk worlds. Wahs were hard to get and varied wildly from pedal to pedal, all of which caused the effects to fall out of favor with players and drove many manufacturers out of business. Read more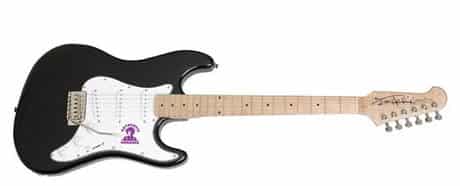 Remember last fall when Gear-Vault broke the news about the Gibson Hendrix Strat? The controversy it caused was astounding. Soon after, we followed up with the post "Gibson Hendrix Strat – The People Are Pissed!", to let your voices be heard. Subsequently, less than a month later Gibson Guitars felt the heat and removed all their content about the new Hendrix Stratocaster; everything just vanished into thin air. That prompted us to publish "Gibson Hendrix Strat – Operation: Cover-Up!". Finally Gibson Guitars CEO, Henry Juszkiewicz, came forward with some new information about the Gibson Hendrix guitar. He talks about why Gibson pulled the guitar from production and why they pulled it. He even sounds a tad bit disappointed by it. Read more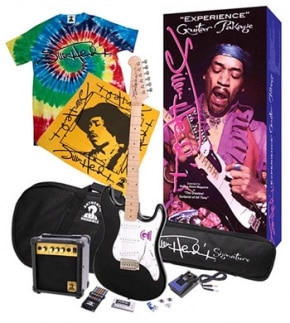 As many of you already know, Gear-Vault was first on scene to report the original notion: "Gibson to create Strats for Jimi Hendrix's new Signature Model?"
Less than a week later Gibson finally confirmed what we had already suggested Read more

Only in the world of "Charlie and The Chocolate Factory" would the guitar-world have such craziness and drama, right? Wrong! We are all too familiar with the recent debacle the past few days–the ongoing internet buzz over the new Gibson 'Authentic' Hendrix Stratocaster–nothing should surprise us anymore.
Yesterday I saw an analogy posted on Harmony-Central message board from a poster with the alias of 'Belva', this poster had made a response in regards to the Gibson 'Authentic' Hendrix Strat.
Belva wrote: "I'm not gonna cry about Honda building a clone of a Harley either. If you say this isn't the same thing you're f**ked in the haid!".
While the poster's analogy holds somewhat of a valid point, it doesn't exactly sum up the entire situation surrounding the event. So I decided to take the initiative to produce another analogy. Allow me to paint the picture, erm–excuse the pun… photoshop the picture. Read more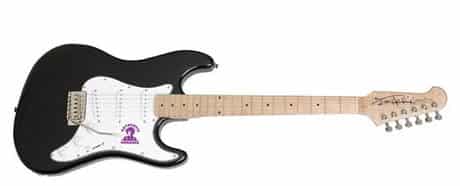 Did the title get your attention? Good. According to an interview conducted with Jimi's younger sister, Janie Hendrix, Gibson is going to create the new Jimi Hendrix Signature Model. Update: Confirmed. Gibson did knock off a Fender Strat-Style guitar and calling it a "Hendrix Electric Guitar Package". Read this post: People are outraged at Gibson.
How do they plan to do that? Jimi's main axe which he played live and in studio was usually a Fender Stratocaster. Remember back in 1967 when Hendrix's first alight a guitar-on-fire-stunt. He famously golfed his Fender Stratocaster in lighter fluid and set it ablaze. Read more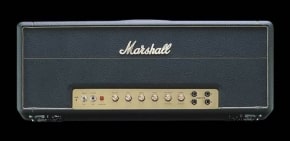 I bought a used Marshall Super Lead 100-watt reissue. It has four inputs: two labeled "I" and tow labeled "II". It looks just like the Marshalls Jimi Hendrix is seen playing in some concert photos. In one of those photos, I've noticed Hendrix had more than one cord plugged into his amp's inputs. Please tell me what he was doing with all those guitar cords hanging out of his amp, what all those inputs are for and, in your opinion, what the best-sounding input on this amp is.

Dan Mallory
xxxx@gmail.com
Older Marshalls like Hendrix played and the one you've purchased are known as "non-master volume" amps. Instead of a master volume, they have an overall volume control on each channel. Channel "I" is brighter and more 'trebly' sounding, while channel "II" is darker and better suited for bass guitar or a bassier guitar tone. Furthermore, each channel has a high and low input. The high input was designed to be a 'hotter' and better suited lead tone, while the low input, being not as sensitive as the high input, is better suited to rhythm playing. Although these were the intentions of the designers, in reality most people use the high inputs whether lead or rhythm.
As for all those guitar chords, chances are Hendrix was either "cross channeling" (or daisy chaining) multiple heads together. Cross channeling enables you to use bother channels of the amp at the same time, resulting in a fuller tone range. With cross channeling, volume 'I' acts as your treble volume and volume 'II' acts as your bass volume. Hendrix was also able to hook up multiple heads by daisy chaining them together and passing his signal from one input to another.
As for which input sounds best, although on occasion you might find one of the other inputs the perfect choice for the tone you're trying to create. As always, there are no rules when it comes to personal taste.
Vintage Marshall Super Lead 100
Here is a compilation of the world's best lead guitarists of all-time by YouTube member: Mike Redshaw. Personally, I won't dispute his list — I think he picked some of the best guitarists known to mankind. However, one could argue for days who "their" version of 'best guitarists' are. There's a lot of talent out there and everyone get's moved by music / guitars differently. For me, if I were to pick just one "best" guitarist, it'd be Randy Rhoads (not on his list). All of his work has moved me and he was one of my biggest influences when I started playing guitar. Okay Gear-Vault readers, who would you pick for the 'world's best lead guitarist' of all time? Read more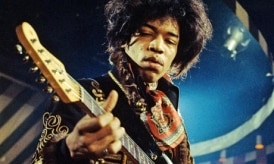 Jimi Hendrix was given the top spot — According to the readers of Time Magazine, Jimi Hendrix was voted the greatest electric guitar player of all time, and honestly, I can't say that I disagree. He's influenced so many great guitarists in his short time here in this world, that I'm not sure anyone could disagree…
But you are more than welcome to in the comment box below!
Music critic Josh Tyrangiel compiled a list of his top ten best guitarists, which included legends such as Eric Clatopn, Jimmy Page, Chuck Berry and BB King.
Jimi Hendrix was given the top spot on the strength of his unique fusion of genres such as rock, blues and psychedelia. Read more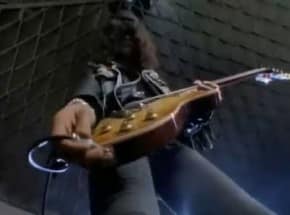 The guitar riff is central to rock and roll as we know it. A great intro riff identifies and emboldens a song and kicks the band (and the crowd) into overdrive. Rock history is filled with riffs that have changed the world and it is all of our jobs to learn to play as many of these as we can. That's how we learn what greatness really is and how we absorb the vocabulary needed to craft our own riffs and songs. Read more