Squier has teamed up with Joe Trohman of the Fall Out Boy and The Damned to create the Joe Trohman Telecaster, which is loosely based on the early '70s Fender Telecaster Deluxe.
The Joe Trohman Telecaster guitar, like the other artist signature series of Squier was designed to provide inspiration to guitar players by making great value guitars that have the approval of great artists, ensuring quality workmanship and superb sound. Read more
First you have to watch the video of this axe in action. Love the fuzz they added to really show the true dynamics of this guitar. Video below –
Harmony-Central–Hot on the heels of their latest critically acclaimed album, The Eternal, Sonic Youth has teamed-up with Fender to create two of the most highly anticipated guitars in recent memory — the Thurston Moore and Lee Ranaldo signature Jazzmaster guitars, which will be available beginning July 1. Read more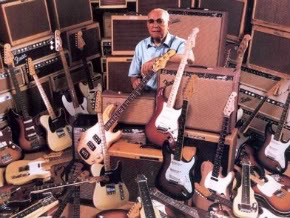 Before Leo Fender came along, the solidbody electric guitar was little more than a gimmick. No other person did as much to develop this "gimmick" into one of the most important musical instrument of the 20th century.
Born in 1909 on a farm in Anaheim, California, Clarence Leo Fender opened a radio repair shop in nearby Fullerton in the years just after Word War II. He gradually segued into building electric guitars and amplifiers, and launched the company that bears his name in 1948.
In the years between 1948 and 1954, Leo Fender designed the Telecaster (the world's first successful mass-produced solidbody electric guitar), the Precision Bass (the world's first electric bass guitar) and the Stratocaster (for many, the world's coolest electric guitar). These instruments embodied a design aesthetic that broke radically with tradition. Products of the post-WWII age of mechanization, they were affordable yet elegant tools for the average-income musician. Read more