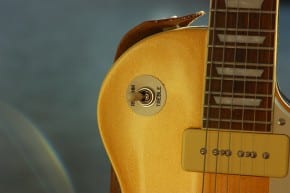 Gold tops are the coolest. There, I said it. I know, I know, '59 Burst, yadda, yadda, yadda, flame top, whatever. Give me the gold, Baby. Of course, the coolest of the gold tops are the 50's gold tops with P90's, which are the original Les Paul design, as humbuckers came along a few years later. The only problem is that real 50's Les Pauls pretty much require a mortgage to obtain, at least for most of us. Thankfully, Epiphone has come to the rescue with the Limited Edition 1956 Les Paul Gold Top. Read more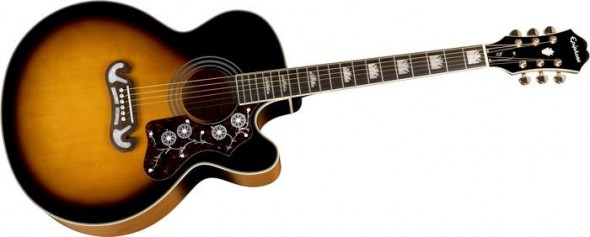 The Epiphone EJ-200CE Acoustic-Electric guitar is a classic that has been around for generations. This guitar has the melodious sound of an acoustic that is paired with the power of an electric guitar, so you have the best of both worlds in your hands. Perfect for a live gig, the electric-acoustic guitar can give you a sound that reaches even the largest audience, without sacrificing the sound that fits your style best. Read more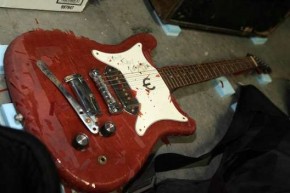 There are many sad stories coming out of Nashville this week, as people begin to clean up and rebuild after last weeks' catastrophic flooding that saw the destruction of many lives, homes, businesses, and musical instruments. Many of the instruments were at a facility called Soundcheck, which provided rehearsal space, storage, and cartage to many of the area's musicians. Also stored at Soundcheck were instruments that were part of the Musicians Hall Of Fame. Read more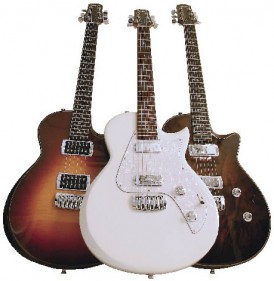 Taylor's divers line of electrics deliver a heap of fresh tones for every type of player. Breakthrough pickups, tone-shaping control and unmatched playability will redefine what an electric guitar can do in your hands.
The SolidBody Guitars were built around fresh pickup designs that blend vintage tones with amp-driving power. Choose from mini and full-sized humbuckers and noiseless single coils. A sleek, ultra adjustable bridge (with an optional tremolo) locks your intonation in place. Choose from several exotic wood top choices or tap into a rich palette of colors. All pickups are solderless and can easily be swapped out with other Taylor pickups.
The T3 soups up the semi-hollow sound and adds a touch of chrome-kissed style. The high-def humbuckers feature a coil-splitting function that uncorks killer single coil tones. A push/pull tone knob dials up even more sonic nuances, from classic rock to a warm, fat sound. Choose from a stop tailpiece or a Bigsby vibrato, each paired with a roller bridge for perfect intonation. Offered with a quilted maple top with several color and sunburst options. Read more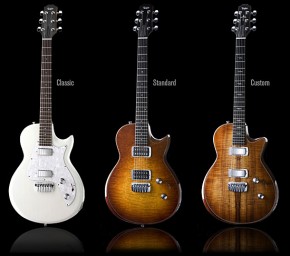 Before Taylor Guitars had their solidbody electric guitar breakthrough in 2007, the company has always been known and highly-regarded for their acoustic guitars, tone, and high quality. Read more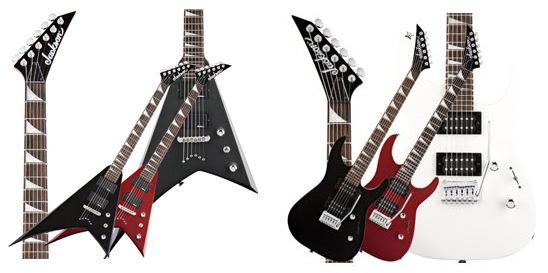 What do modern metal masters such as Iron Maiden's Adrian Smith, Lamb of God's Mark Morton, Machine Head's Phil Demmel, and Anthrax's Scott Ian have in common–aside from being highly influential players in venue-packing bands, of course? Jackson Guitars. Read more
Epiphone's determination to build high-quality, high-standard guitars with a reasonable prices tag began many decades before our current economic situation, making the company a long-trusted foundation of "great bang for the buck" instruments. Read more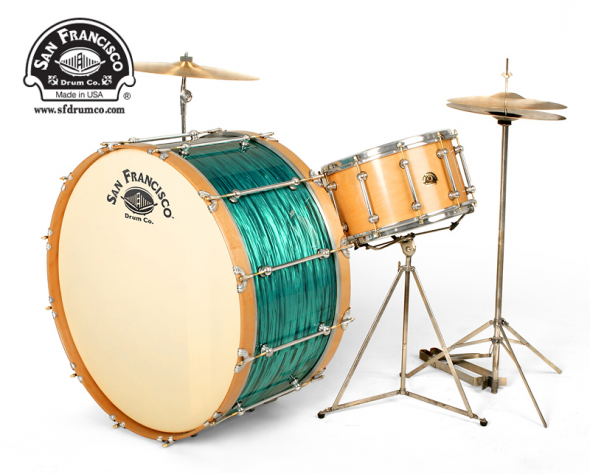 As I began to think about how (and with whom) to start this column, something occurred to me… pianos. Pianos are exactly the same no matter who sits down to play them; none of the keys can be moved or added to, none of the pedals re-positioned or taken away. It is an instrument that is fixed and rigid; tuned to a standard set of notes and from one to another are all, in theory at least, the same. Read more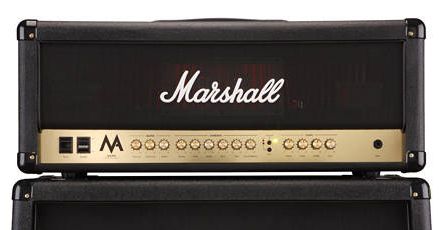 For the best part of 50 years the sight and sound of a Marshall valve amplifier has been the envy and dream of many a guitarist. Legendary artists such as Slash, Jeff Beck and the late great Jimi Hendrix, plus rising stars like Ray Torro (My Chemical Romance) and Alexi Laiho (Children Of Bodom) continue to inspire with their raw talent and mighty valve-powered Marshall backlines. So when it comes to tone, it's clear that professional guitarists love valves.
Now Marshall invites you to experience valve tone for yourself with our most accessible range of valve-driven guitar amplifiers ever – introducing the all-new, all-valve MA Series. Read more

Gibson USA Eye Guitar rattles controversy in the guitar world – Gibson's Eye Limited Edition Guitar is getting extreme buzz in the guitar world, however, not the positive buzz that Gibson was hoping for. It turns out that the Gibson Eye LE is stirring up more controversy than positive appeal.
If you have not yet read our recent post of the Gibson USA Eye Guitar, then follow the link.
Here's some of the enthusiastic feedback on the guitar's product page comment thread:
"This is the ugliest ******* thing you guys have ever made. Stay off the LSD and start making affortable (sic.) great sounding guitars "
"Uggggly! With a capital "U"! …and pointeless… "
"PLEASE….SCRAP THE ENTIRE 2009 LIMITED RUN SERIES before one more innocent tree has to die needlessly. "
"Hey, Gibson, are you trying to out-do yourselves here? First, the Reverse V, then the Reverse Explorer, then the Holy V and Holy Explorer, and now this? This "Eye" thing, hands-down, is the ugliest thing I've ever seen (even more-so than the Pontiac Aztec). It's not "retro;" it's not "futuristic;" it's just plain ugly. Gibson has made some of the most beautiful instruments ever created – the Les Paul, the SJ-200, the Lloyd Loar Mandolins, just to name a few. This new guitar is evidence that Gibson also makes the ugliest instruments. Do yourselves a favor and fire the people that designed this, then fire the people that approved its release. And stop needlessly killing innocent trees… "
"Eye carumba! "
We're not really sure if that last comment was intended to be a positive or not, but you get the idea. The Gibson Eye Guitar carries a USD MSRP of $2,497, which is the answer to that age-old question: "at what price, DAMN, THAT THING IS UGLY!"
What is your opinion of the Gibson USA Eye Guitar? Post your comment below.
Advertisement—————————————
—————————————————————
Buy – Sell – Trade guitars at GEAR SEARCH