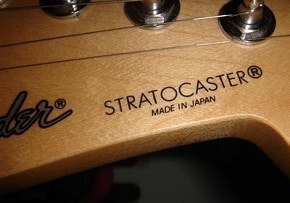 Every guitar player, at some point or another, aspires to own one of the top brand-name instruments on the market, whether made by Fender, Gibson, Gretsch, Paul Reed Smith or anyone else. In some ways, the guitar one plays becomes an identifying symbol; Stevie Ray Vaughn, for instance, was seldom seen with anything other than a Fender Stratocaster in his hands. Not many people could pick Peter Frampton out of a lineup today, but they know he played a Gibson Les Paul. Read more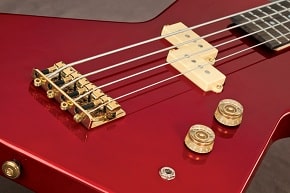 If you are looking for a second hand electric bass guitar that has killer vintage looks and bold shapes, then you might want to stop looking at the classifieds and consider getting the revamped Ibanez Destroyer Bass. It sports a vintage look combined with a pointy shape that will cater to most metal music bassists. Read more

That tightness around your throat. Getting harder to breathe. Slipknot guitarist Mick Thomson's signature models have a way of doing that. With its high-output Seymour Duncan Blackouts active pickups and Edge FX bridges, these low-tuned axes churn out demonic metal so unholy, it might make some people uncomfortable. In a good way. Read more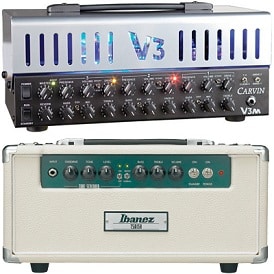 2011 may well be remembered by guitar and amp aficionados as the Year of the Micro. On top of the list of big things that come in small packages is the EVH 5150 III Micro, a tube-driven head that delivers smashing power to your favorite cabinet (or, better yet, Eddie Van Halen's favorite cabinet). Hauling your amp from home to the bar, or from home to the studio, and back again has never been easier. It has also never sounded so good. Read more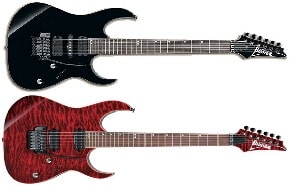 I have to admit right from the start that metal has never been my medium of choice; I prefer trem-bar bends in short bursts, not big bombs, and I like distortion to sound like distortion, not explosions. Read more

Ibanez Guitars introduces more new products every-year it seems, and the majority of them are becoming more and more affordable guitar models. This presents buyers with quite a challenge when trying to narrow down their choices, but as far as I'm concerned, the Ibanez S Series S320 is one of the best models Ibanez offers with an online price around $350 bones. Read more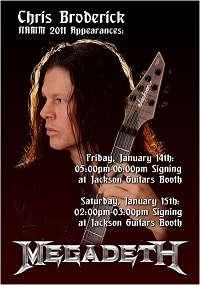 MEGADETH fans will be excited to learn that the Jackson Custom Shop is introducing its new Chris Broderick signature guitar model in January 2011. Broderick himself worked closely with Custom Shop master craftsmen to create a distinctive guitar based on a classic Jackson design.
That guitar, the Jackson Chris Broderick Soloist, brings his long and exacting search for instrumental excellence to a most satisfying conclusion.
"After an exhaustive search for the highest-quality instrument, I've found it at Jackson," Broderick said. "I've been looking for a guitar this incredible for quite a while, and the guys at the Custom Shop really understood what I was after and where I was coming from. I have spent countless hours ensuring that this guitar is playable and stylish."
Broderick's Soloist model boasts an unusual new touch in the form of a slightly offset carved-top body design for which the guitarist collaborated with longtime Jackson Custom Shop master builder Mike Shannon. Other features include dual DiMarzio humbucking pickups and a 24-fret 12-inch radius fingerboard. Further, the guitar will be available in six- and seven-string models.
The Colorado-bred Broderick is not only a formidable shred guitarist, but also an extraordinary musician in a much wider sense. He started playing at age 10, studying guitar, voice, violin and piano, and eagerly devoured a wealth of diverse musical influences extending well beyond rock into classical, jazz, blues and country forms. He earned a degree in classical guitar performance from the University of Denver's Lamont School of Music, and he himself has taught guitar for more than a dozen years.
Broderick joined MEGADETH in early 2008. His molten guitar work has contributed to the band's current revitalization, including 2009 album "Endgame", the "American Carnage" and "Rust in Peace" 20th-anniversary tours, and the summer 2010 Sonisphere festival shows in Europe that featured several metallically historic "Big Four" shows.
Jackson's unveiling of Broderick's new signature model comes closely on the heels of the guitar maker's announcement of its partnership with MEGADETH bassist David Ellefson, who received his own new Jackson Dave Ellefson signature bass model in early 2011 and who will be collaborating with Jackson on the development of other new bass models.
Regarding the reasons for his split with Ibanez, Broderick said in an online post, "I knew people would want to know why I left Ibanez, and I had the whole event written for all to read but I deleted that and don't want to focus on why it didn't work out with them. Let's just say that the events that occurred with them this last year left me feeling like my guitar company wasn't anywhere near as loyal to me as I was to them.
"For those who are curious, you can read this old post that kicked things off.
"I talked to a lot of different guitar companies about a potential move and Jackson, by leaps and bounds, stepped up and was able to build a guitar that is nothing less than my perfect guitar. I spent countless design hours on it. With a double neck that I built when I was 17 being the basis for the guitar, and with Mike Shannon behind the tools, I think you guys will be impressed."
MEGADETH Chris Broderick Leaves IBANEZ for JACKSON Soloist

Ibanez Guitars — The Ibanez RG321E electric guitar features a 3-piece maple bolt-on neck with the fast and thin Ibanez wizard II profile and a mahogany body that produces extra punch, warmth, power, chunk, and incredible sustain. The bound rosewood fingerboard has 24 jumbo frets and pearl dot inlays. All hardware is black-chrome, including die-cast tuners and a fixed Gibraltar Standard bridge. The RG Fixed series brings you the world's premier metal ax-with the simplicity and sustain of a Gibraltar fixed bridge. Not only does the Gibraltar bridge give your more sonic sustain, but also features a low-profile design that offers maximum playing comfort while you pump out those blazing licks. Read more
Guitar legend Steve Vai chose his personal favorite from the finalists of Guitar Idol, the world's biggest online talent search to find the hottest undiscovered guitarists on the planet.
Organized by online magazine All Out Guitar, and leading online guitar tuition community Lick Library.com, Guitar Idol 2009 saw the public and professional judges select the best guitarists from around the world. The 12 Finalists included contestants from Brazil, Ecuador, Guatemala, Hungary, Bosnia, Italy, Thailand and Chile, each of whom were invited to play live for an audience of thousands via live webcast and to an enthusiastic crowd at the London International Music Show.
A special 'Steve Vai' award category was created, to be judged by none other than Mr Vai himself. 
Steve Vai chose Daniel as his winner after watching live footage of the competition broadcast on licklibrary.com, and was' blown away' by Daniele's playing on the track 'Cardiology' which he deemed worthy of the special prize; an Ibanez Jem signed by Steve.
After watching the contestants, Steve said "There is a whole new breed of guitar players emerging. Players that are redefining the parameters of guitar virtuosity. It was a pleasure to judge the Guitar Idol contest and see many of these young innovators in action."
You can watch Daniele's winning performance from the Guitar Idol final at the London International Music Show on http://www.licklibrary.com/Channels/Guitar-Idol
Advertisement—————————————
—————————————————————

The Ibanez Xiphos XPT700XH has an extreme look and an even more extreme tone. 27 frets, ripping-fast Wizard II neck and Dimarzio pickups are just a few of its shred-friendly features, with Mahogany Body – Wizard II Neck-Thru Neck includes Dimarzio Pickups – Edge III Bridge – Green Shadow Flat Finish. The Ibanez Xiphos XPT700XH makes guitar gods of mere mortals. Read more