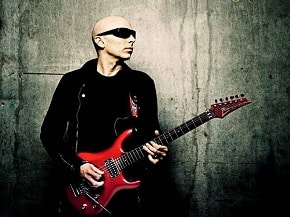 Electric guitar fans everywhere clap your nimble hands.  Our favorite wizard (no, not the bespectacled Harry Potter) has unveiled his current live setup–or, you could say, his book of spells.  For those who don't know, Joe Satriani is on his Wizards and Wormholes tour, where he's showcasing songs from the new album, Black Swans and Wormhole Wizards, along with old classics like "Flying in a Blue Dream", "Satch Boogie", and "Andulusia".  While Satch has always been very down-to-earth and open to discussing guitar technique, it's always a treat to get a glimpse of what goes down behind the tech-side of the curtain. Read more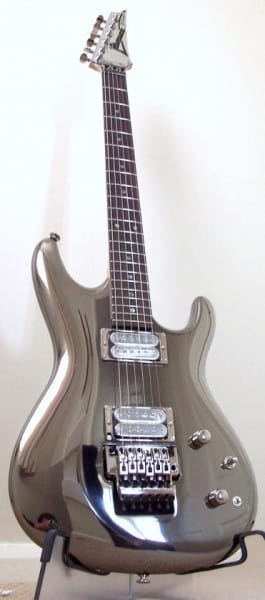 The Ibanez JS2PRM is an extremely unique and extremely rare instrument in the guitarworld. The JS2PRM—PRM stands for (Premium Rock Mirror)—which is a high-tech finish that was designed to look as if it was carved from a solid chunk of polished metal.
In 2005, the JS2PRM was Ibanez's third attempt to recreate the chrome guitar. Ibanez's first two attempts, the JS2 and the JS10th, both were unsuccessful due to finish problems. The process of bonding a chrome finish onto a wood bodied guitar is an extremely difficult process. The JS10th (2nd attempt) a luthite body was used, which is similar to plastic, and the results were better than the original JS2 Chromeboys, however, they were still beset by water marks and peeling and sounded nowhere near as good as the basswood body. Read more

The electric guitar has surpassed the piano as the most popular instrument of budding musicians. While the reasons for this trend are numerous, it's quite obvious that most households no longer have a piano, while many a dad or mom has an old guitar tucked away in a closet for junior to explore once the music bug starts to bite.
Of course, the goal for every young player is to buy a guitar of his own, and to that end, Ibanez has been most helpful. The company's 30-year-old Artist Series has been continually updated to provide modern variations on the two-humbucker mahogany guitar theme, with prices that are commonly far below market value. New to the series is the ART300, an unusual and interesting single-cutaway that has active pickups and a raised reptilian finish. This kind of bold and inventive thinking is exactly what I love about Ibanez, the same company that cuts monkey grips into $2,500 works of six-string art. Read more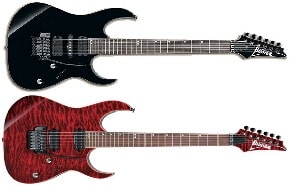 I have to admit right from the start that metal has never been my medium of choice; I prefer trem-bar bends in short bursts, not big bombs, and I like distortion to sound like distortion, not explosions. Read more

Ibanez Guitars introduces more new products every-year it seems, and the majority of them are becoming more and more affordable guitar models. This presents buyers with quite a challenge when trying to narrow down their choices, but as far as I'm concerned, the Ibanez S Series S320 is one of the best models Ibanez offers with an online price around $350 bones. Read more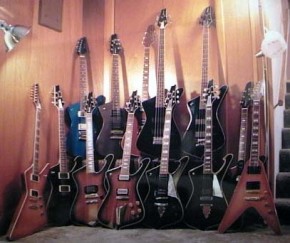 The history of Ibanez guitars is one of the most interesting ones in the guitar world. It all began in 1929 when Hoshino Gakki, a Japanese Musical Instruments company began importing and further-on, bought out the Spanish company Salvador Ibanez guitars as it was pretty much destroyed during the Spanish civil war. By 1935 Hoshino Gakki had started the production of Ibanez Salvador Spanish acoustic guitars in Nagoya, Japan. Read more

Ibanez Guitars — The Ibanez RG321E electric guitar features a 3-piece maple bolt-on neck with the fast and thin Ibanez wizard II profile and a mahogany body that produces extra punch, warmth, power, chunk, and incredible sustain. The bound rosewood fingerboard has 24 jumbo frets and pearl dot inlays. All hardware is black-chrome, including die-cast tuners and a fixed Gibraltar Standard bridge. The RG Fixed series brings you the world's premier metal ax-with the simplicity and sustain of a Gibraltar fixed bridge. Not only does the Gibraltar bridge give your more sonic sustain, but also features a low-profile design that offers maximum playing comfort while you pump out those blazing licks. Read more

Ibanez added some new guitars to the guitarworld. When I received the email from Ibanez with the announcement, I was instantly impressed with the (Prestige) RG1420F and RG1421F — finally, Ibanez brought the Prestige back with double humbucker pickups. Read more


When last we met, I was telling you about the cool Squire Jazz bass I played AND that it only cost $299.00 (case/gig bag extra).
[% oiopub-banner-3-left %]
Well THIS time boys and girls, I'm gonna tell you about another pleasant surprise; the Ibanez SR series of bass guitars that also start at the $299.00 mark. I went to the other mega music store (on a rather quiet, thank God, Saturday afternoon) and strolled over to the bass department. There I met John who was trying out a Fender Marcus Miller Jazz bass (I run into that thing EVERYWHERE I go!!!!!). We got to talkin' and he mentioned that he was lookin' for a Jazz bass. I told him about Gear-Vault and about my quest to find a good inexpensive bass, suitable for a beginner AND an advanced player. John was certainly in the latter category so he was immediately recruited to offer his comments on whatever I took from the wall (remember, with permission. ALWAYS get permission). Read more

Ibanez BTB Bass are not just bad-ass… Read more