The Les Paul Studio Swirl is a stunning new addition to the popular Studio series, which has been bringing full-fledged Les Paul performance and tone to hard-working musicians since its introduction in 1983. These guitars include all the classic ingredients that have made the Les Paul Standard legendary since humbuckers first hit the model 1957, but add four exotic swirl finishes to the formula, while retaining the down-to-business package that is light on frills, heavy on swagger, and easy on the pocket. Not one element of construction or component quality is sacrificed to bring you this high-performance electric guitar, and the Gibson USA Les Paul Studio Swirl might just be the most head-turning Studio model ever produced.
A handful of cosmetic simplifications help to bring this Les Paul in at a truly astounding price. A minimalist finishing process results in a thin nitrocellulose finish in one of four gorgeous new "swirl" options: Black/Green Swirl, Black/Silver Swirl, Gold/Blue Swirl, and Silver/Blue Swirl. A lack of binding around the body top and fingerboard also gives a tactile, organic look and feel to the instrument as a whole. Where tone and performance are concerned, however, the Studio Swirl model stays right in the legendary Les Paul Standard's wheelhouse, with the timeless hardware that has helped to make Les Pauls total sustain monsters for more than five decades. The pickups are a pair of Gibson's most popular humbuckers, a 490R in the neck and a 498T in the bridge, both made with 42-AWG wire and genuine Alnico magnets (Alnico II and Alnico V respectively) just like the original PAF humbuckers. Wrap it all up, and it's an unparalleled package for anyone from the discerning studio musician to the hard-touring artist in search of a no-nonsense tone machine that stands out on the stage. And at this price, there's no reason not to check out the Les Paul Studio Swirl today—and make it your very own. Read more
Charvel is proud to introduce its new Desolation series guitars. These are entirely new instrument designs not previously seen in the high-performance guitar maker's 30-year history, offering more tonal and stylistic options for discerning players everywhere and bringing a long-acclaimed tradition of high performance to more guitarists now than ever before.
Marked by devastating tone, killer looks and high-performance playability, the Desolation series comprises an entirely new stable of Charvel guitars designed for a whole new world of players, with the sound and performance known to the world's greatest guitarists more affordable now than ever before.
There are 10 new guitars in the "first wave" of the Charvel Desolation series—four single-cutaway "DS" models, three double-cutaway "DC" models and three highly distinctive Skatecaster "SK" models loosely based on the Charvel Surfcaster of the early 1990s. All feature mahogany bodies and necks, dual humbucking pickup configurations with three-way toggle switching, solid and transparent finishes (with flame maple veneer on trans finishes) and black nickel hardware. Most feature compound-radius (12"-16") rosewood fingerboards with 24 jumbo frets in a variety of neck-through, set-neck and bolt-on configurations; Charvel bridges specially designed for compound-radius fingerboards (except DS-3 ST Floyd Rose-equipped models); and three-on-a-side locking Charvel tuners (except DS-3 ST and Floyd Rose-equipped models, which have non-locking three-on-a-side tuners). See these guitar below! Read more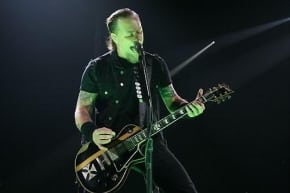 Metallica's rhythm guitarist and singer, James Hetfield, and ESP guitars collaborate to replicate a limited quantity ESP Iron Cross signature guitar. Based on Hetfield's customized 1973 'Iron Cross' Gibson Les Paul, ESP did a wonderful job with the relic finish to look exactly like James' original Iron Cross. Read more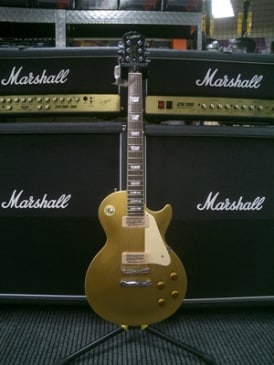 Epiphone's 1998 guitars included four different models: the Les Paul Studio, the Les Paul Studio Pearl (pearl toggle switch cover, pearl pickguard and pearl truss rod cover), the Les Paul Deluxe and the Les Paul '56 Goldtop. The Studio features classic Les Paul styling with a set neck and Epiphone humbuckers. The Studio Pearl includes pearloid pickguard and accents. The '56 Goldtop has Cream Soap Bar P-90 pickups featuring Alnico-5 magnets.
Estimated used price: $350.00 – $450.00
Buy – Sell – Trade USED GEAR at Gear-Vault Classifieds

When you consider that Ibanez has produced more than a thousand guitar models, it's no surprise that the company delivers high quality instruments at an affordable price. The sound, look and performance of Ibanez's Arondite and Art series are as sleek as they are reliable. Since recent years, it's difficult to compete with "Made in China" Ibanez guitar's from both the quality and price standpoint. Their quality control is phenomenal.
Our review model is a sleek black Arondite ADC-120:
Features:
String-thru construction, a mahogany set-in neck, attractive-eye-catching star position inlays, Ibanez bar pole piece style humbucker pickups, and a Gibraltar III bridge. The electronics include a 3 way Switch, a volume and a tone control, dual humbuckers. Overall I would give this a 9 for the simplicity and sleek looks. It's a very clean and practical guitar. // 8
Sound:
Playing through a Marshall 8100 Valvestate and a Mesa Boogie Recto 2×12 cab, and jamming out some classic rock, rock and hard rock, the tone is articulate and punchy yet articulate. The neck humbucker carries a melodious rhythm/lead, however, I do find the pickups a bit trebly, so you'll want to adjust the amp's EQ accordingly. If you play heavy metal, this guitar can also pull that off with ease. // 7
Action, Fit & Finish:
Set up was spot on. The action and intonation is perfect, all it needed was to be tuned up after it arrived. The pickups were good to go, while not the hottest thing I've played, for a $299 brand new guitar, they're exceptionally well. Overall the fit and finish is really nice. If you played this guitar before seeing the price tag, you would easily mistake it for being a much more expensive model. I was impressed with the finish and sound from this guitar, the low price tag makes it even better. // 8
Reliability & Durability:
I only had the review model for a couple days, but I have not discovered any serious issues as of yet. The one area that could use a little attention is the tuners, a better set tuners would make this guitar great to outstanding. Due to the simplicity of the design, less bells and whistles, I would think there isn't much to go wrong with this guitar. Reliability & durability would seem excellent if it had better tuners. // 8
Playbility:
The Arondite ADC-120 is very versatile instrument with it's lightweight and slim-shaped neck. Personally, I'm more of a rock / rhythm player, however, my buddy who is an absolute shred monster was suitably impressed with the playability of this guitar as well. As stated above, it's easy to confuse this guitar as a much more expensive instrument than the price tag says. // 9
The End Line
The Ibanez's Arondite series guitars compare favorably with guitars costing two, three and even four times as much. They offer such an incredible value that they'll make you forget the recession. In fact, most of the Arondite models sell for street prices that will leave you with change from your economic stimulus check.
The body is uniquely in-between a Les Paul and an Explorer
Strings-thru-body with 3D-adjustable [Gibraltar III ] bridge
Thin-style (60's) mahogany neck with rosewood fingerboard and star Mother-of-Pearl / Abalone inlays
Made in China
22 frets
Laminated top
3-way-pickup selector switch; 1 volume control; 1 tone control
Two passive alnico humbuckers with bar magnets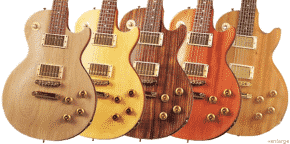 Houses, railroads, toothpicks, popsicle sticks, telephone poles, books, bookshelves, magazines and guitars—what do they have in common? You guessed it, boys and girls: they're all made of wood and wood-based products.
Which, as it turns out, is a problem. Every year, millions of innocent trees are slaughtered so that we can continue leading the common, convenience-filled lives to which we've grown accustomed. And that would be fine, except for one thing: millions of new trees don't magically pop up each year to replace the old ones. In most parts of the world, wood is harvested irresponsibly, with little or no attention to reseeding, regrowing and regenerating a supply of timber for future generations. Read more