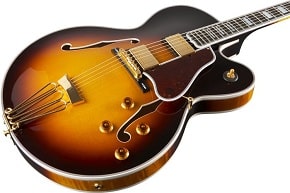 Introduced in 1955 Gibson's Byrdland was one of the first thinline hollowbody electrics. Designed with the help of hot-shot guitarists Billy Byrd and Hank Garland, whose surnames were combined to form the model's name, the Byrdland was a Venetian (i.e. rounded) cutaway archtop with a carved spruce top and solid maple rims and back. Though the body was only 2-1/4 inches deep, rather than the standard 3-3/8 inches. Also unusual was the instrument's short scale length 23-1/2 inches, a full two inches less than that of most archtops, allowing guitarists to play chords that required large stretches. Read more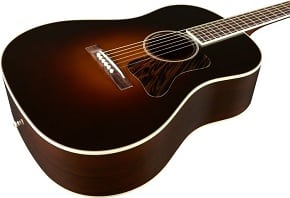 On January 12, 2011, the Jackson Browne Signature Gibson acoustic guitar was unveiled at the National Association of Music Merchants (NAMM) winter show in Anaheim, California. Hearkening back to Gibson's revered Roy Smeck models of the 1930's, Browne's baby took the better part of a decade to complete, as he went back and forth throughout the process with the Gibson Montana Acoustic Master Shop up in Bozeman, Montana. Read more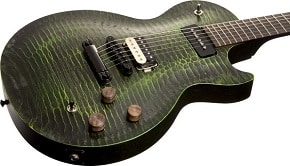 For a little bit of money, nearly any guitar of standard design (Teles, Strats, Les Pauls, SGs) can be clad in a full-wraparoud graphic decal. Common themes of such artistic measures include lightning bolts, snake skins, glowing cracks and the like. The attraction of such cladding is that the look of your guitar can be altered dramatically without the effort, cost and time consumption involved in stripping and repainting – something which is done all the time in those dark buildings where musical instruments are born. Read more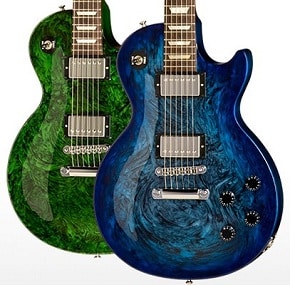 Though the Nashville flood is long behind us on the calendar, for many of us it is still fresh in our minds and hearts. The damage is done, the cleanup is all but finished, and things are back to where they should be, for the most part. Hell, Gibson is still rockin' and rollin' just as hard as they ever were. As you may or may not remember, Gibson's Nashville plant was hit especially hard in the flood, laying waste to every guitar they had, including some hall-of-famer guitars. Read more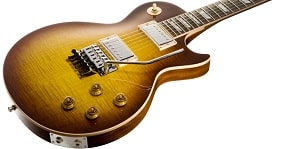 Alex Lifeson is known to have played a tremendous number and variety of guitars throughout his career, and even on one record – in the making of Rush's 2002 release, Vapor Trails, Lifeson used 50 different guitars and, for the first time in years, no keyboards whatsoever.
Now, Lifeson has teamed up with the good folks at Gibson, releasing his signature model Gibson Custom Alex Lifeson Les Paul Axcess. In some ways, Lifeson goes back to his roots with this guitar; in others, he uses it to summarize a lifetime of playing and recording experience.
Lifeson started out playing a Gibson ES-335 for Rush's first four albums, switching to a Les Paul (blasted through a Marshall stack) during the seminal 2112 Tour. By the early 1980s he was playing custom-built Fender Stratocasters, with a Bill Lawrence humbucker in the bridge position, almost exclusively. He rotated through four such Fenders – all with Floyd Rose locking tremolos – until 1986, when he switched to his own brand, Signature Guitars. For use in the studio, where time is money, it's an understandable decision since anyone would be more familiar (and no doubt more comfortable) working with a guitar of one's own design. Read more
Gibson Guitars — Way back in 1961 when the SG Standard temporarily replaced the Les Paul Standard in the Gibson line up, few were aware that a future icon of rock guitar was being introduced to the scene. Originally called the "Les Paul/SG", this radical, double-cutaway electric with two dramatic asymmetrical pointed "horns" and a thin all-mahogany body was worlds away from the single-cutaway maple and mahogany Les Paul that it replaced. It proved to have similar power, punch and versatility, but also expressed a voice all its own, one that has grabbed many heavy rock and metal players in particular, alongside countless classic rock and blues artists. By the time the single-cutaway Les Paul returned in the late '60s, the SG Standard was already a legend, and had forever claimed its place in rock history. Read more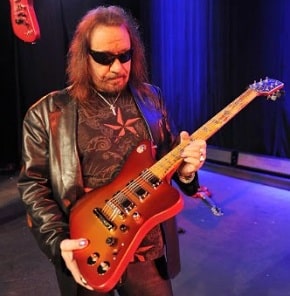 According to the experts at Gibson, the new limited-edition Firebird X is the first guitar that allows players to access the fourth dimension. So what is the fourth dimension, exactly? Well, in order to understand that, we must understand the first three. Dimension 1 equals the basic guitar body. Dimension 2 came along in the 1920s and 30s when electromagnetic pickups were pioneered. Dimension 3 appeared when Les Paul tweaked the first guitar effects in the late 1940s. Apparently, Dimension 4 is the internalization of the signal chain within the instrument. And that's just what the Firebird X is Read more
NAMM 2011 — Like its parent company Gibson, Epiphone is known for several classic designs, guitars that established themselves as iconic in the 1950s and '60s. Read more
Through the course of four hit albums, two Disney Camp Rock movies and other film appearances, and several music awards, the Jonas Brothers have established a reputation for making widely appealing pop music.
Songs like "SOS," "Burnin' Up" and "Lovebug" also glisten with a gutsy rock edge and attitude, however, and display the brothers' fondness for a chunky electric guitar. And through it all, the Jonas Brothers have favored Gibson guitars. To celebrate their success, Gibson USA has created this special Jonas Brothers Melody Maker, a guitar designed in the image of the original single-cutaway Melody Maker of 1959/'60, but with popular upgrades to solidify its status as a genuine tone machine. Read more
Yesterday morning in New York City, Gibson Chairman and CEO Henry Juszkiewicz made an announcement that staggered the music world. Juszkiewicz unveiled Gibson's latest guitar, Firebird X.
But press, fans and celebrities in attendance quickly learned that Firebird X was much, much more than any guitar ever conceived. Speaking to an audience that included such guitar luminaries as Ace Frehley, The Roots' Kirk Douglas, Eddie Ojeda and Jay Jay French from Twisted Sister, Lou Pallo, Russ Paul and others, Juszkiewicz described an instrument light years ahead of anything ever built.
"This is new. This is different. This is revolution," he declared before unveiling the axe. "Nobody looks and spends the time to reinvent the guitar. This is a new guitar." Read more