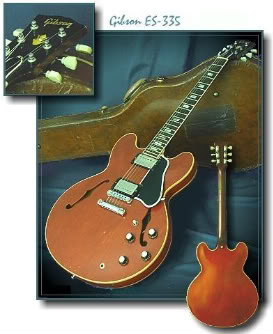 In 1958, Gibson brought the ES-335 into the world in response to Jazz Players whose hollow-bodied git-boxes howled with feedback. Looking very much like a traditional thinline hollow body, the 335 had a center block of maple that cut feedback while it spawned a far-flung family of subtle, genetic variation, such as Gibson's Vintage ES-345, ES-347, ES-350 and ES-355 models, Epiphone's Sheraton, Casino and Riviera guitars and a slew of close relatives and out-and-out clones by virtually every guitar maker in existence. Read more
Tags: гитара washburn wm, Gibson ES 135 guitar how much 2008, фото лады 80 90 годов, front GIR, gibson 337, gibson 350 feedback, gibson es-350t vs 355, Gibson ES-355 ES-135,


Here's your chance to win a beautiful Gibson ES 335 Semi-Hollow body Joe Bonamassa Signature Model guitar! This guitar values at around $3,300 big ones.
Contest ends April 4th
Don't be stingy! "GET ACCESS" by Tweeting, Like us, or +1 us to share this giveaway with your friends. After you share and get access, you will see the "ENTER TO WIN" button. After you click "ENTER TO WIN" just enter your email
Video: Gibson ES-335 Joe Bonamassa
See this guitar in action!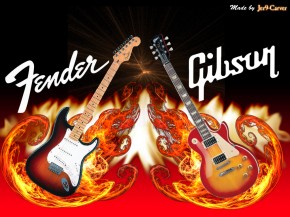 Ah, the classic Gibson vs. Fender debate. This dispute has become so famous and so controversial that nearly all guitarists are forced to segregate themselves and declare their allegiances. But why form such specific, exclusive factions, driving a wedge between the guitar playing community? For good reason, as it turns out the two companies build different guitars for different purposes, making it perfectly reasonable that some players only pick a Fender while others are firm Gibson men (and women). But which is best for the player who has yet to pledge themselves to one brand? Read on and find out. Read more
Tags: gibson vs fender, fender vs gibson, Gibson Stratocaster Guitar, fender vs gibson guitars, gibson vs fender guitars, gibson versus fender, is fender or gibson acoustic guitars better, guitars similar to fender guitars, gibson vs stratocaster vs fender, which is better a fender guitar or a Gibson,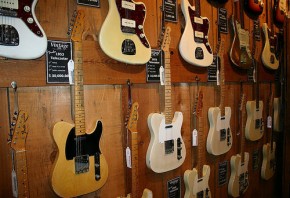 There is a lot of fuss made in the guitar community about so-called 'vintage' guitars, 'vintage' being another word for 'old'. There is a certain part of our world that longs to play a 30-, 40-, or even 50-year-old guitar or bass for a variety of reasons. To be honest, there is something to this argument when it is applied to instruments that truly are products of what many to be the 'golden era' of guitar production in the USA which, if we combine acoustic and electric guitars, would be roughly from the 1920's to about 1970.
Read more
Tags: is there a fix to keep a pee wee guitar by Epiphone is tune?, just guitars, new guitars versus 30 year old, plain old fashion guitar amps, What is the price of a conn guitar that is over 30 years old?,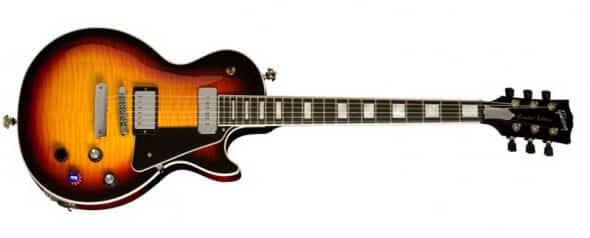 Gibson brings innovation to Robot Guitar tuning technology with the Les Paul Standard 2010 Limited Electric Guitar. Les Paul, Gibson, and the Les Paul guitar have always been about innovation. With a legacy as one of the most versatile electric guitars available, the robot Les Paul knocks versatility right off the charts, courtesy of Gibson USA.
With Robot Guitar automated tuning capabilities, 2 different but seminal magnetic pickups, a piezo-loaded bridge, and Chameleon Tone Technology courtesy of its Master Control Knob (MCK), the Les Paul Standard 2010 Limited packs a dizzying array of sonic capabilities, all primed to unlock your inner creative potential. From the raw, biting crunch of a hot, chrome-covered, hum-canceling P-90H in the neck position and the sizzling wail and punch of an overwound BurstBucker 3 in the bridge, to the subtle acoustic response of its piezo bridges saddles — and any conceivable blend of the three, accessed instantly from the MCK — the Les Paul Standard 2010 Limited really does pack all the tonal colors of the rainbow. And to keep it all sounding true, Gibson's exclusive Robot Technology puts you perfectly into tune in seconds at the push of a button, or shifts you into any of a countless number of open and alternate tunings, all accessed at your command. Read more
Tags: GIBSON FIREBALL, Win a Gibson Les Paul, win a gibson guitar, electric guitar legacy, win a gibson les paul 2014, win a free gibson les paul standard 2014, win a 12 string guitar, les paul fireball for sale, gibson Les Paul Super electric guitar, Gibson Les Paul Giveaway,

Down through history, people have constantly been in search of the next big thing. From the car, to the washing machine, the compact disc to the iPod, many things are thrown at the wall, but only certain things stick.
This same principle remains a constant in the field of guitars; the tried and true functional pieces ring true for players of all sorts, and the flashy toys eventually end up in the garbage can with yesterday's potato chips. And yet, some of these things that really should be utilized to the fullest extent end up being tossed away with everything else, for one reason or another, only to be brought back into popularity many years later on a retro throwback trend. Read more
Tags: 335-s Gibson 1980, gibson 335 with stetsbar, gibson 335-s reissue limited run sam ash, gibson 335-s solid body, gibson 335s reissue, stetsbar canadian retailer,

Enter to win a Gibson Limited Run Flying V Melody Maker electric guitar. The Gibson Flying V Melody Maker is valued at $539. The guitar comes autographed by the band My Morning Jacket. Read more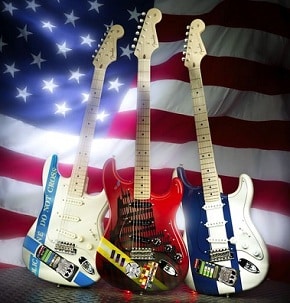 I'm a little late to the party, but thought this was something worth posting. I thought it was a classy move by both Fender and Gibson guitars. Below are the press releases and images of the 9/11 tribute guitars. Read more
Tags: gibson,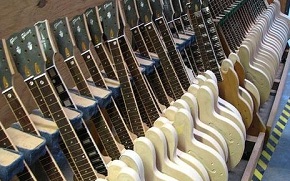 The Gibson Guitar Corporation is under fire once again for suspicion of violating foreign wood and labor laws. Read more
Tags: basis for gibson guitar raid,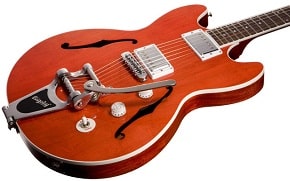 Every year or so, the big 2 guitar manufacturers [Gibson, Fender], release a guitar that is designated as their latest "Wow Guitar". You know, the ones that are pure eye and ear candy, that tempt you with selling your car to have one of your own. Read more
Tags: Gibson Midtown, best tremolo for midtown, gibson midtown with bigsby,