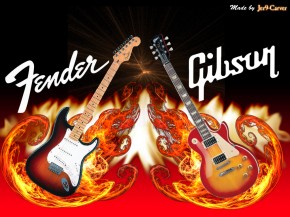 Ah, the classic Gibson vs. Fender debate. This dispute has become so famous and so controversial that nearly all guitarists are forced to segregate themselves and declare their allegiances. But why form such specific, exclusive factions, driving a wedge between the guitar playing community? For good reason, as it turns out the two companies build different guitars for different purposes, making it perfectly reasonable that some players only pick a Fender while others are firm Gibson men (and women). But which is best for the player who has yet to pledge themselves to one brand? Read on and find out. Read more
Tags: fender vs gibson, gibson vs fender, fender vs gibson guitars, buying a guitar gibson vs fender, Gibson Stratocaster Guitar, gibson guitar vs fender for first guitar, gibson verses fender guitars, gibson vs fender sound, gidson has better guitars, guitarists who prefer fender vs gibson,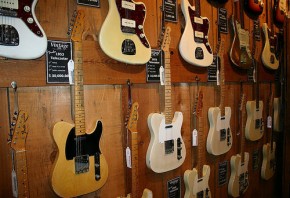 There is a lot of fuss made in the guitar community about so-called 'vintage' guitars, 'vintage' being another word for 'old'. There is a certain part of our world that longs to play a 30-, 40-, or even 50-year-old guitar or bass for a variety of reasons. To be honest, there is something to this argument when it is applied to instruments that truly are products of what many to be the 'golden era' of guitar production in the USA which, if we combine acoustic and electric guitars, would be roughly from the 1920's to about 1970.
Read more
Tags: gear telecaster, is there a fix to keep a pee wee guitar by Epiphone is tune?, old guitars, price on portugal guitars over 70 years old,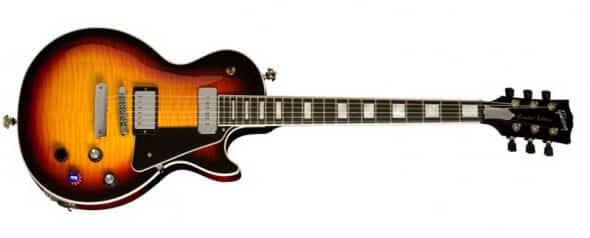 Gibson brings innovation to Robot Guitar tuning technology with the Les Paul Standard 2010 Limited Electric Guitar. Les Paul, Gibson, and the Les Paul guitar have always been about innovation. With a legacy as one of the most versatile electric guitars available, the robot Les Paul knocks versatility right off the charts, courtesy of Gibson USA.
With Robot Guitar automated tuning capabilities, 2 different but seminal magnetic pickups, a piezo-loaded bridge, and Chameleon Tone Technology courtesy of its Master Control Knob (MCK), the Les Paul Standard 2010 Limited packs a dizzying array of sonic capabilities, all primed to unlock your inner creative potential. From the raw, biting crunch of a hot, chrome-covered, hum-canceling P-90H in the neck position and the sizzling wail and punch of an overwound BurstBucker 3 in the bridge, to the subtle acoustic response of its piezo bridges saddles — and any conceivable blend of the three, accessed instantly from the MCK — the Les Paul Standard 2010 Limited really does pack all the tonal colors of the rainbow. And to keep it all sounding true, Gibson's exclusive Robot Technology puts you perfectly into tune in seconds at the push of a button, or shifts you into any of a countless number of open and alternate tunings, all accessed at your command. Read more
Tags: gibson fireball for sale, 2010 gibson lp fireball, gibson fireball robot firewire, gibson les paul headstock, gibson lp fireball, тюнинг les paul,

Down through history, people have constantly been in search of the next big thing. From the car, to the washing machine, the compact disc to the iPod, many things are thrown at the wall, but only certain things stick.
This same principle remains a constant in the field of guitars; the tried and true functional pieces ring true for players of all sorts, and the flashy toys eventually end up in the garbage can with yesterday's potato chips. And yet, some of these things that really should be utilized to the fullest extent end up being tossed away with everything else, for one reason or another, only to be brought back into popularity many years later on a retro throwback trend. Read more
Tags: gibson 335-s review, gibson 335s, GIBSON limited run 335-s, gibson 335 s, Gibson 335-s value ?, gibson 335s reissue, gibson forum when will there be a 335S reissue,

Enter to win a Gibson Limited Run Flying V Melody Maker electric guitar. The Gibson Flying V Melody Maker is valued at $539. The guitar comes autographed by the band My Morning Jacket. Read more
Tags: gibson flying v giveaway,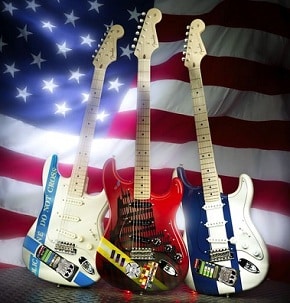 I'm a little late to the party, but thought this was something worth posting. I thought it was a classy move by both Fender and Gibson guitars. Below are the press releases and images of the 9/11 tribute guitars. Read more
Tags: 9-11 tributes, 9/11 tribute guitar, гитара gibson les paul 2013,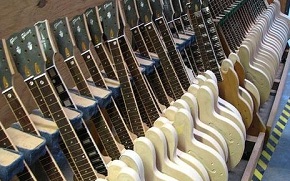 The Gibson Guitar Corporation is under fire once again for suspicion of violating foreign wood and labor laws. Read more
Tags: gibson raided by federal agents, gibson raided by feds,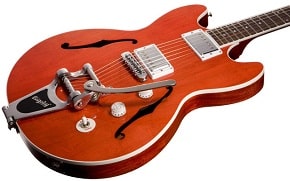 Every year or so, the big 2 guitar manufacturers [Gibson, Fender], release a guitar that is designated as their latest "Wow Guitar". You know, the ones that are pure eye and ear candy, that tempt you with selling your car to have one of your own. Read more
Tags: Gibson Midtown, Description : Midtown™ Standard with Bigsby®, midtown™ standard with bigsby®,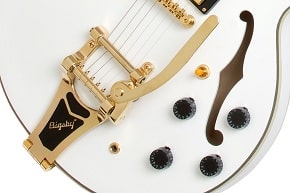 Here's how fresh the 2011 Epiphone ES-355 is at this point in time and space: I walked into two different music stores, one a giant corporate retailer and the other a small local shop (albeit one that specializes in Epis), and neither one of them even knew it existed much less had one in stock. Read more
Tags: epiphone es 355, epiphone 355, epiphone es-355, epiphone es 355 alex lifeson, epiphone es355 guitar, epiphone es355 pro, epiphone flying v 355, where can i buy an epiphone es355,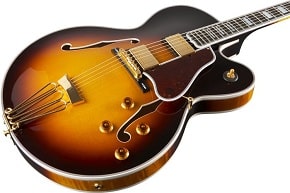 Introduced in 1955 Gibson's Byrdland was one of the first thinline hollowbody electrics. Designed with the help of hot-shot guitarists Billy Byrd and Hank Garland, whose surnames were combined to form the model's name, the Byrdland was a Venetian (i.e. rounded) cutaway archtop with a carved spruce top and solid maple rims and back. Though the body was only 2-1/4 inches deep, rather than the standard 3-3/8 inches. Also unusual was the instrument's short scale length 23-1/2 inches, a full two inches less than that of most archtops, allowing guitarists to play chords that required large stretches. Read more
Tags: gibson byrdland florentine, what guitar is cheaper than a gibson byrdland, birdland guitar, byrdland guitar, byrdland replica,