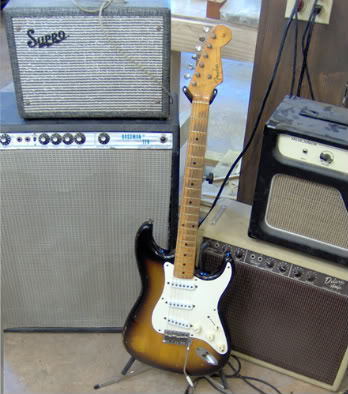 Contined on from Leo Fenders invention Broadcaster Article — The third of Fender's epoch-defining trinity of early guitar designs came in 1954. The impetus for the Stratocaster arose, George Fullerton says, from a demand by Fender's sales department for an instrument with a vibrato arm. Leo gave them not only that but also a gorgeously contoured refinement of the Telecaster slab body. Like Eames chairs or Gilbert Rohde clocks, the Fender Stratocaster is today recognized as a landmark of mid-century design. The Tele's sophisticated younger sister helped establish a distinctive Fender tone, which Leo Fender continued to refine right up until the day he sold Fender to CBS in 1965, and continued to pursue in his later guitar and amp designs for Music Man and G&L. Read more
Contined on from Leo Fenders invention Broadcaster Article.



The electric bass guitar was another Leo Fender invention that changed sound of 20th century popular music. It supplanted the upright bass fiddle in rock, country and many other genres. Essentially, Leo reconceptualized the bass fiddle as a low-pitched electric guitar, far more portable and manageable on stage than a bulky upright, and capable of greater volume levels. Fender called his creation the Precision Bass when he introduced it to the world in 1951 because, unlike the upright, it was a fretted instrument, which allowed the player to hit notes with truer intonation, i.e., greater precision.
Read more on Leo Fender's first Stratocaster produce in 1954.
Gear-Vault Classifieds is an eBay alternative. Come sell your used guitars and amps with us, for FREE!
Advertisement————————————
[% oiopub-banner-3-left %]————————————————————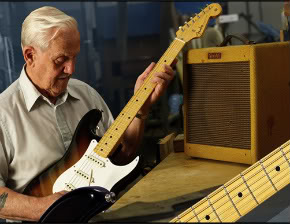 The 20th century will be remembered as an age of technology. And the electric guitar has been one of the most benign technologies to emerge from our troubled outgoing century. Like the innovations of Thomas Edison or Henry Ford, the electric guitar is a great populist invention. For the most part, it wasn't dreamed up by people with college degrees in design engineering but by hard-traveling musicians and practical-minded businessmen clawing their way out of the Great Depression.
One of the greatest of these pragmatic mid-century geniuses was Clarence Leo Fender. Born on a farm near Anaheim, California in 1909, Leo Fender was operating his own radio repair shop in nearby Fullerton by the mid Forties. Thanks to the post-WWII economic boom, this was an era of great prosperity, marked by exciting new inventions like television, a middle-class migration out to the suburbs and the birth of sleek new design aesthetic that was streamlining everything from home furnishings to automobiles to electric shavers and hair dryers. Opportunities were plentiful for entrepreneurs and inventors of every stripe, which suited Leo Fender just fine.
Circa 1943, Fender built a very simple solidbody electric guitar that he'd rent out from his shop. (Fender Radio Repair also rented P.A. systems and even a panel van with speakers mounted on top to advertise local events!) In a garage out back, Leo began making lap steel guitars under K&F brand name in partnership with Doc Kauffman, another bailed out of the business in 1946, Leo continued on his own, starting Fender Electric Instruments in 1948. One of the first people he hired was George Fullerton, who became his assistant and lifelong business associate. Read more