NAMM's Summer Show is officially in the books, giving wholesalers and musicians a whole new list of the stuff that dreams are made of, including a new lineup of 7- and 8-string guitars from ESP, as well as another Asian Invasion, the new GVT Series amplifier line from an expatriate veteran, Ampeg. Read more

LTD FX-260 Explorer-style axe hands-on review — the LTD FX-260 guitar feels like a weapon caressed to your body while playing. With its woodsy look, it might even spark a flashback to the days of Thai sticks, bell-bottom flares and chicks named Ivy and Moonpuppy. The natural grain and warm brown hue of the guitar's spalted maple top and mahogany body kinda remind me of guitars produced in Canada when Elisha Cuthbert was still somewhat a virgin, but with its pointy, beveled Explorer-style body shape, black nickel hardware and EMG-ESP LH-300 pickups offer enough modern attraction to make metalheads give it the two-fingered devil-horn "I wanna rock" salute. Read more

ESP is one of the O.G. Asian guitar companies and has a long reputation for producing excellent instruments. Even I, your ever-loving Gear-Vault correspondent who is dangerously obsessed with all things Fender, played a cool pink ESP Mirage Custom back in the 80's and still longs for it at times. These days, ESP is producing a lot fewer pink axes and a lot more that suit the trends of the current guitar market. Read more
ESP was one of the first large shops to cater to the "Super Strat" customer. By focusing on the features most beloved by headbangers and setting fire to "vintage values," they quickly established themselves as a first-class custom shop with the ability to translate the needs of heavy metal-influenced players into solid, yet glitzy instruments. Read more
Are you a rock guitarists, or metal purist? If so, then this list is for you! We've compiled 13 kick ass ESP Guitars models (released fall of 2009). To break this list down for you, it includes the below sweet looking axes. And don't be mad, I've order this list from my personal favorite to least favorite, though your opinion will vary! Without further ado:
Read more


ESP is known for producing guitars tailored to look and sound. Many musicians including Metallica and Bullet for My Valentine's guitarist, Michael Paget love using ESP guitars for the great heavy edged riffs.
The B-1004 4 string and the D-5 5 string both resemble each other as sleek professional guitars until you get down to the fine details and price. To help bass players decide which guitar may be more suitable for them, here is a brief overview describing the sound both guitars are capable of creating in the studio or on the road. Read more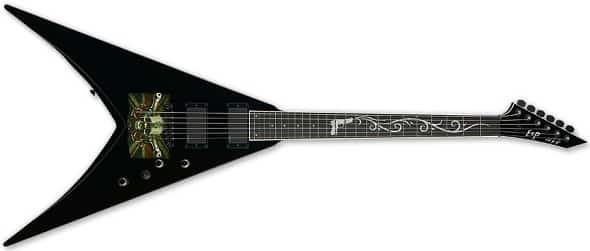 For fans of guitarist Michael Paget, also known as "Padge" of the band, Bullet for My Valentine, there are two new items on the market for the guitarists who endeavor Padge's aggressive style, the LTD MP-600 and the ESP Michael Paget Signature Series models. The ESP model is an exact replica of Paget's custom ESP guitar that he is seen so often playing on tour.
Paget's band (Bullet for My Valentine) hails from Brigend, Wales located in the United Kingdom. Although they originally formed in 1998, you probably have only heard of them as of this year when they released their current album, Scream Aim Fires, which debuted at number four on the Billboard 200 charts. That's impressive, but Paget and his band have put in their hard work constantly touring since their 2005, (The Poison) which broke them reasonably well into the United States music scene, which landed 375,000 copies sold in the US alone.–Scream Aim Fire topped sales of 53,000 in the first week alone. Read more
Blake Beckman of Idaho is probably looking up at the sky thanking God for the opportunity of a lifetime. Why? Because he was just chosen as the winner of ESP guitars summer contest in which the winner gets an all expense paid trip to Dallas, Texas to see Ozzfest. Blake will hang with the Ozzfest crew, including Shadows Fall, Devil Driver and other ESP bands. Not only is he going to get to meet all of the Ozzfest bands, he also has special access to "Ozzy's Lair" VIP area and gets free apparall from Affliction Clothing so he can be properly dressed and ready for the affair. (Some of the clothing will be hand signed by Ozzy Osborne himself and that is just another added bonus!) Of course, after all the festivities are over it is going to be hard to have to return to his small town life in Idaho, so it is a good thing he is going to have an ESP LTD KH-602 Guitar and Randall RM100KH Amplifier waiting for him back at home.
Beckman can play his new rig and think back to this amazing event in his life. How many people can actually say "I won a trip to Ozzfest, all expenses paid, limo, meals, drinks, hotel… and oh I also have hand signed Ozzie gear!" not too many people can honestly say that! But Blake Beckman can! How very lucky of him!

Advertisement————————————
[% oiopub-banner-3-left %]————————————————————
Are you just a little jealous of the prize package that Black Beckman has won? You can relive the experience with Blake after the show as his adventures at Ozzfest before, during and after will be featured later by ESP. If you still feel a twinge of guilt, keep an eye on ESP's website espguitars.com as they are going to have more contests resembling the Ozzfest 2008 complete package later in the year.
The Ozzfest 2008 Sweepstakes was sponsored by ESP Guitars, AEG Live, Affliction Clothing and Randall Amps–
Gear-Vault Classifieds is an eBay alternative. Come sell your used guitars and amps with us, for FREE!