Hey Gear-Vault readers! An interesting debate was brought before our attention earlier this week and we thought we'd pass it along to you guys. Let's put your mad guitar knowledge to the test! Comment your answer at the end of this kick ass discussion!
Can you tell which is Gibson and which is the Epiphone?
Now let's take a closer look at these two guitars:
At first glance, these two guitars appear quite similar. In fact, many players might even have trouble distinguishing between the two. However, did you know that the left guitar often costs as much as NINE TIMES than the one on the right? That's right. The axe on the left is perhaps one of the most recognizable guitars in the world: a Gibson Les Paul Standard. You can typically purchase one of these for around $2500-3500. Pictured just to the right of the Gibson is the Epiphone Les Paul Standard, which usually clocks in at just under Read more

Epiphone worked closely with Robb Flynn of Machine Head to produce a first of its kind guitar, the Epiphone Robb Flynn Love/Death Baritone Flying-V.
Robb Flynn, founder of Machine Head, is a heavy metal guitar virtuoso that knows the role of guitars in heavy metal music. Epiphone is aware of this and together they co-designed the new Epiphone Robb Flynn Love/Death Baritone Flying-V.
It is a first of its kind guitar for both Epiphone and Gibson. It is unique because of its 27.0″ baritone scale which Robb specifically preferred. This produces the same unique sound that Robb Flynn has introduced to metal and hard rock. Flynn remarked: "The main reason for having the slightly shorter 27.0″ baritone scale is when you tune down to B, it just makes the low definition really tight, especially for palm muting and chunking, it opens up the sound alot".
At the heart of the Robb Flynn Love/Death Baritone Flying-V is a Mahogany Body connected to a SlimTaper D-profile baritone scale neck. The neck is equipped with a 1.68″ graphite nut for stable and precise tuning, an ebony fingerboard with "Love/Death" special inlays and 24 medium jumbo frets. Read more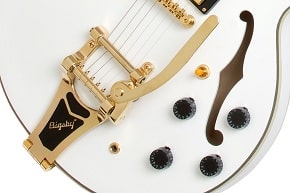 Here's how fresh the 2011 Epiphone ES-355 is at this point in time and space: I walked into two different music stores, one a giant corporate retailer and the other a small local shop (albeit one that specializes in Epis), and neither one of them even knew it existed much less had one in stock. Read more
Epiphone has been a big player in the bass guitar market for many years now, dating back to the 40s with the upright bass. With their continuous growth and increasing reputation for building quality at an affordable price, we here at Gear-Vault decided to take a deeper look at a couple of Epiphone basses under $400 bones; the Les Paul Bass Special ($299) and Nikki Sixx Blackbird ($399). Read more
NAMM 2011 — Like its parent company Gibson, Epiphone is known for several classic designs, guitars that established themselves as iconic in the 1950s and '60s. Read more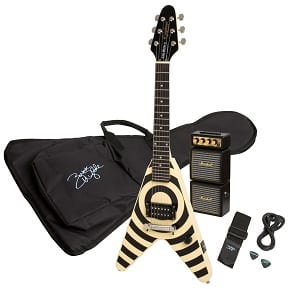 If you are just learning to play guitar and want to have a professional quality amp and guitar, then you should definitely consider the Epiphone Flying VeeWee Bullseye Zakk Pakk. This set includes an electric guitar, an amplifier, a gig case, the cords needed for connecting the amp and guitar, and three guitar picks from the Zakk Wylde signature line. Read more
Epiphone Guitars announces the release of the Limited Edition 50th Anniversary 1960 Les Paul Standard guitar. Because the revered Holy Grail era Les Pauls have so many variations, Epiphone's Limited Edition 50th Anniversary 1960 Les Paul Standard comes in two distinct variations. Read more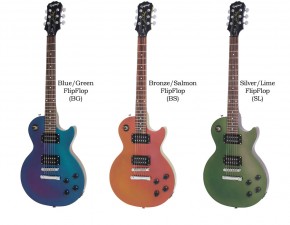 The Les Paul boasts one of the most timeless designs ever, but these days, a vintage Paul costs as much as a new BMW or a top-of-the-line Bentley. Fortunately, Epiphone makes a wide variety of genuine Les Paul models that are priced well below the monthly payment on a luxury automobile. Read more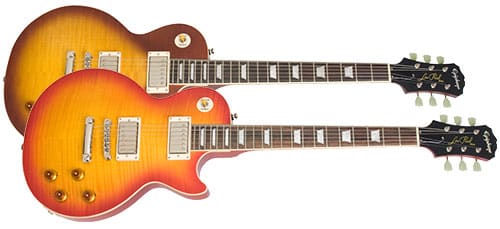 The recent passing of guitar legend Les Paul, who, in many ways, made the music world the way it is today, left a hole in the guitar community that will never be filled. Epiphone, being part of Gibson almost since the beginning of time, had a long relationship with Les and has brought out the Les Paul Tribute Guitar to honor Les' memory and the iconic guitar he helped to create. Read more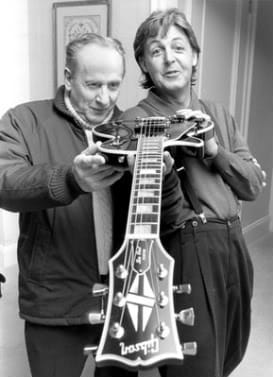 Around the same time that George Beauchamp and the other early electric guitar pioneers were active in southern California, a guitarist and radio personality named Les Paul was in Hollywood working out his own vision of what the electric guitar should be. Born Lester Polfus, he became an established guitarist in the Thirties, performing country music under the names Red Hot Red and, later Rhubarb Red, and jazz as Les Paul. In 1939, Paul began to put together what he called "The Log," a four-by-four length of solid pine to which he attached a Gibson neck, homemade pickups, a crudely fashioned bridge and vibrato tailpiece. Like many other innovators of the guitar, Paul wanted to eliminate the uneven harmonic response produced by an amplified hollowbody guitar.
Although he sawed an Epiphone hollowbody in half and attached the two sides of his four-by-four block of pine, this was more for aesthetic than acoustic reasons—to make the thing look like a real guitar. This supremely quirky instrument, now enshrined in Nashville's Country Music Hall of Fame, is another sacred relic of the electric guitar's evolution, the product of an inveterate tinkerer and one of the century's most original musical inventors. Paul also pioneered multitrack recording and anticipated the home recording boom by a good 30 years. Read more