Epiphone worked closely with Robb Flynn of Machine Head to produce a first of its kind guitar, the Epiphone Robb Flynn Love/Death Baritone Flying-V.
Robb Flynn, founder of Machine Head, is a heavy metal guitar virtuoso that knows the role of guitars in heavy metal music. Epiphone is aware of this and together they co-designed the new Epiphone Robb Flynn Love/Death Baritone Flying-V.
It is a first of its kind guitar for both Epiphone and Gibson. It is unique because of its 27.0″ baritone scale which Robb specifically preferred. This produces the same unique sound that Robb Flynn has introduced to metal and hard rock. Read more
Tags: epiphone flying v,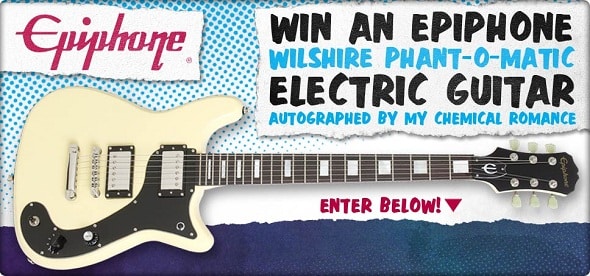 Enter to win an Epiphone Wilshire Phant-O-Matic electric guitar signed by My Chemical Romance! Whether you're chunking rhythm or cutting leads, any fan of the Fabulous Killjoys will dig this keepsake axe that's equipped with all the vintage styling that has made Wilshire models a favorite of countless rock icons. Just fill out the entry form at Musician's Friend anytime through October 31, 2011. Approximate Retail Value Read more
Tags: epiphone wilshire phant-o-matic, wilshire phant-o-matic guitar,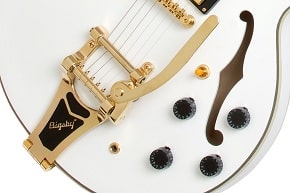 Here's how fresh the 2011 Epiphone ES-355 is at this point in time and space: I walked into two different music stores, one a giant corporate retailer and the other a small local shop (albeit one that specializes in Epis), and neither one of them even knew it existed much less had one in stock. Read more
Tags: epiphone es 355, epiphone 355, epiphone es-355, epiphone es355,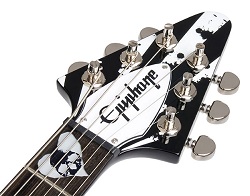 MACHINE HEAD guitarist/vocalist ROBB FLYNN, fueled by a photo of the headstock that popped up on the Epiphone blog, and now the YouTube video with a short over-view (see the video below).
Guitarist/vocalist Robb Flynn of San Francisco Bay Area metallers MACHINE HEAD recently signed a multi-year deal with Gibson/Epiphone that will see Epiphone launching an exclusive Robb Flynn Signature series, baritone-scale Flying-V guitar.
Flynn and MACHINE HEAD drummer Dave McClain are both at this year's NAMM show at the Anaheim Convention Center in Anaheim, California. You'll find Dave signing at the Yamaha booth on Saturday, January 15 at 11:15 a.m, and Robb signing at the Epiphone booth on Friday, January 14 at 3:00 p.m.
Here's the first video revealing Robb Flynn's Baritone Flying V guitar Read more
Tags: マシーンヘッド ギター,
NAMM 2011 — Like its parent company Gibson, Epiphone is known for several classic designs, guitars that established themselves as iconic in the 1950s and '60s. Read more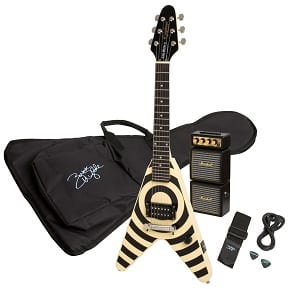 If you are just learning to play guitar and want to have a professional quality amp and guitar, then you should definitely consider the Epiphone Flying VeeWee Bullseye Zakk Pakk. This set includes an electric guitar, an amplifier, a gig case, the cords needed for connecting the amp and guitar, and three guitar picks from the Zakk Wylde signature line. Read more
Epiphone Guitars announces the release of the Limited Edition 50th Anniversary 1960 Les Paul Standard guitar. Because the revered Holy Grail era Les Pauls have so many variations, Epiphone's Limited Edition 50th Anniversary 1960 Les Paul Standard comes in two distinct variations. Read more
Tags: where are the Epiphone Limited Edition 50th Anniversary Reissued 1960 Les Pauls made?,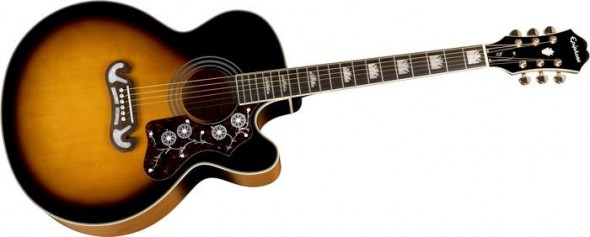 The Epiphone EJ-200CE Acoustic-Electric guitar is a classic that has been around for generations. This guitar has the melodious sound of an acoustic that is paired with the power of an electric guitar, so you have the best of both worlds in your hands. Perfect for a live gig, the electric-acoustic guitar can give you a sound that reaches even the largest audience, without sacrificing the sound that fits your style best. Read more
Tags: Epiphone EJ-200CE review, epiphone acoustic guitars, epiphone acoustic guitar, epiphone electro acoustic guitar, epiphone ej 200ce review, review epiphone ej 200ce, epiphone ej 200 ce review, epiphone ej200 fullbody acoustic electric, epiphone electric acoustic guitars, epiphone guitar acoustic,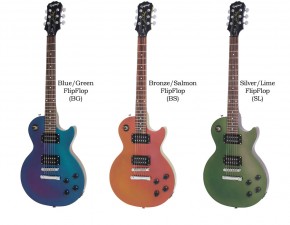 The Les Paul boasts one of the most timeless designs ever, but these days, a vintage Paul costs as much as a new BMW or a top-of-the-line Bentley. Fortunately, Epiphone makes a wide variety of genuine Les Paul models that are priced well below the monthly payment on a luxury automobile. Read more
Tags: epiphone les paul studio review, Epiphone les Paul studio, epiphone chameleon les paul, epiphone les paul chameleon guitar, les paul chameleon, les paul studio epiphone,
Best Bass Money Can Buy? — Epiphone Thunderbird IV puts the letter "C" in "Classic". No other bass looks like it or plays like it. The beloved Thunderbird bass from Epiphone features the "reverse" body styling, carved top and dual bass TB Humbucking pickups complimented with black hardware and the Thunderbird insignia on the pickguard.
The Thunderbird was a "unique" looking bass in 1963… and still creates that same charming appeal to this day. What made the Thunderbird bass a classic was not so much its distinctive look, but the way the guitar plays. The original Gibson Thunderbird version—with its neck thru-body, laminated neck, and expansive walnut wings proved to be an absolute tone machine; the resonance and quality of its dazzling, clean low-end rocks the jock strap off nearly any bass you put against bass guitars in even higher price brackets. Read more
Tags: epiphone bass thunderbird 4, EPIPHONE THUNDERBIRD BASS GUITAR, thunder bird guitar,