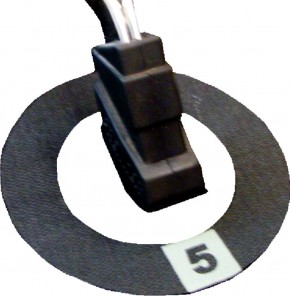 If there is one thing we all have in common as drummers, it's that we all need a good drum mat to place our percussive palaces upon. Whether you go for hardware-store basic, Carpet store remnant, or even the well-haggled-over exotic Persian variety, a good rug is a must have for the drummer about town, even if it's just a door-mat from some crappy bar in Iowa. Read more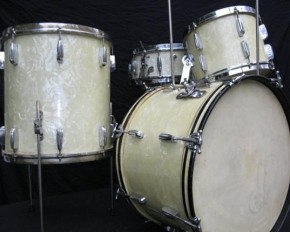 I now understand what writers go through when trying to assemble an accurate description of the subject at hand. Whether it's a painting, a great moment in sports, a catchy new song or the newest Ford pickup truck, the definitions of such potential pop icons can become daunting. This has been my conundrum in coming to terms with the Four-Piece drum set. Read more
In 1984 there were drummers who were purists and would only be seen behind an acoustic set of drums. The mere thought of playing plugged-in to anything even close to a drum machine or sampler was not only foreign, but frightening. Read more
Famous Drum Sets No.2
As the "
Trap Set
" began to find its way into the pop music of the early 1900's, it took on may shapes and configurations.
Read more
You may be familiar with Pork Pie drums. In the late 1980's and early 1990's the custom drum builder was born as a direct reaction to drums that seemed to be snapped together on massive factories with limited options for the working drummer. Read more
Can you give me some information on earplugs? How well do they work, and do most rock musicians use them?

Rockin' Billy Bong
xxxx@rocketmail.com
While they're relatively new to the world of rock music, earplugs have become a popular item with many musicians, and with good reason. I've worked for a lot of particularly loud rock bands, and the groups who didn't wear earplugs usually have something in common with each other—it's called "tinnitus," a constant ringing of the ears that result from prolonged exposure to high volume levels. Tinnitus produces varying degrees of discomfort, depending on the amount of abuts that has been inflicted upon a person's ear.
Among the musicians I've known, drummers typically have the worst case of tinnitus. Unlike guitarists, who can stand some distance from their amplifiers, drummers are seated and can't move away from their instrument. The crashing of cymbals, in particular, has a harmful effect on drummers, since high frequencies do more damage to hearing than low frequencies do.
If you perform on a regular basis, I highly recommend that you wear earplugs or, if they are within your budget, and in-ear monitor system. In-ear monitors are highly accurate, state-of-the-art devices that are individually created for the wearer. Read more